The long road to the repeal of Section 155(4): Will questions about a rape survivor's 'character' finally be banned in court?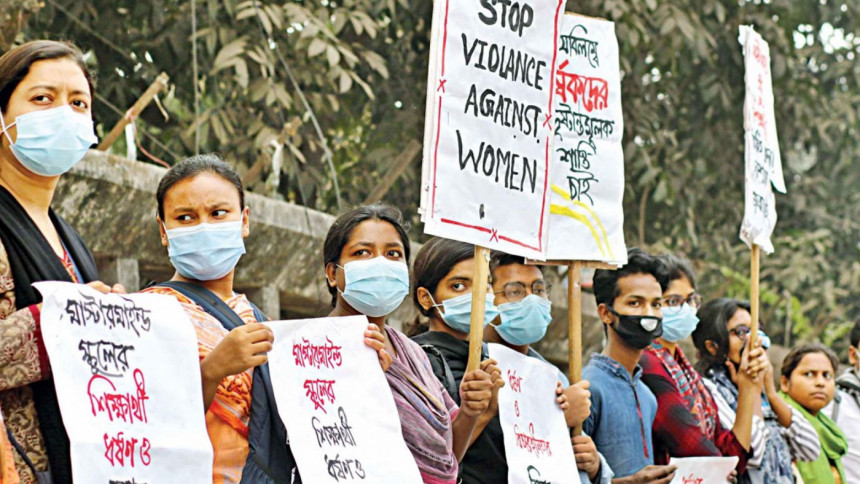 On June 30, 2021, the law minister announced in Parliament that the government will finally be introducing legislation to remove Section 155(4) of the Evidence Act 1872—which has long allowed defence lawyers to raise questions about a rape complainant's character, and therefore moral police them in the name of cross examination in court.
The Evidence Act, 1872 is the main law on admissibility of evidence in court proceedings. Section 155 of the Evidence Act specifies four situations where the credit or reliability of a witness may be tarnished through evidence. Section 155(4) states that "when a man is prosecuted for rape or an attempt to ravish, it may be shown that the prosecutrix was of generally immoral character". Since there is no legal definition of what constitutes a "generally immoral character", this provision can and has been used by defence lawyers to moral police any and all rape complainants, with the judge then being left to decide whether the evidence proves the rape complainant was of a "moral" or "immoral" character.
Section 155 deals with three other situations where a particular witness can be considered to be unreliable: where a witness is believed to be "unworthy of credit" by other persons who testify, where a witness has received a bribe or other corrupt inducement, and where a witness has made contradictory statements in the past. Therefore, in lumping a rape complainant together with these types of witnesses who have allegedly done something to justify being treated as being unreliable, section 155(4) has the effect of creating a negative presumption on rape complainants by default. Moreover, while there is no offence known as "attempt to ravish" in our existing laws, since this term is included in Section 155(4), it could be argued that it not only applies to the offence of "attempt to rape" but also to other forms of sexual offences not amounting to rape, such as "sexual oppression" (under section 10 of the Nari O Shishu Nirjaton Domon Ain 2000).
The discriminatory nature of Section 155(4) becomes clearer when one considers the fact that generally, the law treats negative character evidence to be irrelevant by default, even for the accused (Section 54, Evidence Act). On the other hand, section 155(4) has the reverse effect by making negative character evidence admissible against a woman alleging rape, even though she is the person seeking justice for an offence committed against her.  
Therefore, the announcement to repeal Section 155(4) came as music to the ears of those who have been pushing for this reform for several years, holding endless seminars, protests and advocacy dialogues to make the demand heard.
Between 2013 and 2018, BLAST held a series of advocacy dialogues to highlight the use of character evidence in rape trials. In 2015, it published a Bangla report titled "Shotir-e Kebol Dhorshon Hoi" (Only the Chaste are Raped), an ethnographic study authored by Fatama Sultana Suvra, highlighting the seemingly impossible threshold of morality the use of Section 155(4) set on rape trials. EnsuringEnsuring the inadmissibility of character evidence in rape trials arose as a key demand in the Rape Law Reform Now campaign initiated by BLAST in 2018. It was echoed by various stakeholders and included in the 18 point declaration issued at the National Conference on Rape Law Reform, held on December 8, 2018. In taking this reform agenda forward, in 2019, BLAST published a research report titled "Between Virtue and Immorality: Why Character Evidence Must Be Prohibited in Rape Cases" to outline the damaging impact use of character evidence has in rape cases based on analysis of reported Supreme Court judgments on rape. Empirical data about a particular injustice is often much more difficult to dismiss or deny. This report also included extensive reform proposals relating to the Evidence Act, based on examples of legal reform conducted in India and Pakistan from 1980 onwards—to show that the two countries, which also inherited the identical Evidence Act 1872 from British colonisers, had done away with Section 155(4) and made amendments to their law of evidence to improve justice for rape, but Bangladesh still had not.
BLAST then submitted this report and reform proposals to Saber Hossain Chowdhury MP on September 3, 2019, who showed keen interest in advancing this reform. On November 25, 2019, it was also sent to the law minister's office, for their consideration. In January 2020, it was submitted to Gloria Jahan Sarker MP, Member of the Parliamentary Standing Committee on Ministry of Law, Justice and Parliamentary Affairs. She generously agreed to speak as a special guest at BLAST's research report dissemination seminar held on January 20, 2020 at Chayanaut Auditorium, where she expressed her desire to move the fight for reform forward.
In October 2020, the Rape Law Reform Coalition, comprising of 17 leadings rights organisations, with BLAST as its Secretariat, issued the 10-point demand on rape law reform, which specifically included repeal of Section 155(4). This 10-point demand was disseminated widely to various lawmakers and key stakeholders at the governmental and non-governmental levels.
Advocacy for legal reform is a lengthy, tiresome and thankless endeavour. Therefore, the purpose of detailing the above context is twofold.
Firstly, it is to show that these reforms do not happen overnight. Rather, it often takes several years of persistent, collective advocacy for the simplest demands to be heard and acted upon—even something as simple as saying a rape survivor's character should not be the decisive legal question in a rape trial, but that it should be completely irrelevant.
Secondly, and on a more positive note, it is to give encouragement to those involved in this arduous task of research and advocacy for legal reform. Sometimes, that piece of research you tirelessly spent time on but were told would "never change anything", can in fact help produce a tangible result. Sometimes, the hours, weeks and months you spent on arranging stakeholder dialogues but were told they are "pointless", can in fact do some good. Sometimes there is some light at the end of the tunnel.
Therefore, we should keep the fight for reform going—especially since there is so much left to change. At the same time, we should be careful to bear in mind that repeal of Section 155(4) alone is not enough. For victim blaming to be truly eliminated in the courtroom, rape shield laws must also be introduced, which extend specific protection to rape complainants.
Taqbir Huda is a Research Specialist at Bangladesh Legal Aid and Services Trust (BLAST) and coordinates Justice for All Now (JANO), Bangladesh. Email: taqbirhuda@gmail.com