My Own Hat Trick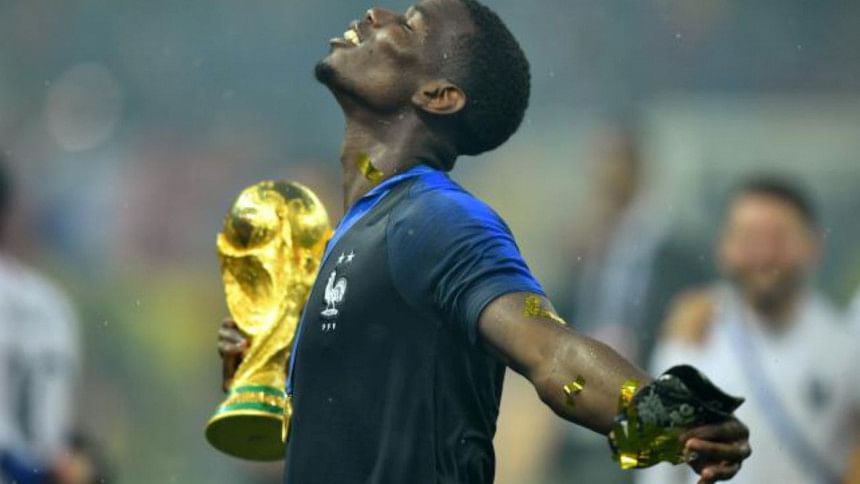 My own vicarious hat trick—third in a row and the last column on the World Cup. Not surprising, as, for the past one month, not much work has been done in Bangladesh except for posting Facebook statuses on the games.
We reflect after one great party. The 2014 World Cup final sees Argentina's Lionel Messi while the 2018 World Cup final sees Argentina's Néstor Pitana, both referee and French striker rolled in one. The 1986 final presents Argentina's Diego Maradona with the "Hand of God" while the 2018 final presents Argentina's Néstor Pitana with the "Hand of Perišić", thus introducing Perišić as the new capital (ok, financial jargon too) of France. I wonder if the picture of Maradona pops up as a guiding light when Mr Pitana consults the MAR (Maradona, Assistant Referee), er, VAR (Video Assistant Referee).
The final match is as much a competitive game as it is a friendly one—Mario Mandžukić scores two goals in two goal posts while the gift of Hugo Lloris provides ample comic relief.
But, by Toutatis, there is all out jubilation among the indomitable Gauls. Pogba trolls: "It's coming home," the French kiss the trophy, thus exhibiting a collective French kiss. Who knows, France may see a spike in its population in a year, not just from the mass conjugal jubilation, but also from warmly welcomed mass migration from Africa and Muslim countries, based on the ethnic make-up of the French squad. Trump, take heed—you can Make America Great Again with the best football, I mean, soccer team.
But let's focus on the climax—the award ceremony. With Presidents galore in the front row, the Qatar Airways flight attendants in the back row stand smartly with dalas as in a gaye holud ceremony.
But the man, or should I say, the woman of the hour is no doubt President Kolinda Grabar-Kitarović leading Bangladeshis (mostly men) to comb the Tri-State Area (Gulshan, Baridhara, Banani) for the Croatian Embassy while elevating Coco Austin to a presidential status. The Croatian president has to be happy that her boys have come this far. Many Bangladeshi turn coat Croatian supporters are heartbroken—the same clan who only a few days ago were "ić"-ing to swallow alive this very squad for beating Argentina 3–0.
Like a Hindi movie, the rain starts by which President Emmanuel Macron and President Kolinda Grabar-Kitarović remain undeterred while shedding off their presidential protocols. I bet President Vladimir Putin felt like joining in the party, like being on a horse bare-chested. But he's the boss as he is the only one under a huge shamiana sized Sharif umbrella. But he is a happy camper nevertheless for successfully hosting one of the greatest sporting events on the planet and for seeing his own team, after its elimination, not having to return home.
Of all those who return home, we still can't forget the big names like Brazil, Argentina and Germany. They should contemplate cricket. After all, the ICC ensures that World Cup Cricket finals have only the big names.
The Koreans, who make Asia proud, go home to eggs being pelted at them. Thank Heavens it's not North Korea—instead of eggs, it would have been ballistic missiles.
Tut, tut! We in Bangladesh would never throw eggs at our national football team even after any crushing international defeat. That's because our team, our FIFA ranking and our players are all unknown to us. Besides, eggs aren't exactly Taka three items.
But if eggs are really to be thrown, why not at Neymar? He needs the extra protein to help him from falling to the ground. Ok, no more Neymar jokes. Brazil's former star Ronaldo (Luís Nazário de Lima) says that Neymar still has a lot to learn. That's right, from Shah Rukh Khan…
Well, we are already ready for Qatar 2022. With France the 2018 champs, comes the guarantee of it being out in the first round in 2022, looking at history. Meanwhile, Bangladesh's ranking is speeding up in the other direction. In 1986, we were ranked 116 and in the same year Maradona said, "It's the Hand of God." In 2018, we are ranked 194 and Bangladesh Football Federation shrugs: "It's IN the Hand of God".
Oh well, till the day our boys in green and red are in the FIFA World Cup, we, in Bangladesh, will remain loyal fans of our own choosing and most of all, of the game itself.
---
Naveed Mahbub is an engineer at Ford & Qualcomm USA and CEO of IBM & Nokia Siemens Networks Bangladesh turned comedian (by choice), the host of ATN Bangla's The Naveed Mahbub Show and the founder of Naveed's Comedy Club.
E-mail: [email protected]
---
Follow

The Daily Star Opinion

on Facebook for the latest opinions, commentaries and analyses by experts and professionals.
To contribute your article or letter to The Daily Star Opinion, see our

guidelines for submission

.
---