Kia > Mercedes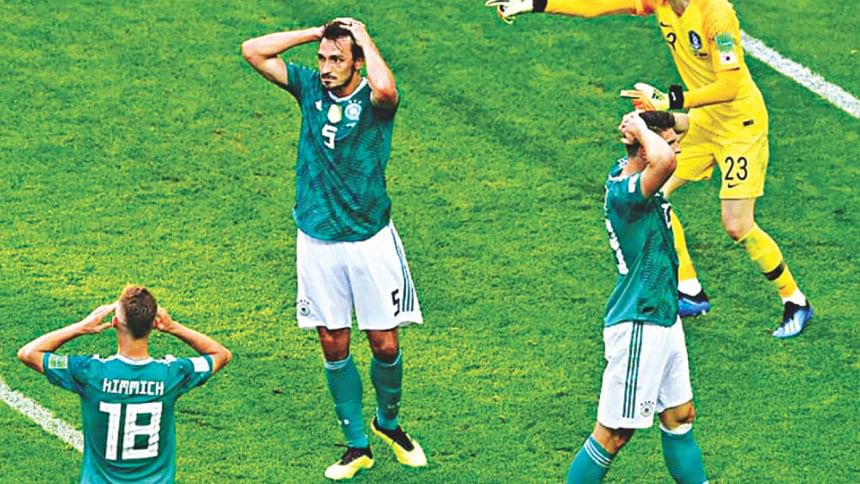 Perhaps it is no coincidence that World Cup Football is not on a leap year. For this is the time when our hearts, especially those in Bangladesh, leap not only a beat, but beat in beats to see the favourites beat the favourites of the opponents. Even on December 16, do we not see so many flags as we see during this time—not those of Bangladesh's. The whole of Bangladesh turns into consulates of Brazil and Argentina as all that are on everyone's minds are Argentina, Brazil and Nusrat Faria's Pataka. The only way you know it is NOT the ambassador of one of these two countries in the car with a flag is when the car is a Toyota Corolla.
This is the time when Brazilian fans stab those of Argentina in Cox's Bazaar, a place of which many a Brazilian nor an Argentinean has ever heard of. This is a country, where the safest way to walk around now is to wear an Argentinean jersey sporting "10" and "Neymar".
But the games warrant talking about those who nobody otherwise talks about.
Let's start with Saudi Arabia. The games kick off with the kingdom playing against host Russia. After swallowing 5 goals, I wonder if Prince Salman had the urge to tell Putin sitting next to him: "There goes our deal to buy 400 of your S-400 air defence missiles!"
But it is "only" 1 goal to nil with which Uruguay beats Saudi Arabia in the next game. Perhaps there was an underlying warning message to Suarez: "An eye for an eye, a tooth for a tooth."
The broad spectrum threat has its effects on the next game for Uruguay as it restrains itself to beating Egypt with "just" 1 goal, thus tempting Sisi to rename its famed canal to Suarez Canal.
In the spirit of sports, Iran takes after its arch rival Saudi Arabia and issues its own threat, Don Corleone style: "You know what happened to Salman Rushdie, eh?" Thus, once again, a "mere" 1-0 victory of Spain against Iran.
Iran continues to be on the FIFA map as its Alireza Faghani is voted the best referee thus far. Makes sense—in real life, he is an employee of Tehran Municipality Authority where he's adept in resolving the fights between felines and canines on the streets of Tehran.
Speaking of the hygiene of streets, we witness the exemplary civic actions of Japanese fans cleaning up the stadium after a match. I will surely throw in my full support for Mr Takiona Jharu Mari as the mayoral candidate of Dhaka North City Corporation.
Host Russia has done well, fuelled perhaps by Vladimir Putin's pep talk to team Russia: "Goal, else Gulag!" Especially before the tie breaker against Spain: "Remember, if the game goes to sudden death, then there may be 'sudden death'!" A sigh of relief, as Russia wins against Spain through a game of Russian Roulette.
But now, we go to the behemoths, and in alphabetical order, for, I value my life.
First, Argentina. All eyes are still on the stands as Maradona, after the 1986 "Hand of God", displays the "finger" of evil. Thank Heavens World Cup 1986 was not held in Saudi Arabia, for, over there, it is always, "an eye for an eye…a hand for a hand"…
So, the Argentines are careful, perhaps a little too careful as it kicks off with a draw against Iceland, a country with a population of less than 350,000. Factoring in the players, reserves, manager, coaches, medics, the Icelandic team consisting of two percent of the country's population, beats the giant Russia.
And then the crushing defeat of Argentina against Croatia which turns the game against Nigeria a game of do, or die. Nigeria has Musa and Moses, but Argentina rules with its Messi-ah only to be baguette-d by France. Hello new landmarks—in Paris it is Arg de Triomphe and in Buenos Aires it is I Fail Tower.
That evens out—Brazil had to gulp down 7 Up and now Argentina swallows a four pack.
And didn't Messi say he would not retire till Argentina wins the World Cup? His opponents say he is merely on LPR (Leave Preparatory to Retirement) while his supporters chant that in the world of soccer, he is the Mahathir Mohamad.
There goes all the flags and jerseys of Argentina in Bangladesh making their way to becoming the subsidised uniforms of Viqarunnisa Noon School.
Don't Cry for Me Argentina…
Then comes Brazil which chugs along (till the time of writing) as for all of Bangladeshis, the World Cup is now about Brazil versus the Rest…Interesting, (food) hotels in Bangladesh see hair on noodles while hotels in Russia sees noodles on hair, thanks to Neymar!
Portugal loses to Uruguay though with a spectacular display of sportsmanship as Ronaldo helps the limping Cavani exit the field while in the end, Cavani helps the limping Portugal to exit the World Cup.
Finally Germany starts off with getting Blaupunkt by Mexico. Mexico has so many in Mexico jumping in joy that seismic activities are supposedly detected by sensors. Considering such a dire seismic outcome, Bangladesh continues to refrain from playing in the World Cup. The only damage to this "quake"—the collapse of the roof of the German Football Association.
But in the end, Germany gets Whooped Gangnam Style by underdog (South) Korea. Even 2 Germanys together can't survive against 2 goals from a single Korea. To add insult to injury, the ride for the German team to the airport for their flight back home on a Hyundai bus…
But if anything, this World Cup has proved to be tournament of surprises, making it all the more interesting even to someone like me, who watches 45 matches of soccer by way of two-minute highlights in the time that the diehard fan watches one game, minus injury time. This World Cup has given us the chance to rave about the newbies and the underdogs, to stay up late and to go to work late and then come home early for the 8:00 pm game. This World Cup, which has shown that this is ABSOLUTELY possible:
Kia > Mercedes
---
Naveed Mahbub is an engineer at Ford & Qualcomm USA and CEO of IBM & Nokia Siemens Networks Bangladesh turned comedian (by choice), the host of ATN Bangla's The Naveed Mahbub Show and ABC Radio's Good Morning Bangladesh, the founder of Naveed's Comedy Club.
Email: [email protected]
---
Follow

The Daily Star Opinion

on Facebook for the latest opinions, commentaries and analyses by experts and professionals.
To contribute your article or letter to The Daily Star Opinion, see our

guidelines for submission

.
---