Britain's un-Commonwealth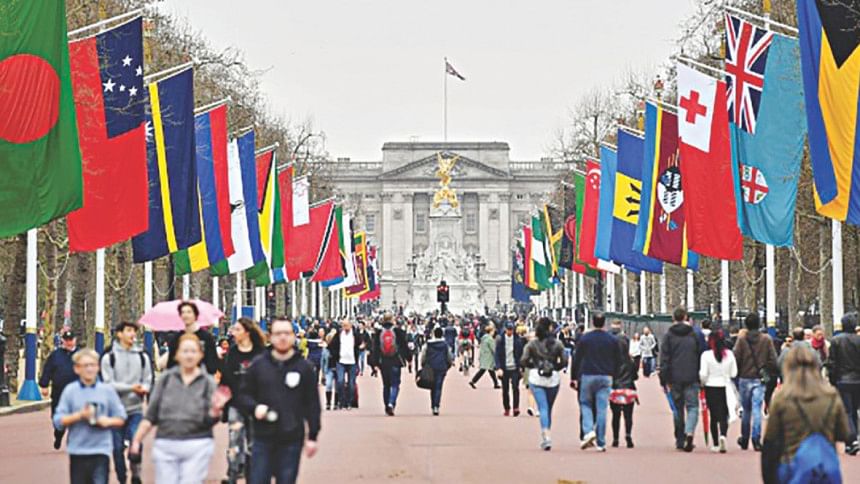 The British Commonw-ealth Heads of Government Meeting (BCHOGM) unfolding in London this week faces some underlying questions: What is it that binds 53 disparate members? How does it blend into 21st Century international relations? Why is it important?
Though its origin can be traced back to the 1887 Colonial Conference, which transformed into the Imperial Conference twenty years later and the Commonwealth Prime Minister Conference from 1944, today's BCHOGM body was distinctively shaped by establishing the Commonwealth Secretariat in 1965, also in London. Just that informs us plenty: it converted colonial appendages (and the asymmetrical participation that comes with it) into a more democratised playground, which, from 1971, began rotating, every two years, to different capitals (where once the British imperial sun "would never set"), for a summit. London was chosen irregularly this year as Vanautu, the expected 2017 host, was pummelled by Cyclone Pam.
Here we learn a lot of the strengths, weaknesses, and prospects of this quivering institution that refuses to say "sayonara". Every host chooses the theme, dictating the proceedings just as London's "towards a common future" this year directs discussions to expanding trade, security-based cooperation, fairness through democracy, and climate-change sustainability. Not surprisingly, the original 1971 Singapore Declaration also played on peace and free-trade principles. Though this approach was only expected from a group whose members were former colonies, colonial backlashes also intruded the august company: disagreement between Margaret Thatcher's resolute reluctance to sanction apartheid faced an even more resolute mandate to punish apartheid-instigating policymakers. When in 1991, the Harare Declaration finally institutionalised the Commonwealth's anti-apartheid position, internal differences took over, leading Robert Mugabe, who had just successfully converted Ian Smith's racist Rhodesia, into Zimbabwe, to permanently withdraw in 2003. Earlier, in 1995, Nigeria was briefly suspended for a specific human-rights violation, while Fiji and Pakistan also lost membership briefly for threatening democracy.
One might ask what is the BCHOGM value-added, since the same themes riddle other international groupings? Similarly, how can any BCHOGM magic spread beyond the members?
Membership grew to 53, representing one-third of the world's population, but as BBC's Kamal Ahmed notes, many members have a more thriving trade relationship with other countries than among themselves ("Can the Commonwealth be good for post-Brexit Britain?," April 16). Commonwealth members have tripled trade relations with the European Union just in this century when those with Britain have stalled or stagnated, while China trades eight-times more with those members today than earlier. It is not that Great Britain is being ostracised by its former colonies for sour memories; there is a lot more happening globally that Britain alone, like each and every other country, cannot control or account for.
Nowhere else can the implications of that resonate more than with the 2016 Brexit vote. Snapping the European partnership does more to dissuade one string of Commonwealth members, led by India, from headquartering business operations in London, one of the world's pre-eminent financial centres, than in the larger European continent. There is, indeed, reluctance to feed Britain's renewed Commonwealth and globalised interest against the lingering consideration that the very sentiment behind pulling the Brexit trigger (populist outcry against European workers flooding Britain), was double-edged: it could easily be directed against other global flows entering Britain, including the more colourful Commonwealth member-state migrants.
Another BCHOGM group, former dominions Australia and Canada, may relish renewed British interest, even though global competition has reached such a level today that country-specific commercial anchors can only yield diminishing long-term returns. Britain's Prime Minister Theresa May presently needs something dramatically different, in the order of jump-starting higher thresholds of trade relations across the world, if not to demonstrate it has a far more viable Plan B than the European Union, than to simply compensate for its European partners in what might become a costly divorce.
Matters are not much better elsewhere in the Commonwealth to sustain the Commonwealth spirit. Once the "crown-jewel" of the British Empire, South Asia is so divided today that getting India and Pakistan to work in harmony within the Commonwealth would divert more attention to South Asia than the Commonwealth. African countries have been so swept up by China that the Commonwealth may become, after Mugabe's nationalistically-driven withdrawal, but an afterthought, while Malaysia's corruption scandal in this election year exemplifies leaders in so many other Commonwealth members that confronting them, as the Commonwealth is obligated to do through its principles, may prove far costlier than Commonwealth abstention.
Nevertheless, the British Commonwealth carries a silver lining or two. Queen Elizabeth II tops them all. Gracefully symbolising the transition of a stiff upper-lipped imperious society into the "global commons" where countries look more like each other, perhaps even bond with each other more symmetrically, she has served as the Commonwealth's unwitting "Rock of Gibraltar" almost from her very coronation. As she retreats from her duties, though, she may be, also unwittingly, anticipating the Commonwealth's fate: Prince Charles is too unknown, though with due respect to him, he comes at the wrong time to galvanise a wrong lot, for a wrong agenda.
The future of the 21st Century is currently being written by too many individualistically driven countries for any "common" wealth to stand a chance; and even the die-hard supporters of collective action may just have their collaborative cups filled to the brim with other commitments and engagements to resuscitate a 19th Century relic for contemporary purposes. Unless the London BCHOGM gathering can pull off a coup in pushing some of the world's most cherished principles and urgent obligations, it too may face a climb too steep to undertake. Even if it did, any outcomes would be far more "global" for Commonwealth authorship, suggesting a transition that will constantly be knocking on this institution's door.
---
Imtiaz A Hussain is Head, Global Studies & Governance, IUB.
---
Follow

The Daily Star Opinion

on Facebook for the latest opinions, commentaries and analyses by experts and professionals.
To contribute your article or letter to The Daily Star Opinion, see our

guidelines for submission

.
---