Towards a consensus on Bangladesh priorities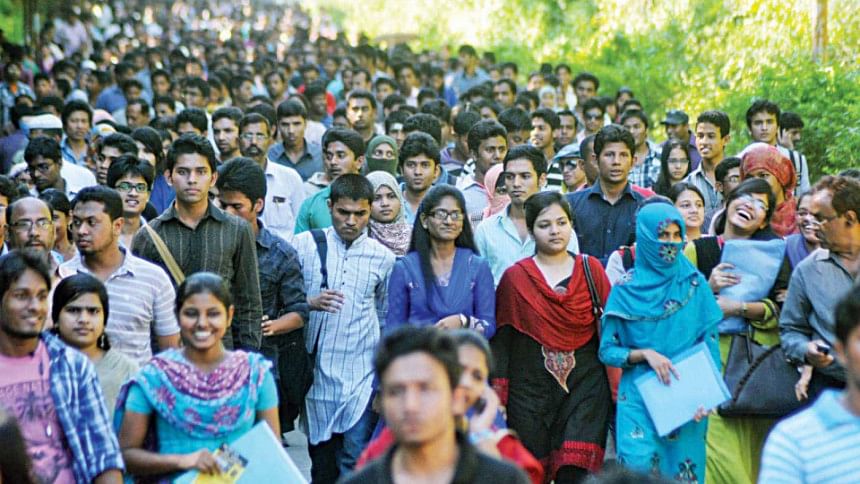 There are nearly as many different opinions about what Bangladesh should focus on to achieve middle-income status as there are Bangladeshis. For some, education is paramount – but does that mean first focusing on getting more people into tertiary education, or improving early childhood access? For others, the place to start is poverty reduction: again, there are a myriad of different ways to tackle this challenge. Some believe that institutions need to be built before anything else can happen, and for others it is a question of solving social ills first. 
To inform this discussion, my think tank, the Copenhagen Consensus Center, has partnered with BRAC on Bangladesh Priorities, a research project that sets out to discover which investments would do the most social, environmental and economic good for Bangladesh for every taka spent. By focusing on where we can achieve the most benefits, we can help decision makers with the difficult task of priority-setting. Of course, cost-benefit analysis is not the only thing they should pay attention to – but it is a vital input.
Copenhagen Consensus has carried out similar projects looking at global development priorities as well as regional spending choices, and this work – performed by some of the world's top economists, including Nobel laureates – has been used to inform the choices of UN agencies, philanthropic organisations, and national governments. 
To embark on Bangladesh Priorities, we first convened and interviewed hundreds of sector experts in a series of roundtable events, to find a wide range of views about what Bangladesh should do to move forward. Encouragingly, there was a lot of enthusiasm for the idea of cost-benefit analysis as a way to set priorities.
Barrister Manzoor Hasan, for example, Executive Director of the South Asian Institute of Advanced Legal and Human Rights Studies (SAILS), stated that "the Bangladesh Priorities outcome could carry high value to the development partners such as World Bank, DFID or UNDP and also for policymakers in making prudent public expenditure decisions."
Now, with the research for this project poised to get underway, we are sharing some of these leading minds' views on priorities with The Daily Star readers – and inviting you to join the conversation. On The Daily Star's Facebook page (https://www.facebook.com/dailystarnews), we invite you to share your thoughts about the top investments needed for Bangladesh.
Education quality is a top priority for several of those that we spoke to, including Nazrul Islam, Secretary (Coordination and Reforms) Cabinet Division. He prioritised ICT skills development. Computer skills are clearly necessary in today's global economy, to compete as well as to modernise service delivery.
But Dr. Abbas Bhuiya, Deputy Executive Director of Iccdr,b, suggested he would first focus on improving access for pre-school children to modern early child development programmes, while Janina Jaruzelski, Mission Director for USAID, suggested that increasing school hours may be a simple solution to ensuring kids learn more.
Dr. Sadiq Ahmed, economist and Vice Chairman of Policy Research Institute (PRI) took a different tack. His three immediate priorities are: investment in the power and energy sector; the transport sector; and rural development through targeted infrastructure projects, such as increased clean water supply. 
Dr. Ahmed suggested that micro, small and medium enterprises should be developed targeting more sophisticated sectors than cycle repair shops. Here, the focus could be on industries such as electronics and fashion design.
Lawyer and Executive Director of BLAST, Sara Hossain, highlighted the country's challenge of domestic violence, noting that very few women who experience abuse seek legal recourse. Ms Hossain suggested interventions to improve access to justice, such as creating more crisis centres where women could seek legal, rehabilitation and health services, and running awareness programs.
Through the Centre for Research and Information's (CRI) 'Policy Cafes', we were able to hear the voice of youth. Young people's priorities included community development, mental disability, youth engagement and ICT.
From this engagement across Bangladesh's vibrant policy and civil sector environment, Copenhagen Consensus has gained hundreds of ideas for research across 20 topics. In each of these areas over coming months, we will engage with top economists to conduct cost-benefit analysis, establishing exactly where we can do the most good with our limited resources. 
This work will help us answer the question: what investments would generate the greatest benefit for every taka spent? In doing so, it will provide an important input for this vital debate. 
But we also want to hear from you. If you were given the chance to make a policy change that could help develop this country, what would be your top choice? More health spending? And what kind? Training? Help for the poor? Policies to make it easier for small or large businesses? Or something else altogether? Go to The Daily Star's Facebook page and have your say on what top priorities you think would most help Bangladesh.

The writer is the president of Copenhagen Consensus Center.