China-Bangladesh relations
For a better strategic partnership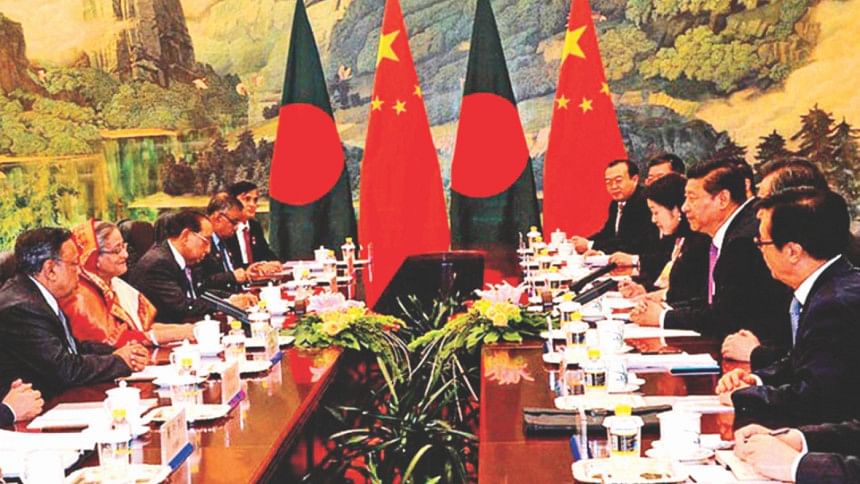 Since Bangladesh gained its independence in 1971, it has followed Bangabandhu Sheikh Mujibur Rahman's principle of friendship towards all, malice towards none in dictating its foreign policy. Since the establishment of diplomatic ties 41 years ago, Bangladesh and China have had a relationship of shared mutual cooperation in the economic, military, technological and cultural fields. Both countries also share the same outlook on a number of important international and regional issues.
During the 41-year period, there have been state visits by senior officials from both countries. This is a clear sign that Bangladesh gives a lot of importance to its relations with China, and vice versa.
During my tenure as the Bangladesh Ambassador to China from August 1987 to October 1991, I witnessed the early years of China's rapid economic growth. This growth was evident from my travels around China in places like Shanghai, Tianjin, Guanzhou, Qingdao, Nanjing, Dalian, Kunming, Chengdu, Chongking, Wuhan, Xiamen and many other cities all across the country. During this period, I witnessed the surge in tourism with countless new hotels being opened across the country and a large number of the world's leading companies establishing offices in Beijing and other parts of China. Since my departure from China 25 years ago, I have had the opportunity to visit China 15 times. The transformation even within a space of one year has been quite extraordinary. No other country has come close to this type of rapid economic development.
For Bangladesh, economic ties with China are of great significance. The bilateral trade and economic relations between the two countries have strengthened enormously over the years. China is now the largest trading partner of Bangladesh. For China, Bangladesh is its third biggest trading partner in South Asia. However, we believe that there is scope for Bangladesh to increase its exports to China to address the large trade imbalance which favours China. In 2014, bilateral trade between the two countries had increased to over USD12 billion.
In March 2010, during the official visit of Prime Minister Sheikh Hasina to  China, both countries agreed to establish a "Closer Comprehensive Partnership of Cooperation" from the strategic perspective and on the basis of the principles of longstanding friendship, equality, and mutual benefit. Agreements on co-operation in the areas of oil, gas, minerals and agriculture were signed.
As Bangladesh continues to develop its infrastructure, China has become an important partner in this venture. As a result, during Prime Minister Hasina's visit, both countries signed three major agreements and a MOU under which the Chinese Government would assist Bangladesh in infrastructure development projects. Also, during the Prime Minister's visit, the Chinese government agreed to provide grants for seven major projects, including the construction of road and rail infrastructure connecting Chittagong with Kunming through Myanmar, construction of the eighth Bangladesh-China friendship bridge and support for the construction of the Chinese Exhibition Centre.
It is in the areas of trade and investment that China's relations with Bangladesh can truly flourish. For instance, the construction of a road from Chittagong to Kunming will also cut through Myanmar, thereby benefiting the economies of all three countries.
There is also scope for increasing investment ties with China, as the Bangladesh government is making greater efforts to attract greater amounts of foreign direct investment from countries like China. Since the Awami League-led government assumed power following the December 2008 elections, there has been a marked improvement in business relations between the two countries. There is promise of yet further investment from the Chinese side, while the government has offered to set up a special economic zone for China. 
In June 2010, at the invitation of Prime Minister Sheikh Hasina, the then Chinese Vice President Xi Jinping, who is now the President of China, paid an official visit to Bangladesh. President Xi and Prime Minister Hasina held discussions on boosting bilateral ties based on agreement on a four-point proposal. The proposals included maintaining frequent high-level exchanges, expanding economic cooperation, exploring more fields for cooperation and strengthening cultural exchanges. 
From July 1, 2010, China allowed duty free access to 4,721 Bangladeshi products to its markets. This important initiative in due course of time will help Bangladesh reduce its large trade imbalance with China.
With the aim of opening up new areas of economic cooperation, Prime Minister Sheikh Hasina visited China from June
6 to 11, 2014 where she had very constructive discussions with Chinese leaders on various bilateral, regional and international issues. During the visit, both countries signed six instruments for execution of different projects and agreement was reached under which China will support five more projects in Bangladesh at a total cost of USD5 billion.
In 2014, the Bangladesh government awarded China a USD1.55 billion contract to build the Padma Bridge. Work on this key project is progressing well and is expected to be completed in 2018. In a further deepening of ties with Bangladesh, in February 2015, the Chinese government agreed to finance 10 large infrastructure projects estimated to cost over USD 8.5 billion. China has more than 100 companies that are doing business in Bangladesh in garments, textiles, jute and general manufacturing. China has sought land from the government for a special economic zone for Chinese companies.
In August 2016, the China Railway Group, one of the world's largest construction companies, was awarded a USD 3.1 billion project to build a rail network in Bangladesh connecting the capital Dhaka to Jessore in southwestern Bangladesh. The four lane Dhaka-Chittagong highway built by a Chinese company is another landmark project. Chinese companies have also been actively involved in the power, textile, water treatment and telecom sectors. One of the most important projects in the pipeline is the tunnel under the Karnaphuli River in Chittagong. Chinese companies are also expected to build two four lane elevated expressways, which should play an important part in overcoming traffic congestion in the country.  
Bangladesh and China have, over the last four decades, also developed strong military and defence cooperation. China has provided training to Bangladesh's armed forces and members of both armed forces have undertaken courses in each other's defense colleges.
Over the years, there have been regular high-level bilateral visits of military officials from both sides. Most recently, Bangladesh Navy chief Admiral Nizamuddin Ahmed visited China to officiate at a ceremony for the construction of two Corvette warships. Further high level visits are expected to take place during the coming months.
In 2013, China's leader President Xi Jinping unveiled the strategic international development strategy and framework known as the One Belt One Road Policy (OBOR). China aims to increase its cooperation with other states in Eurasia, Africa and South and Southeast Asia creating a global 'network of infrastructure partnerships'.
The OBOR has been described as China's 'Marshall Plan'. This grand vision cleverly reflects the history of the old Silk Road trade routes to shape a vision for China's 21st century and beyond. With 'one eye in the past and one eye in the future' China aims to bring economic success to more than 60 states, comprising 60 percent of the world's population and 46 percent of the world's GDP. As one of the world's largest economies and the number one trading partner for 120 countries, China holds almost unprecedented power and responsibility.
Bangladesh is fully supportive of OBOR and believes that the OBOR policy has the potential to be a game changer for the global market. It has the opportunity to create opportunities and increase the prosperity of not only developing nations but developed nations.
Bangladesh has been a strong supporter of the BCIM economic corridor linking China, Myanmar, Bangladesh and India together. This initiative which was earlier known as the Kunming initiative it is hoped will produce some tangible results in the coming years. Bangladesh has also actively participated in an initiative launched by China last year: The Trans Himalayan Development Forum.
Since the establishment of diplomatic relations over 40 years ago, Sino-Bangladesh relations have expanded significantly to cover a wide range of subjects. Whilst defence and economic co-operation remain the two principal pillars of cooperation, there is a need to expand this cooperation in other areas. Bangladesh needs to attract Chinese investments in to Bangladesh and also improve connectivity between China and Bangladesh.
Bangladesh has continually demonstrated its interest to maintain close and friendly relations with China, and as far as possible to partake in the ever expanding political, economic and defence relations between the two friendly nations. In addition, with President Xi Jinping's scheduled visit to Dhaka, the bilateral relations will be further enhanced between the two time-tested friends. Thus ties between the two friendly nations will undoubtedly continue to grow, and do so for many more decades to come.


The writer is President, Bangladesh Enterprise Institute.