The pleasure of giving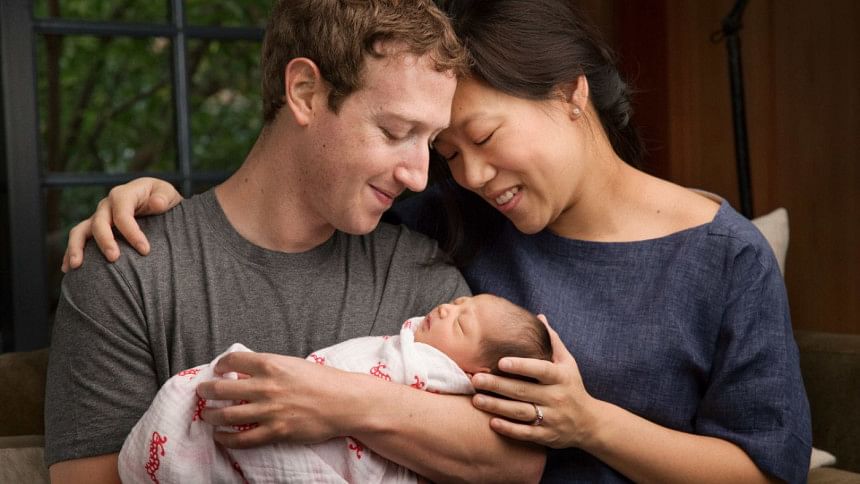 The recent announcement of Silicon Valley's power couple - Facebook founder Mark Zuckerberg and his doctor wife Priscilla Chan - sparked reactions from both ends. Their pledge on the occasion of the birth of their daughter Maxima Chan Zuckerberg to give away 99 percent of their Facebook shares as donations is perhaps the best way to celebrate her birth. They will give the money earned from the share for the advancement of human potential and promotion of equality. As a tech giant, they will naturally give priority on broadening the use of internet and technology in developing countries and also on clean energy. But critics were prompt to point out that they were trying to avoid tax on their fortune worth $45 billion. Zuckerberg of course clarified the tax issue adequately. But then cynics discarded their good intention as they don't believe that such sporadic charity can change the world in any manner.
Similar sentiments were echoed by sceptics when Warren Buffett, along with Bill and Melinda Gates, initiated the 'Giving Pledges'– a campaign calling billionaires to donate most of their wealth for philanthropic causes - in 2010.  They received positive response from more than 130 billionaire couples and individuals from as many as 14 countries. Of course, such charity of some of the richest people in the world is like a drop in the ocean. The need for eradicating poverty, ensuring access to health and education and dealing with so many other problems that the world is facing today is enormous. That is why global attention has now shifted towards bringing as many partners as possible in the development finance landscape. In addition to overseas development assistance by governments and private finance such as foreign direct investment, philanthropic flows from private foundations are recognised as an important source in the area of development co-operation, even though their share is still insignificant. According to the Organisation for Economic Cooperation and Development, the share of philanthropic flows from foundations and NGO's own grants was only 6 percent of the total external finance pie in 2012. The progress, however, is noteworthy. Over a period of nine years, the volume of such funds has increased by almost ten times. This is thought to be an underestimation since it is difficult to get actual data on private donations.
The culture of philanthropy is not uncommon in our part of the world. Many educational and religious institutions, hospitals and other infrastructure have been built by wealthy personalities of Bangladesh. Education and medical support to individuals were provided by many. Even today we see similar benevolence of certain affluent families in the country. But whether that has increased at the same rate as economic prosperity of those families is something to be explored. From only a few rich people during post-independence, we now have a few hundred super rich families whose net worth would be equivalent to millions of dollars. Tax figures of the National Board of Revenue may not be a reflection of the real picture, but their lifestyles are. Many of them can comfortably set up smaller versions of the Rockefeller or the Carnegie Foundation. Of course, there are many who prefer to do charity quietly. But most private donors like to bring their charity to public notice. There is nothing wrong in doing so as long as their money is spent for a good cause and such charity is not used to boost their self-interest or in hope of some favour. But quite often, the spirit of giving gets diluted in the race to getting something in exchange. 
A curious mind may ask how many of today's rich in our country have the magnanimity to bequeath 99 percent of their wealth for the welfare of the society. We shouldn't be surprised if we find no one. We have gradually turned into a society where people are judged by their bank balance, not by their quality and honesty. The power of money wipes out the distinction between good and bad.
As opposed to giving away almost all of what has been made by the rich, we find efforts to accumulate resources in our country even in the most primitive manner, so that these can be left behind to be enjoyed by their family members, generations after generations. That is why the arrival of a newborn is celebrated not through sacrifice of wealth, but through more accumulation. How will they give to others if they themselves have to embezzle public money from banks and capital markets to meet their own needs? They have to be adorned with Rolex and Burberry after all. Some of them, of course, following the footstep of Robin Hood, are trying to give back to the society a part of their stolen money in various forms. We, like cowardly spectators, have to play the role of grateful and appreciative citizens. You will otherwise be branded as an outcast and as unsocial. The fear of being segregated from the rest of the society is ingrained amongst us. Most of us love to follow the trend, but not create or break the trend.
A few years back, a group of neuroscientists in the USA found that the feel-good factor works behind altruism. One wonders how much of this is applicable in our case. 
The writer is Research Director at the Centre for Policy Dialogue.