Sending workers to Greece: No recruitment even 5 months after deal
4,000 Bangladeshis supposed to get work permits there every year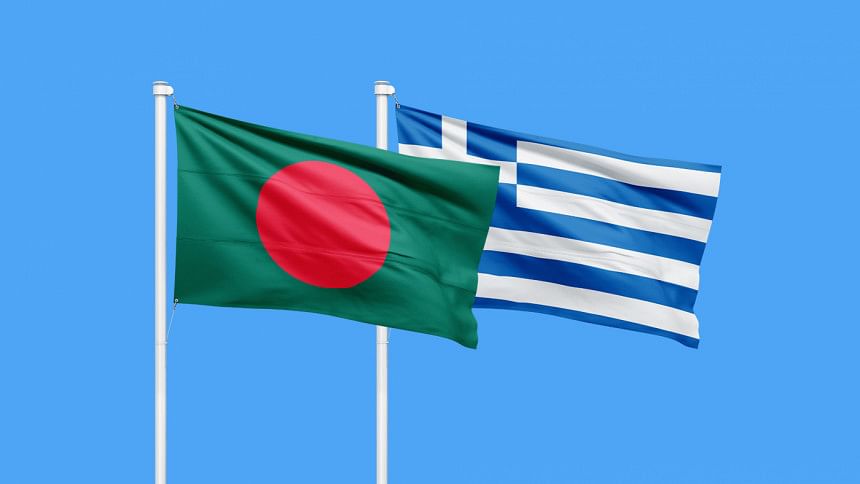 More than five months have passed since the signing of a memorandum of understanding (MoU) between Bangladesh and Greece on sending workers to the European country, but the fresh recruitment is yet to begin.
Greece had also agreed to regularise undocumented Bangladeshi migrant workers, but the process in this regard has also not started.
Addressing an event in Dhaka on July 22, Foreign Minister AK Abdul Momen said Greece would regularise some 15,000 undocumented Bangladeshis.
Under the MoU, Bangladesh can also send some 4,000 workers to Greece each year, he added.
According to an estimate of the Bangladesh embassy in Athens, at least 28,000 Bangladeshis currently live in the European country. Of them, at least 15,000 are undocumented.
Asked about the delay, Bishwagith Kumer Paul, first secretary (labour welfare wing) at the Bangladesh embassy, recently said the Greek authorities were waiting to get their parliament's approval for the implementation of the MoU, signed in Dhaka on February 9.
Greek parliament on July 22 ratified the deal, reads a notice posted on the Bangladesh mission's Facebook page on Thursday.
Implementation of the MoU will ensure safe migration of Bangladeshi workers and reduce the influence of human traffickers, it says.
The Greek authorities, reads the notice, are expected to soon announce the details about regularisation of undocumented Bangladeshi workers.
It said details about new recruitment and migration costs would be finalised later. The decision on whether the hiring would be done under government-to-government or government-private arrangement would also be made later.
The MoU, first of its kind between Bangladesh and a European Union country, opens a new horizon for Bangladeshi workers' regular and orderly migration to Europe.
European countries, especially EU member states, are sought-after destinations for many Bangladeshi youths mainly because of their strong economic conditions.
To fulfil their dream, many Bangladeshis take risky illegal migration routes, including the Mediterranean Sea, after paying hefty amounts to human traffickers.
Both Greece and Bangladesh see the signing of the MoU as an important step towards cutting illegal migration and trafficking of Bangladeshis.
After the signing of the deal, Bangladesh expatriates' welfare ministry in a press release said Bangladeshi workers will be hired in the "seasonal" category for the agriculture sector. The number of sectors will be increased later based on demand and following discussions between the two countries.
The workers will have to return home upon expiry of their work permits. They will be able to remigrate for employment.
While applying for a job, Bangladeshi job seekers will have to submit valid travel documents, work contracts, and pay necessary fees.
Labour welfare official Bishwagith said Greece, like other EU countries, has recently beefed up border security to reduce illegal entry.
During the signing of the MoU in Dhaka in February, Greece Migration and Asylum Minister Panagiotis A Mitarachi expressed optimism that the new deal would effectively support legal migration.
"When I sit in the council of the European Union with the other colleagues of mine…it has been a joint position in the last few years that we would like to support legal migration.
"So, this is what we agreed today [February 9]," he had said.