Migration to Malaysia: No progress after MoU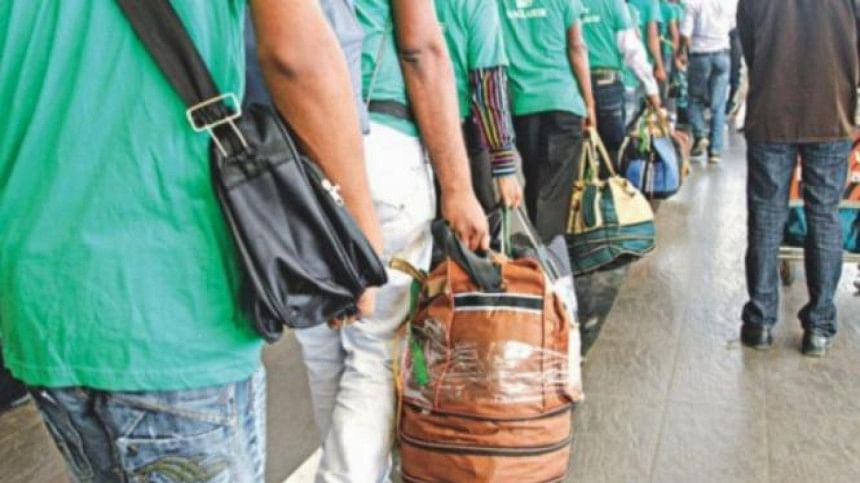 "The market should open immediately. However, a lack of proper planning in this regard is apparent."
Bangladesh is missing out on a large labour market in Malaysia after Kuala Lumpur stopped taking in any fresh Bangladeshi migrants over irregularities by recruiting agencies in 2018.
Four years on, the fourth largest labour market for Bangladesh is yet to start the recruitment, affecting the remittance inflow from the Southeast Asian nation.
After prolonged negotiations, Dhaka and Kuala Lumpur signed a Memorandum of Understanding in December last year to start sending migrants from Bangladesh under a new arrangement. But officials are yet to finalise the details required to start the migration process.
Relevant officials of the two countries are likely to discuss the update today, after several scheduled meetings were postponed on request from the Malaysian authorities, Bangladesh officials said.
The Malaysian Embassy in Dhaka did not respond to our email requesting its comment on the progress made on the MoU.
Following the December MoU, the two sides laid importance on necessary paperwork to sort out various details, including migration cost, medical test, and involvement of recruiting agencies.
In a letter to Malaysian Human Resources Minister M Saravanan on January 18, Bangladesh Expatriates' Welfare Minister Imran Ahmad proposed a meeting of the Joint Working Group (JWG) comprising officials from both sides to finalise and implement the recruitment process.
"We had agreed to hold a meeting on May 26. However, the Malaysian side requested us to shift the date," he told The Daily Star last week.
Since January, several other agreed upon dates had to be changed at the request of Malaysian officials, he added.
However, he is "hopeful" about a positive outcome from the meeting scheduled for today, saying his priority is to protect workers' rights.
Malaysia currently hosts about 800,000 Bangladeshi workers.
It banned labour recruitment from Bangladesh in September 2018 following allegations of malpractice and high recruitment cost of up to Tk 4 lakh.
In 2016, under government to government (G-2-G) plus mechanism the Malaysian government selected only 10 Bangladeshi agents to recruit workers, although the Bangladesh government had proposed 745 names.
After the latest MoU, recruiting agencies raised allegations that members of the previous "syndicate" have been active to interfere in the process again and create a "market oligopoly".
The agencies under different banners organised a number of events in Dhaka over the past few months including roundtable discussion, press conference and human chain demanding an open market for all licensed agencies.
They also placed the issue before different government authorities, including the expatriates' welfare ministry.
Expatriates' Welfare Minister Imran Ahmad on a number of occasions said his priority is to create opportunity for all valid agencies and protect workers' rights.
Ali Haider Chowdhury, former general secretary of Bangladesh Association of International Recruiting Agencies (Baira), said there should be better options for migrant workers to migrate at a minimum cost.
Besides, there should be better choices for Malaysian employers to approach the "best" agencies in Bangladesh, he said.
"The market should open immediately. However, a lack of proper planning in this regard is apparent," he added.
Shameem Ahmed Chowdhury Noman, another former secretary general of Baira, said Bangladeshi recruiting agencies are ready to start sending workers to Malaysia anytime.
As per the new MoU, Malaysia will bear Bangladeshi workers' migration costs incurred in that country, the expatriates' welfare ministry said in a release following the MoU.
The costs employers will cover include the service charge of the Malaysian recruiting agency, travel to and from Malaysia, and accommodation.
Moreover, employers will pay the immigration, visa, medical test, insurance, Covid-19 test, and quarantine fees in Malaysia.
The presence of Malaysian recruiting agencies will be a new inclusion in the labour-sending process. Previously, recruitments were operated by Bangladeshi agencies.
Its implementation will be regulated by the JWG.
Bangladeshi workers are expected to be hired in various sectors including plantation, agriculture, manufacturing, services, mining, quarrying, and construction.
Labour migration expert Shariful Hasan, now working at Brac, said Bangladesh needs to look at a number of issues, including migration cost, before sending workers abroad.
Migration cost should not exceed the amount of a worker's wage for three months. However, a Bangladeshi male migrant worker needs about one-and-a-half-years to recover his migration cost, he said.
There should also be monitoring to protect migrant workers' rights such as living and work environment and working hours to prevent exploitation.
Malaysia is the fourth largest labour market for Bangladesh after Saudi Arabia, the United Arab Emirates and Oman. Since 1978, Bangladesh has sent about 10.57 lakh workers to Malaysia, according to the Bureau of Manpower, Employment and Training (BMET).
Before the market suspension in September 2018, Bangladesh sent 1.75 lakh workers there in that year alone, says BMET data.
In the previous three years, 1.7 lakh Bangladeshi workers went there with jobs, it says.
According to the "Cost of Migration Survey-2020" of Bangladesh Bureau of Statistics (BBS), the average recruitment cost of a Bangladeshi worker in Malaysia is Tk 4.04 lakh and their average monthly income is Tk 25,600.
At this rate, a worker needs more than 15 months to recover the migration cost.
Until April this year from FY 2017-18, Bangladeshi migrants sent $6.3 billion in remittance from Malaysia, Bangladesh Bank data show.