Did Biman hike hajj airfare to cover its losses?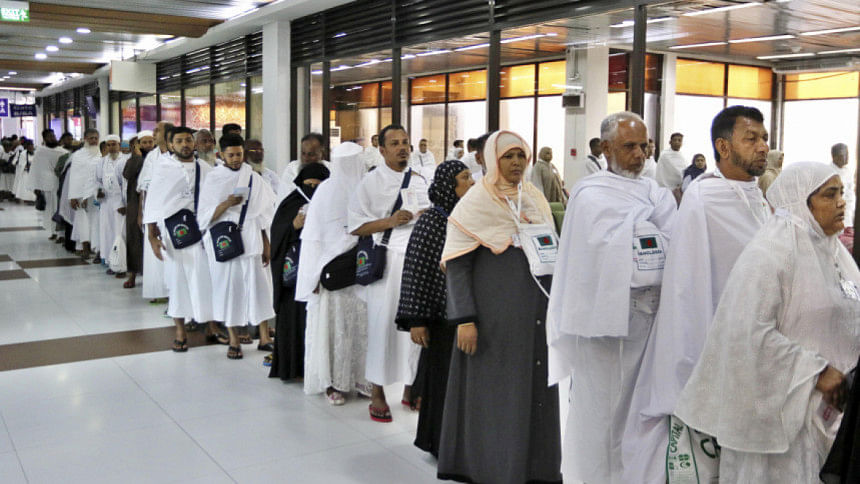 This year's hajj package is set to be the most expensive in Bangladesh's history, thanks mainly to what travel agents and hajj agents termed as Biman Bangladesh Airlines' unusually high airfare.
The cost of hajj package under the government and private hajj management is about Tk 7 lakh. But the actual cost will exceed Tk 8 to Tk 8.5 lakh when the cost of sacrificial animal, food and other miscellaneous costs are included.
This year the airfare has been fixed at Tk 1.98 lakh, an increase of about Tk 60,000 over last year's airfare. 
Hajj Agencies Association of Bangladesh (HAAB) and Association of Travel Agents of Bangladesh (ATAB) said one of the main reasons for the increase in the cost is the unusual airfare.
HAAB and ATAB leaders said Biman Bangladesh Airlines, the national flag carrier has increased the fare by 30 percent to make extra profit. Compared to last year, both hajj packages under the government and the private hajj management have increased by about Tk 1.5 lakh.
Aviation expert Kazi Wahidul Alam, also editor of The Bangladesh Monitor, said Biman increases airfare for hajj pilgrims every year to cover its losses and to show that the airliner is a profitable entity.
However, Biman officials said their flights have to return to Dhaka from Saudi Arabia mostly empty, and as such they demand extra fare.
According to the information provided by the ATAB, Biman has increased airfare by almost 70 percent in the last six years.
In 2017 the fare was Tk 1.18 lakh, in 2018 it was Tk 1.28 lakh, in 2019 Tk 1.28 lakh, in 2020 Tk 1.38 lakh and in 2022 it was 1.4 lakh.
Due to the Covid-19 pandemic, there was no hajj pilgrimage from Bangladesh in 2020 and 2021, but the airfare was announced by Biman for the first of those two years.