G7 allies vow to support Ukraine 'until victory'
EU pledges extra 500m euros in military aid for Kyiv; Swedish security review paves way for Nato bid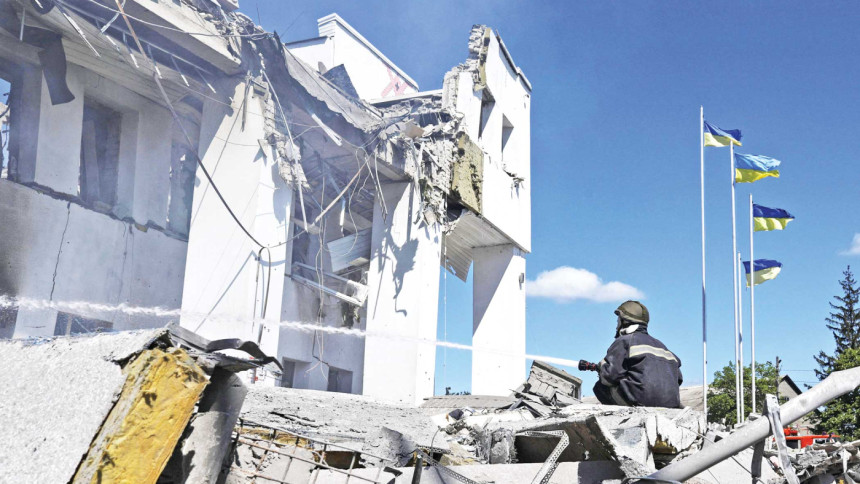 Leading democracies yesterday pledged unwavering support for Ukraine in its war with Russia while the European Union promised to hike military support for Kyiv by more than half a billion dollars.
Foreign ministers of the Group of Seven (G7) met on the second day of a three-day meeting in the Germany resort of Wangels, joined by their counterparts from Ukraine and Moldova.
French Foreign Minister Jean-Yves Le Drian said the G7 were "very strongly united" in their will to "continue in the long term to support Ukraine's fight for its sovereignty until Ukraine's victory."
EU foreign policy chief Josep Borrell said the bloc was pledging an extra 500 million euros ($520 million) in military aid.
The cash will raise the EU's total military aid for Ukraine to two billion euros, he said.
"The recipe is clear –- more of the same," Borrell said.
"More pressure on Russia, with economic sanctions. Continue working on international isolation of Russia. Countering the disinformation about the consequences of the war... And presenting a united front to continue supporting Ukraine."
British Foreign Secretary Liz Truss also called for further support for Ukraine.
"It is very important at this time that we keep up the pressure on Vladimir Putin by supplying more weapons to Ukraine, by increasing the sanctions,"she said.
They were joined by their Ukrainian counterpart Dmytro Kuleba, who praised their resolve to help Kyiv but also urged them to go further, reports AFP.
"Today I asked G7 countries to adopt legislation and put in place all necessary procedures needed to seize Russian sovereign assets and give them to Ukraine to use this money to rebuild our country," he said.
Kuleba also urged the EU to ensure that an embargo is placed on Russian oil, warning that an omission of the ban on the bloc's next package would mean its unity was "broken".
Britain yesterday sanctioned 12 members of Putin's "inner circle" accused of hiding corrupt riches in return for influential state positions.
They included his ex-wife Lyudmila Ocheretnaya and Alina Kabaeva, a former Olympic gymnast who the UK government said was "alleged to have a close personal relationship with Putin".
Meanwhile, Sweden yesterday inched closer to a reversal of its decades-long policy of military non-alignment, as a security policy review concluded that joining Nato would reduce the risk of conflict in northern Europe.
The report, compiled by the parties in parliament, paves the way for Sweden to announce a bid for Nato membership together with neighbouring Finland in the coming days.
Public and political support for joining the Western military alliance has surged in both countries following Russia's invasion of Ukraine on February 24.
President Recep Tayyip Erdogan, however, said yesterday Turkey did not have a "positive opinion" on Finland and Sweden joining Nato, throwing up a potential obstacle for the nations' membership bid.
Erdogan accused both countries of harbouring "terrorist organisations" in his unfavourable assessment of the membership bids.
"Scandinavian countries are like a guesthouse for terror organisations," he told journalists after Friday prayers in Istanbul.