Indigenous Migrants
A story unheard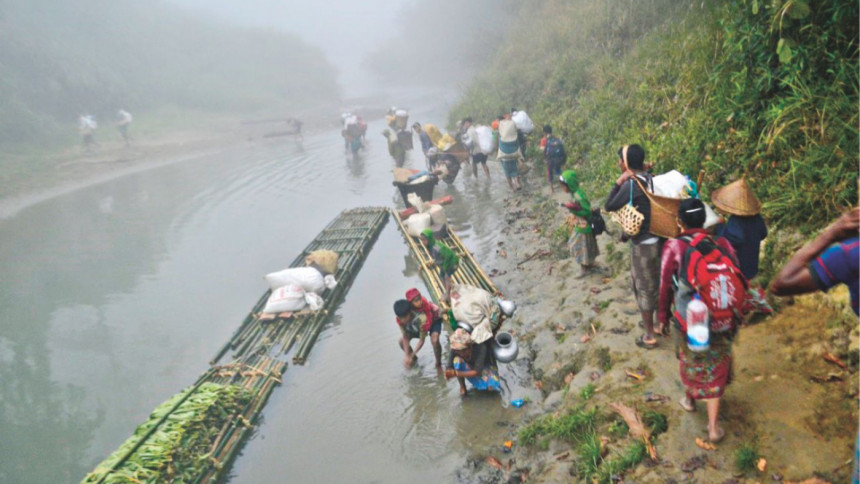 On the morning of March 14, 2018, Pro Oai Mro and his family embarked upon a dangerous journey—across the Myanmar border. Tired of living at the brink of uncertainty and desperate to ensure a better future for his four sons, Mro decided to take a leap of faith.
The cow smugglers near the border at Alikadam had told him that the Myanmar government would provide his family with food, land and agricultural equipment for free. In return, all he had to do was pay the smugglers Tk 5,000 and they would take his family to greener pastures. After an exhausting six-kilometre walk, the family reached the border. Everything seemed to be going as per Pro's plan. "Get ready to see a new kind of sunrise from now on," he told his sons, just before they started crossing the border.
Unfortunately, in a devastating turn of events, the family encountered a landmine while crossing the Myanmar border. The explosion killed Pro on the spot and left the rest of his family severely injured. One of the sons was blinded by the blast. The mother's face is covered with scars which, till date, remind her of her husband's death. 
Pro's family's attempt to cross the border isn't a rarity. According to an investigation conducted by Kapaeeng Foundation—an indigenous people's movement—more than 500 indigenous families from rural localities of Alikadam, Thanchi, Naikhyongchari and Lama in Bandarban have shifted to Myanmar in the last five to six years. The families mostly belong to the Mro, Marma and Tanchangya-Chakma indigenous groups. Pro, unfortunately, was one of the few to have been killed because of a landmine blast.
According to Lieutenant Khondokar Mizanur Rahman, captain of the Border Guard Bangladesh 57 Batallion, families are leaving due to rumours spread from Myanmar.
"People living near the border are very poor and that's why they are easily enticed. They are told that they will get nine acres of land, ration and a lot of other facilities in Myanmar. But in reality, most of them don't get any such support," says Rahman.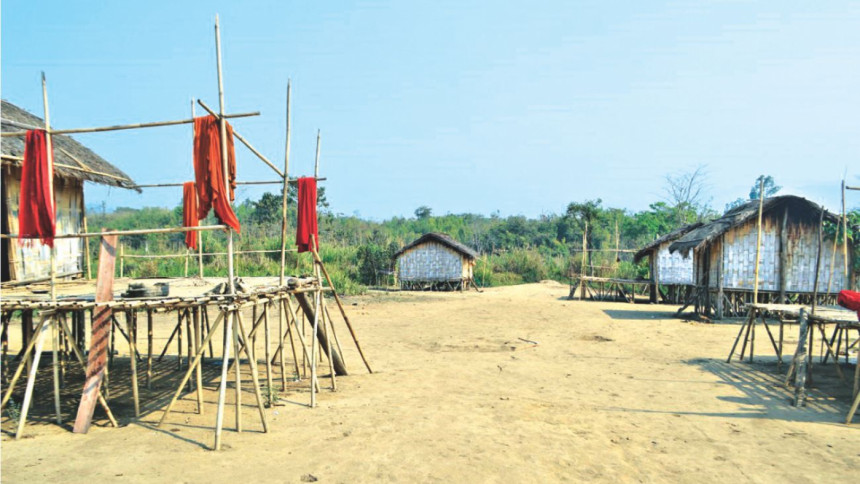 He explains that he recorded 33 families leaving for Myanmar from the region at the border that he looks after. But a number of them have returned, he says.
"The returnees say that although it is difficult for them to stay in Bangladesh, it was worse off over there [Myanmar]. They didn't get the land offers or other support that they thought they would have received," says Rahman.
Kapaeeng Foundation's Executive Director, Pallab Chakma, shares a similar opinion. "Some of the returnees we interviewed told us that they were initially kept in Buddhist temples. While the community helped them at the start, they weren't given any support later on. And most of the services they thought they would get before going there, turned out to be rumours," he says.
The extent of support that these indigenous Bangladeshis receive in Myanmar is an issue that requires a lot more research. However, Bangladesh's activists believe that there is a more important point to focus on—none of the families would have left had they not been discriminated in their home country in the first place.
"In cross border migration, there is a pull factor as well as a push factor. If the indigenous people did not face so many problems, they would not have left their homes. Many of these families only decide to go when their lands are grabbed and when they have no hope," explains Rani Yan Yan, the advisor of the Chakma Circle Chief.
According to Pallab Chakma, a sense of fear and panic is created in the regions in the name of Rohingya settlement— and that is one of the reasons that drive away the indigenous families.
"Many Bengali settlers go propagating that the Rohingyas will be rehabilitated in the lands of the indigenous people and that, after that is done, the indigenous people will not be allowed to stay there," argues Pallab. "This is not true. But the false message is spread so that these families abandon their ancestral lands and leave. Many of them are not educated and fall for this trap."
For instance, according to a report published by Kapaeeng Foundation, illegal land grabbers equipped with firearms threatened indigenous Chak families in Naikhyongchari and forced the families to abandon their village on February 14, 2018. It also states that 21 more families living in the Badujhiri Chaka Para of the same Upazila were also evicted in April 2014.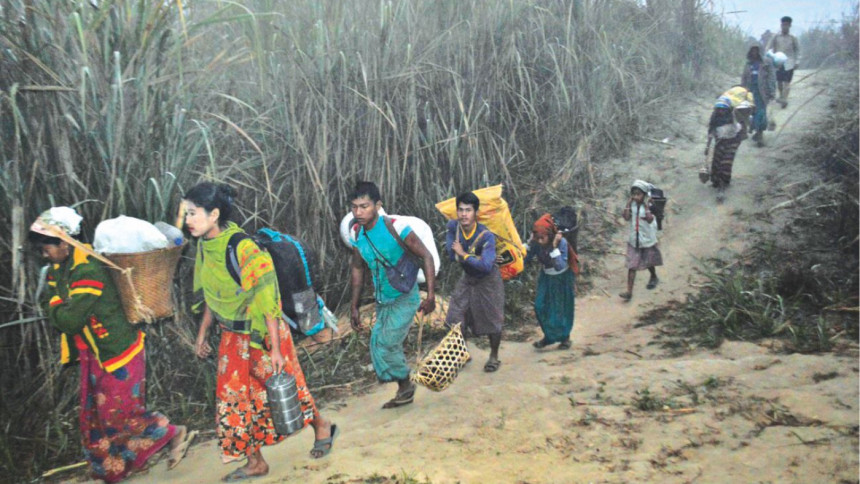 Many locals have also alleged that they have been harassed with false forest logging cases. "The Bengali settlers secretly cut down bamboos and trees from the forest. However, the Forest Department accuses innocent indigenous villagers for destroying the forest and regularly files false cases against indigenous peoples. Sometimes, this leads them to jail. This type of forest cases against local indigenous villagers is one of the reasons why the locals feel insecure and are compelled to leave," the report states.
Furthermore, Pallab says that the Forest Department interferes in Jhum cultivation, a type of farming which is popular among the indigenous community, as well. "When Jhum cultivation is interfered with, it leads to a scarcity of food and that too at a time when the population is increasing. This encourages people to abandon their homes," he says.
"The other issue that these families living in the border regions have complained about is forced labour. It is alleged that the law enforcement agencies engage the local people to clear the jungles surrounding their camps without any payment. There are times when the locals have to provide materials, like bamboo, wood for construction as well," explains Pallab.
"Moreover, the indigenous people also have to supply cows, goats, hens to the camps at least once in a month and that too at nominal cost," he adds.
Cross-border migration among indigenous families is just one aspect of the problem. According to Rani Yan Yan, internal migration of members of the ethnic minority is a much bigger issue. "There are lakhs and lakhs of indigenous people who have been internally displaced. People have been displaced from their own lands to create villages for settlers. These dimensions are never talked about," opines Yan Yan.
A research paper entitled 'Hill to Plain: Causes and Impacts of Internal Migration of Indigenous Peoples in Bangladesh' published in 2015, explains how socio-cultural lifestyles of indigenous peoples are affected due to internal migration.
The study which was conducted on 250 migrant indigenous peoples states that 65.2 percent of the total respondents have changed their food habit. They have said that the frequency of having Jhum food has reduced drastically. Only 15.2 percent respondents reported consuming Jhum cultivated food every day for their meals.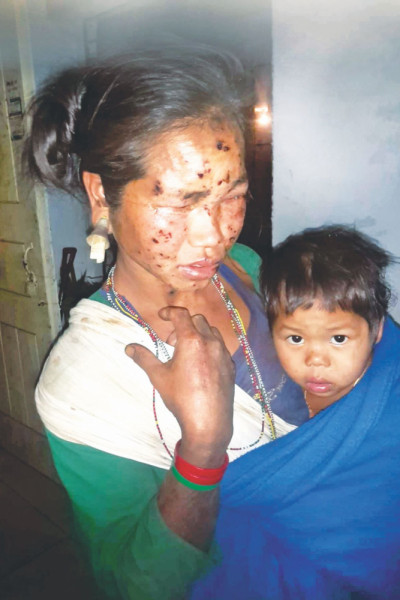 Cooking using a bamboo tube is a popular technique used in indigenous societies. However, this method has decreased immensely. 76.4 percent of the migrants do not use this traditional cooking process as per the study. Aside from the eating habits, the study also noted that 58 percent of the respondents did not wear their traditional attires on the occasion of their wedding ceremony.
Furthermore the study also suggests that the usage of the mother tongue has decreased among migrants. It states that 20.8 percent of the children did not use their mother tongue as a form of communication. As such, from the above it's quite clear that forced migration has the potential to destroy cultures and unique practices.
One of the biggest obstacles to solving migration-related problems of indigenous peoples is the fact that there's no separate data regarding this field. And that's also a reason why indigenous victims of forced displacement don't come to the fore as often. That's the reason why Kapaeeng Foundation research, which states that 500 families have shifted to Myanmar in the last five years, took many by surprise on the World Indigenous Day last week.
As Rani Yan Yan puts it, "We kept on saying that we need segregated data. As long as that does not happen, we will never get the right statistics. And if we don't get that, we can never solve this problem."
Sanjoy Kumar Barua from Bandarban contributed to this report