Tears of a 156-yr-old rly station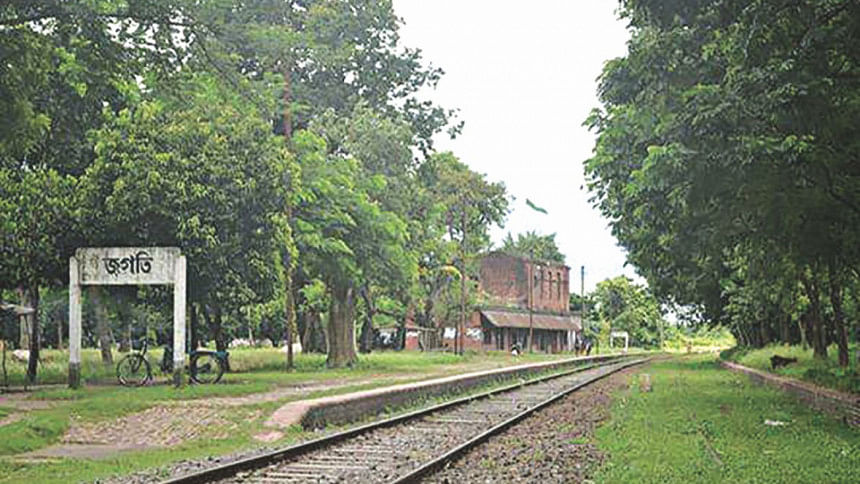 Now it is afternoon. There's sunshine and everything is glowing. The beauty of nature shines in every nook and cranny in the entire area, except a nearby railway station lying in an uncared state for years.  Where once flowers and leaves were swaying in the wind, there is now the kingdom of weed and grass. The brick-built red building is the lone witness to the decay of the railway depot. With passing of time, what remains of it now are piles of dust turning into a haunted area but there were times when it was full of life. This is Jagotee railway station, a place of fading memory.
The 156-year-old station is just three kilometres from Kushtia town. Jagotee is now only the name to remember as the guard does not blow his whistle to stop any train or it's not overwhelmed by crowds either. Gradually it has lost all its glamour. One of the country's maiden railway platforms is now struggling for existence. 
Built in the British period, the first floor of the two-storied red building has been abandoned. The big-sized overhead tank, which was used to pour water into steam engine, is also deserted.
"No passenger is seen on the platform like before but at one time, there was a lot of activities in the station. From betel leaf to rice and fertiliser—all the goods were brought here by train but those are now only memories," said 80-year-old Atahar Ali Mollah with a sigh.
Lack of timely renovation and a sharp decline in passengers are the main causes behind the gradual decay of the station, thanks to the indifference of the authorities concerned.
The station is still bearing the saga of many things of the British era.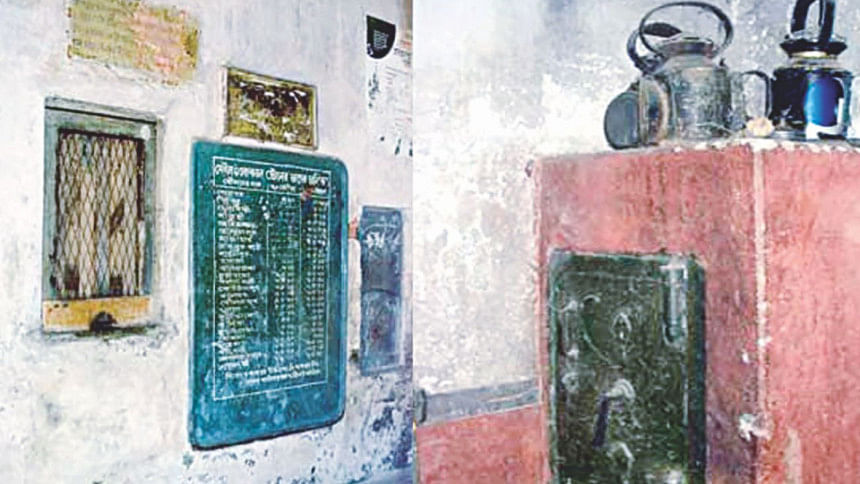 Eastern Bengal Railway Authority set a 73 km broad-gauge line between Sealdah to Ranaghat on September 29 in 1862. After two months, Eastern Bengal set up 53.11 km of broad-gauge line between Darshana of Chuadanga and Jagotee of Kushtia.
This was the first railway route in Bangladesh.
After nine years, the line expanded from Jagotee to Goalondo, to set up communication between Dhaka and Kolkata, on January 1 in 1871.
On a visit, it was seen that at least eight trains passed through the station but none stopped there. A few stone-laden wagons stopped on demand.
Stationmaster Muslim Uddin Mollah said the station gradually became non-operational in 2000 when passenger trains avoided stopping due to unavailability of commuters.
Now roads and highways have developed where transport facilities have increased. At present, there's a sign of development almost everywhere, except the century-old station, repents Muslim Uddin.
People can go to Kushtia town in 15-20 minutes by road. On the other hand, one has to wait here several hours for a train, said the stationmaster.
The railway station has a stationmaster, two pointsmen and two gatemen. There is no security guard. As a result, valuable assets of the station are pilfered every day. Around 200 bighas of railway land has been occupied by some vested quarters, said a staff of the station.  
They are thinking of increasing use of this traditional station, preserving it as a heritage, said Nazmul Ahsan, divisional railway manager in Pakshey.
A renovation plan of the station has been sent to the higher authority. The decision has been taken to arrange stoppage of a few local trains at the station, he said.
Pabna district headquarters recently got train service. The then British rulers connected East Bengal and West Bengal with railway over the mighty Padma through Hardinge Bridge at Pakshey in early 1915.
"If it is possible, why can't we bring back the lost glory of Jagotee?" said senior citizen Atahar Ali who still visits the station everyday to feel the essence of the golden days.