Steelmakers flexing muscles
Large projects, housing sector boost demand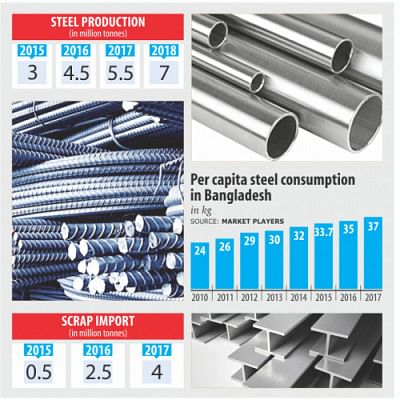 Steelmakers are investing thousands of crores of taka either to expand existing capacity or set up new units as consumption is on the rise.
Per capita steel consumption in Bangladesh has grown more than 54 percent to 37kg in the last eight years thanks to the government's large infrastructure projects and the thriving housing sector.
According to market players, per capita steel use was 24kg in 2010.
Market leader Bangladesh Steel Re-Rolling Mills (BSRM) and other top firms such as Anwar Ispat, AKS, GPH, KSRM and Bashundhara Steel have expanded their capacity in recent years.
PHP Family, a Chittagong-based business group, which has invested Tk 1,500 crore for a new unit in Feni, plans to invest about Tk 31,600 crore in the next five years to seven years to set up an integrated steel plant on 500 acres of land in the Mirsarai Economic Zone.
Chinese companies have also shown interest to invest in the steel sector.
Bangladesh's steel sector has made great strides since the country's independence.
In 1972, local millers used to produce a meagre 47,000 tonnes of steel. The figure rose to 55 lakh tonnes in 2017 and is expected to hit 70 lakh tonnes this year.
The sector turns over about Tk 30,000 crore a year in sales revenue.
The growing use may cheer up manufacturers and retailers, but Bangladesh lags far behind its peer countries and neighbour India when it comes to consumption. The country's consumption is almost half of India's 65kg and one-seventh of Asian average of 255kg, according to local companies and India-based information services provider SteelMint.
Still, local manufacturers are quite optimistic about a consistent and healthy growth of the industry in the years to come.
Tapan Sengupta, executive director of BSRM, said the sector is booming thanks to the high demand from large infrastructure projects and the housing sector.
The sector's growth is mainly driven by the government's spending on mega infrastructure projects, which account for more than 40 percent of the consumption, said Manwar Hossain, managing director of Anwar Group of Industries.
"The growth trend will continue for the next 20 years to 25 years and the steel demand will also increase in line with development activities of the government and the booming housing sector in both urban and rural areas."
He said foreign investors have realised the potential of the market and are keen to invest in Bangladesh.
The demand has been growing at more than 15 percent annually for the last few years, said Md Ashrafuzzaman, director for marketing and sales of GPH Ispat.
"We predict the growth will reach 20 percent next year," he said.
BSRM is the market leader with 25 percent share and produces about 15 lakh tonnes of steel every year.
There are some 400 big, medium- and small-sized steel mills in the country with a combined production capacity of 80 lakh tonnes. Of them, the top 10 companies hold more than 50 percent stakes.
Local millers manufacture mainly two types of products: flat steel (corrugated iron sheet and cold rolled coil) and long steel (mild steel rod and thermo-mechanically treated bar).
They primarily source raw materials from ship-breaking industry in Chittagong and also import 15 lakh tonnes of billets each year.