Paying attention to a timely need
Country to introduce post-crash response care for road accident victims, drafting first-ever action plan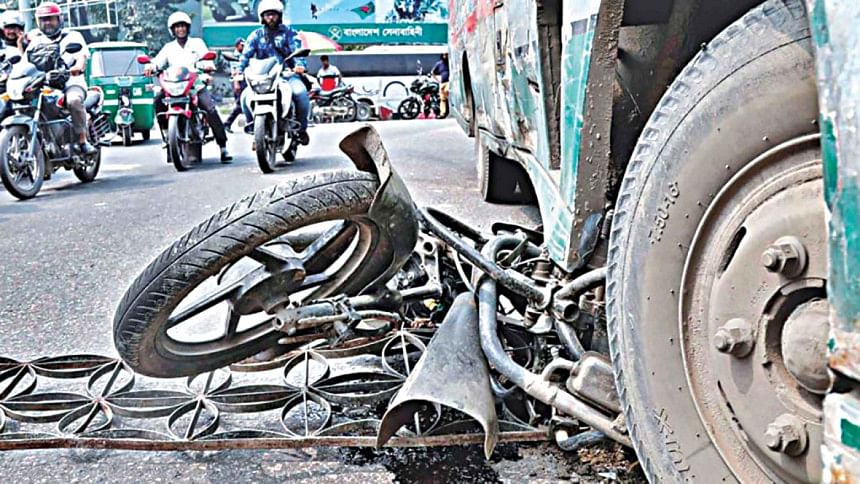 The government, for the first time in the country, is going to develop a strategy and action plan for post-crash response care  for road crash victims.
Directorate General of Health Services (DGHS) -- with assistance from non-government organisations and UN bodies -- has already developed a draft and expects to finalise it within a few months, said DGHS officials.
The development came at a time when the country is witnessing a sharp rise in road-crash deaths. Around two-thirds of the victims succumb to their injuries on the way to hospitals.
As per the World Health Organisation (WHO) Global Status Report on Road Safety (2018), an estimated 25,000 people lost their lives in 2016 due to road-crash related injuries in Bangladesh. The number is almost 10 times the official number given by police that year.
According to Bangladesh Health and Injury Survey 2016, two-thirds of all road-crash victims die on the way to hospitals, while three-fourths do not receive any form of pre-hospital care.
However, despite the alarming numbers, there is no strategy, protocol or guideline on pre-hospital care to ensure emergency medical services for road-crash victims at the crash site, according to United Nations Road Safety Fund (UNRSF).
According to UNRSF, post-crash morbidity and mortality can be reduced by providing timely pre-hospital and hospital-based care. Hence, it is imperative to have a robust post-crash response system in place.
High fatality and injury rates on Bangladesh's roads are undermining the remarkable progress that the country has made in boosting economic growth and reducing poverty, says UNRSF.
UNRSF is funding WHO for developing the strategy and plan for the government.
DGHS requested the WHO country office in Bangladesh to support it in drafting the strategy and the action plan.
"We do not have any policy regarding post-crash response for road-crash victims. Hence, we are developing the plan," said Prof Robed Amin, line director at Non-Communicable Disease Control (NCDC) of DGHS.
"We have already developed a draft strategy with technical support from Centre for Injury Prevention and Research, Bangladesh (CIPRB)," he told The Daily Star yesterday.
CIPRB organised a workshop on November 7 with stakeholders, including police, Roads and Highways Department and road-safety activists, to review the draft, said Prof Dr AKM Fazlur Rahman, executive director of CIPRB.
"We hope to finalise the draft after holding two or three more workshops. It might take January next year to finalise it," he told this newspaper last night.
"We have assigned TraumaLink, a non-government organisation, to develop a training module for volunteers and carry out pilot programmes on a 10-km road. The training module is almost ready, and we hope to start the programme in December this year," he added.
Prof Fazlur also mentioned that the WHO is also preparing a separate report assessing road-safety issues in Bangladesh, in which it will give its recommendations.
According to UNRSF, the plan aims to develop and strengthen pre-hospital and hospital care, including engaging the community, training volunteers and setting up telecommunication protocols.
The policy is also expected to ensure logistic supplies, safe transportation of injured persons to nearby hospitals, emergency management of patients at roadside primary healthcare facilities, and sustainable funding for the initiative.
Salim Mahmud Chowdhury, director (road traffic injury prevention and research unit) of CIPRB, said the action plan will initially be for three years.
"It would be implemented in a piloting phase. After that, short-, mid- or long-term plans would be prepared based on the outcomes of the initial plan," he said yesterday.
All types of healthcare facilities have been brought under the "comprehensive plan", he added.