4km gridlock as JU BCL block highway protesting 'BNP's anarchy'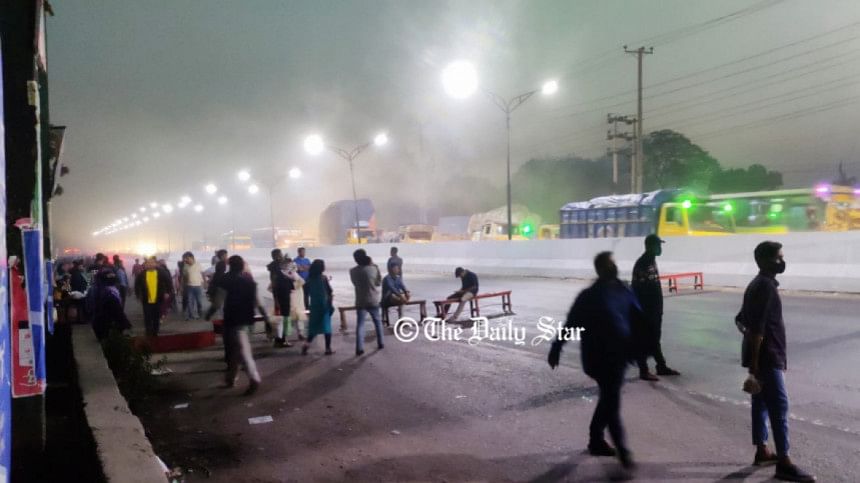 Leaders and activists of Jahangirnagar University unit of Chhatra League blocked the Dhaka-Aricha highway today, ahead of BNP's Dhaka rally tomorrow, protesting what they claimed to be the anarchy unleashed by BNP across the country.
They blocked the highway near Sheikh Hasina Youth Development Institute from around 4:45pm to 7:15pm, creating a four-kilometre gridlock on both sides of the highway, reports our Savar correspondent.
Over 200 BCL men were seen demonstrating on the highway.
Many passengers were also seen walking to their destination on foot.
JU BCL President Akhteruzzaman Sohel said, "We are in the street to prevent the anarchy of the BNP-Jamaat".
Azizul Haque, officer-in-charge of Savar Highway Police Station, said they were trying to normalise vehicular movement after talking with BCL leaders.
Meanwhile, Narsingdi district unit BCL demonstrated at the district's Golap Chattar for the same reason.
They brought out a procession at 4:00pm through the important throughfares of the district and later ended at Golap Chattar.
Shah Jalal Ahmed Shawon, general secretary of the district unit BCL, said BNP-Jamaat were unleashing anarchy across the country in a planned way.
"We are ready to stay on the streets to give a befitting reply to BNP-Jamaat," he added.