Nurunnahar: the one who defied all odds
Ishwardi woman brings solvency through farming, sets example for many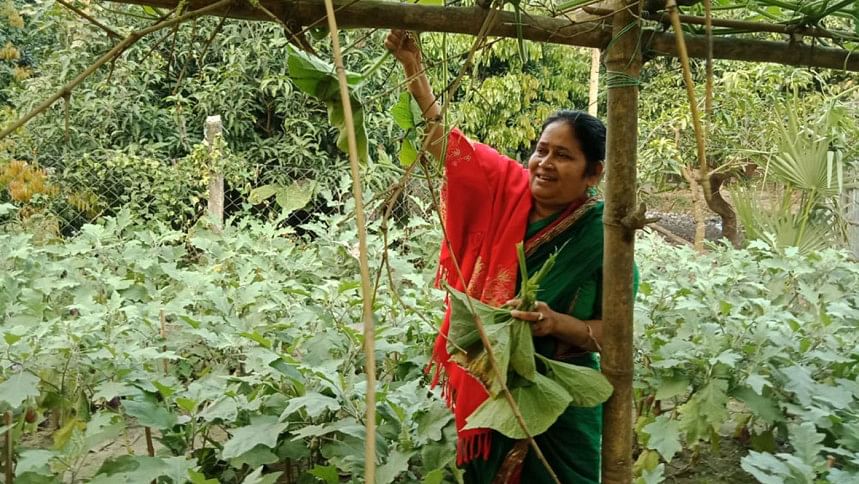 Nurunnahar Begum of Boktarpur village in Pabna's Ishwardi upazila left home for love in 1994, to marry Md Rabiul Islam of the same locality. Rabiul didn't have any source of income at that time, so her family didn't approve of the wedding.
The first four years of the marriage was challenging. They had to struggle a lot to get three square meals a day. But Nurunnahar wasn't one to give up.
THE BEGINNING
"We had no earning. We couldn't even manage food often and nobody came to help. At last, I took Tk 2,000 loan from a local NGO for vegetable cultivation on 10 decimals of land. We also started rearing chickens in 1998," said Nurunnahar, talking to this newspaper.
"We earned Tk 25,000 within a year," she added.
However, she was widely criticised by the society, as the village couldn't accept the notion of a woman being the provider for her family.
But, she said, she always had the full support of her husband, which made life a lot easier for her.
Since then, she has won a host of national awards for her contributions to the country's agriculture sector, while the women of the village look up to her for inspiration.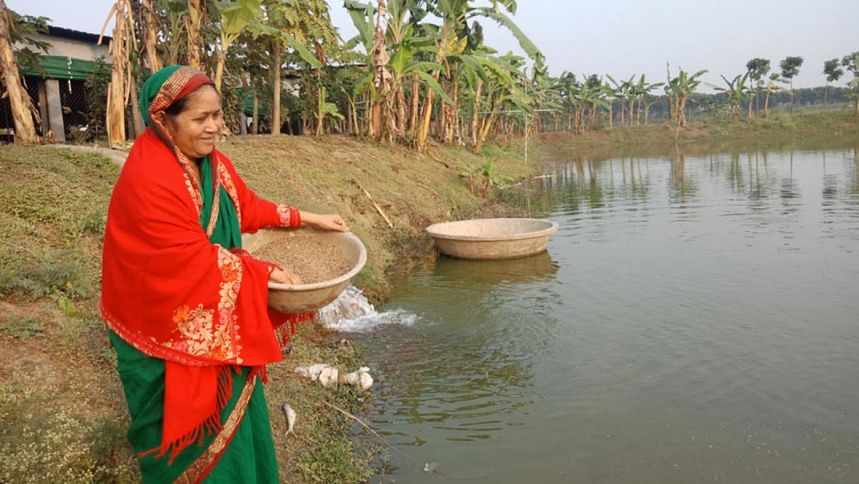 THE EXPANSION
In 2002, she took Tk 50,000 loan from a private bank and took a lease on 5 bighas of land. She also bought two cows with the money.
"I planted carrots, cauliflowers, radishes and other seasonal vegetables on my field..., " said Nurunnahar.
In 2008, she took out a Tk 5 lakh loan for fruit cultivation on additional pieces of land. She also bought five cattle for expanding her dairy farm.
Nurunnahar now operates 140 bighas of land, where she is cultivating crops and fruits as well as raising livestock. She owns 40 to 42 bighas and took lease of the remainder.
Her dairy farm consists of over 200 cows and 200 goats. She cultivates different cash crops on 20 bighas of land, paddy on 25 bighas, and vegetable on 30 bighas. She also has a fisheries project on 7 bighas.
Nurunahar is also involved in compost fertiliser processing work.
At present, she's not only solvent but has also employed  80 people, some of whom are women. "I started from the bottom. Now I'm very happy with where I am," she said.
With the money Nurunnahar earns, she provides for the education and upbringing of her four sons.
Md Robiul Islam, her husband, said, "When my wife started agriculture work two decades ago, relatives and locals often mocked us, but we didn't care... We are all proud of her."
WATCHING OVER LOCAL WOMEN
Nurunnahar established "Joy Bangla Nari Unnayan Samity" for the welfare of underprivileged women in her village.
Md Shafiqul Islam, coordinator of the organisation, said over 1,600  women in Ishwardi upazila are members of this organisation.
"We provide training for agricultural work, dairy farming and financial assistance. We brought loans for 1,300 of our members from different banks of the district," he said.
But most importantly, these women get to learn from Nurunnahar and become inspired by her journey to success.
"Women make half the rural population, so the society won't progress if they lag behind," said Nurunnahar.
Dr Saiful Alom, deputy director of Pabna's Department of Agricultural Extension (DAE), said, "Nurunnahar is an example for working-class rural women. She has inspired many women to take farming as their profession."
ACCOLADES
Nurunnahar received Bangabandhu Krishi Award (gold medal) and  AIP award in 2022 for her contributions to the agriculture sector. Besides, she achieved countless awards in the last two decades.
She now dreams of establishing a hospital and a home for the elderly at her village.
 "I want the poor to receive all medical facilities for cheap and for them to live the last days of their lives with dignity," she said.