News cannot be broadcast on IPTVs and YouTube
Says info minister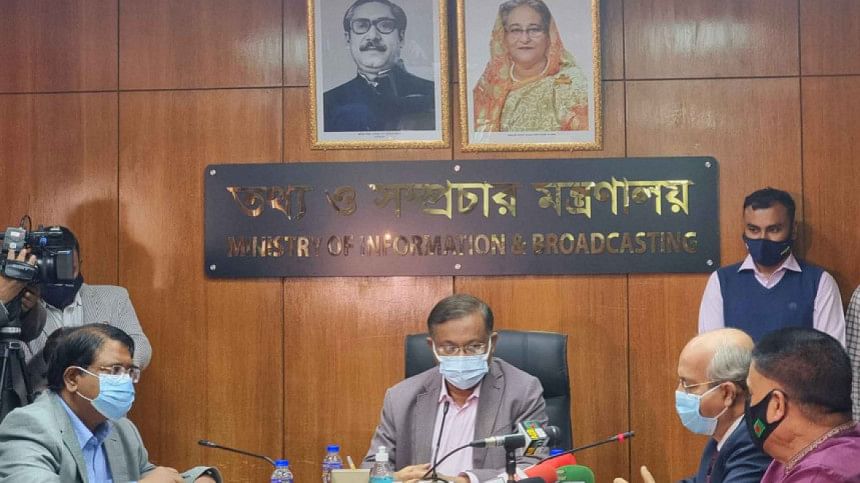 News items cannot be aired via IPTV and YouTube channels, said Information and Broadcasting Minister Hasan Mahmud yesterday citing the broadcast policy.
He also said newspapers cannot broadcast news or talk shows online or via YouTube.
"But news is still being broadcast through IPTVs [internet protocol televisions]. Regular bulletins are being presented and aired through YouTube channels. But this can't be allowed as per our broadcast policy," he said.
The minister came up with the comment while talking to reporters after a session on the third day of the DCs' Conference at the Osmani Memorial Auditorium.
Hasan urged the DCs to remain alert and take effective action in this regard.
After holding a discussion with representatives of the Association of Television Channel Owners (ATCO) yesterday, the minister said they approved newspapers' online portals and that there was a stipulation that only content published in print could be made available online.
"There's no way to go beyond that. Adding a YouTube channel, and broadcasting news or talk shows are not to be done," the minister said, adding, "Since they are not approved, we will take action against them on the basis of ATCO's recommendation.
"One should not invade the field of the other. Television channels should not publish magazines, and likewise, newspapers should not broadcast news. TV channels' online portals also must obtain approval."
He called upon all to follow the rules and regulations when running IPTV services, YouTube channels, and online portals.
The minister also warned that if anyone broke the rules, legal action would be taken.
"Free flow of information is important to our government. Plenty of new private television channels have emerged over the years. The journey of private televisions in Bangladesh started through Prime Minister Sheikh Hasina," he said.
"A lot of television stations have online portals. Some of the applications have been approved. Some of them are yet to be approved. Our goal is to provide accurate information to people and to ensure free flow of information, which is a prerequisite for a democratic society," Hasan added.
Asked, Additional Secretary to the information and broadcasting ministry Md Mizan Ul Alam, told The Daily Star that according to the amended National Online Mass Media Policy-2020, IPTVs were not allowed to broadcast any news items or talk show.
He also said YouTube channels were also not allowed to air any news items or talk shows.
Asked whether any newspaper via its registered website or its YouTube channel could air any news item or talk shows, he said newspapers were given registration for online on condition that they would publish their printed items online.
He, however, said if any newspaper wanted to do so, it would have to get a separate approval.
"Since the policy does not allow this now, newspapers will not be able to broadcast any talk show or news items through YouTube channels as this will invade the field of the others," he added.
After his meeting with the DCs, the information minister said, "If we look at the statistics of the last seven to eight years, we can see that almost all rumours and motivated propaganda were spread through social media."
The spread of misleading news through social media creates instability in the country, he added.