Boost research on agriculture to increase production, PM tells scientists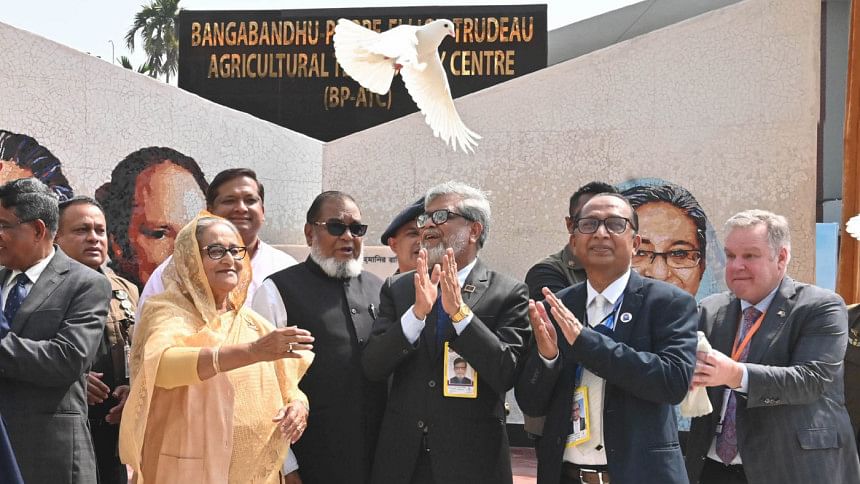 Prime Minister Sheikh Hasina today reiterated her call to scientists to put extra efforts on research to attain excellence in agricultural production.
"I always think that without research it's not possible to attain excellence. As we are agriculture dependent country, we have given extra importance on agriculture," she said.
The prime minister was speaking at a programme to mark the 50th founding anniversary of Bangladesh Rice Research Institute (BRRI) and inauguration of the 'Bangabandhu Pierre Trudeau Agricultural Research Center'.
She, however, said that the government has given importance on the research work in other sectors too.
"Besides, we have given emphasis on research works on health, education and science," she said.
Laying emphasis on continuous research on boosting food production, the PM said Bangladesh frequently faces adverse circumstances due to the geographical location and impact of climate changes.
"So, we have to produce our crops," she said.
Briefly describing various initiatives of the government for agricultural research, she said Bangladesh not only set example in food grains production, but in all vegetables, fruits and other agricultural production also.
In this regard, she said the production has to be continued with new varieties of crops in tune with the climate changes and environment.
Hasina said the country is about to enter the fourth industrial revolution and so, the government has taken steps to create skilled manpower.
She put emphasis on learning and producing bio-informatics, nano-technology, machine learning, internet of things and new agriculture technologies.
Liberation War Affairs Minister A K M Mozammel Huq and State Minister for Youth and Sports Md Zahid Ahsan Russel were also present at the event.
Agriculture Minister Muhammad Abdur Razzaque, Agriculture Secretary Wahida Akter, International Rice Research Institute (IRRI) Director General Jean Balié, Executive Chairman of the Bangladesh Agricultural Research Council Dr Sheikh Mohammad Bakhtiar, Executive Director and Chief Executive Officer at Global Institute for Food Security Steven Webb and BIRRI director general Dr M Shahjahan Kabir also spoke on the occasion.
A documentary titled "50 years of BRRI's pride and success" was screened at the function.
On arrival at the BRRI, the prime minister paid homage at the portrait of Father of the Nation Bangabandhu Sheikh Mujibur Rahman.
Earlier, the PM inaugurated the 'Bangabandhu Pierre Trudeau Agricultural Research Center' aiming to conduct research in the field of agriculture for ensuring food security system tolerant of global climate change.
The centre is expected to increase the existing commercial, research activities, technology exchange, development assistance between Bangladesh and Canada.
This is the first time such a research centre has been set up with the direct support and funding of the government of Canada.
The technology centre has been set up at BRRI following a memorandum of understanding (MoU) signed between the Global Institute for Food Security at the University of Saskatchewan in Canada and the Bangladesh Agricultural Research Council aiming to cooperate on multidisciplinary research, training and development partnership to ensure sustainable food security.
The PM also released balloons and pigeons marking the golden jubilee of BRRI's pride and success.