Pilot killed in BAF fighter crash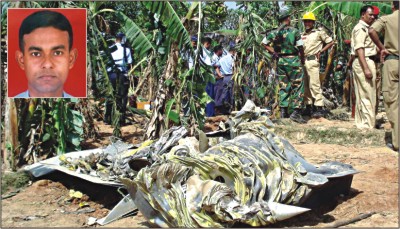 A Bangladesh Air Force (BAF) fighter plane crashed in Ghatail upazila of Tangail yesterday afternoon, leaving its pilot dead.
Squadron Leader Morshed Hasan died at Combined Military Hospital (CMH) in Dhaka after he had been rescued critically injured from the scene.
He was flying the F-7 to the base in the city's Kurmitola after a training session at Rasulpur.
The plane had caught fire before it hit a cluster of banana trees at Paharipara village at 12:20pm. The pilot managed to parachute onto a tin-roofed house, but he was severely wounded, said eyewitnesses.
A BAF search and rescue chopper flew to the spot immediately to find Morshed lying unconscious on the rooftop.
A press release from Inter Services Public Relations (ISPR) said technical glitches might have accounted for the crash. They however could not confirm the reasons.
The air force authorities have formed a three-member committee to ascertain what led to the accident. BAF Chief Air Marshal SM Ziaur Rahman visited the scene late in the afternoon.
Along with another one, the fighter took off from Kurmitola at 11:46am for a training session at Rasulpur Firing Range in Tangail.
Born on June 15, 1979, Squadron Leader Morshed hailed from Kalkini upazila of Madaripur district. He was commissioned in the air force on December 6, 1998.
Our correspondent from Tangail reports: The plane crashed around 500 meters off the Rasulpur training station. It went 10 feet into earth.
Chand Miah, owner of the banana plantation, said locals saw fire in the aircraft just before it was downed.
Immediately after the incident, General Officer Commanding of Ghatail Cantonment Major Gen AKM Mujahiduddin, and Tangail Deputy Commissioner (DC) Akhter Ali Sarkar visited the spot.
Our Madaripur correspondent adds: Morshed was the youngest of five children of retired school teacher Mokhles Jamadar and Monwara Begum. An air of gloom descended as the news reached the house.
Morshed completed Secondary School Certificate (SSC) examination from Koyaria High School and Higher Secondary Certificate (HSC) from DK Ideal Atahar Ali Academy and College. He joined BAF in 1997.
BSS reports: President Prof Iajuddin Ahmed expressed deep shock at the BAF officer's death.
A condolence message from him said the BAF has lost a promising young officer in the crash. The president offered sympathy to the bereaved family.
In a separate message, Chief Adviser Dr Fakhruddin Ahmed extended condolences to Morshed's family and prayed for peace of the departed soul.