Apu Biswas: Becoming Parbati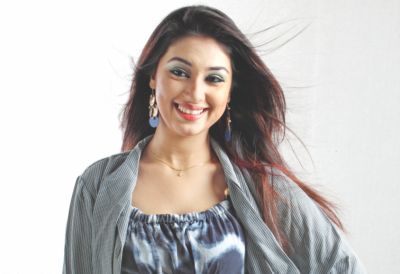 Apu Biswas is a clear leader in the race for silver screen popularity, and is often termed the number one contemporary Dhaliwood actress. In her seven-year long career, she has gathered immense popularity among the masses. The actress recently spoke with The Daily Star (TDS) about her latest release "Debdas".
Tell us about "Debdas".
Apu Biswas: It was a great achievement for me. It is hard to find someone who is not familiar with "Debdas". I did a lot of thinking before signing the movie contract. No matter how many times I saw the previous version of "Debdas", tears filled my eyes on each occasion.
How did it feel to play the role of Parbati?
Apu Biswas: It is one of the main characters in the novel. Debdas slowly goes through self-destruction when Parbati marries another man. It was a challenge to portray the role, as the character is so well known to the audience. Pressure was also there because a very talented actress of our country had already played Parbati before me.
Are you satisfied with your performance?
Apu Biswas: I am. Not every actress is fortunate enough to get such a role. Some works keep an artiste alive for decades; Parbati is such a phenomenal character. I'm really glad to have been part of this.
Will you share some of your experiences from the shooting of "Debdas"?
Apu Biswas: Director Chashi Nazrul Islam has created a name for himself. This was his second time directing a "Debdas" film. He did his first version 30 years ago. So, it was more of a competition with himself. He helped a lot during the shooting. I became more experienced through this project.
What about Shakib Khan, who played the eponymous role?
Apu Biswas: Shakib Khan is undoubtedly the top actor of Dhaka's movie scene. He is a talented actor, and I always feel comfortable working with him. Shakib Khan worked very hard to play the role of Debdas.
You have also done some TV commercials…
Apu Biswas: I have no objection in modeling for advertisements with good storylines. I'd prefer to go for commercials that both the audience and I would enjoy.
How did you step into the world of movies?
Apu Biswas: I started working in films in 2006. My first two films were Subash Dutta's "O Amar Chhele" and Amjad Hossain's "Kaal Shokale". Then I worked in "Koti Takar Kabin" -- a movie that changed my life. It brought me great popularity among the movie-goers.
Do you prefer film adaptations of literature?
Apu Biswas: I'd love to work in more movies that are adapted from literary works. These are the films that persevere the test of time and keep an artiste alive for years.