Padma devours 92 houses in Ishwardi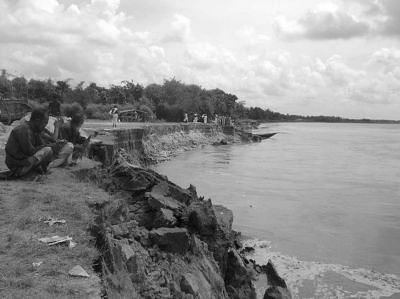 The Padma devoured 92 houses, a mosque and a Shaheed Miner of Shara union in Ishwardi upazila in the last 10 days.
Md Shahidul Islam, secretary of Shara union parishad said Arambaria, Gopalpur, Shekherchar and Majhdiar villages of the union were hit by river erosion this year.
"Padma devoured 73 houses at Arambaria village while a mosque and a portion of a school went in the river in the last 10 days. In Gopalpur village, 11 houses, in Shekherchar four houses and in Majhdiar village 4 more houses were devoured," Shahidul said.
The mighty river also washed away 200 acres of cropland in these four villages, he said, adding that over 200 houses and 500 acres of land are facing the threat of erosion.
While visiting the area, Md Jarjis Hossain, chairman of Shara union parishad told this correspondent that the river devoured 392 houses, two mosques, two temples, an eidgah, one graveyard, two orchards, 450 acres of cultivable lands in 6 villages of the union last year.
"The Padma is now eroding seven kilometre area of Shara union due to lack of any protection. Although we have submitted several applications to the higher authorities for a permanent step but to no effect yet," the chairman said.
Md Abdul Mabud Sheikh, sub-divisional engineer (SDE) of Water Development Board (WDB), Pabna however said they took an urgent step to protect Shara union on September 28.
"We have started dumping sand bags in the affected areas. Although we have brought 10 thousand sand bags here to start the work but we need at least 1.23 lakh sand bags to complete the 700 meter protection work", he said.
We have also submitted a proposal for sanctioning Tk 5.28 crore to complete the work, he added.
But the locals see the protection work as almost meaningless as it was too poor an effort in the face of a rapid erosion.
"If we want to save Shara union from Padma we need permanent protection using CC blocks", chairman Jarjis Hossain said.