Govt Bigwigs Behind August 21 Grenade Attack
A test for investigators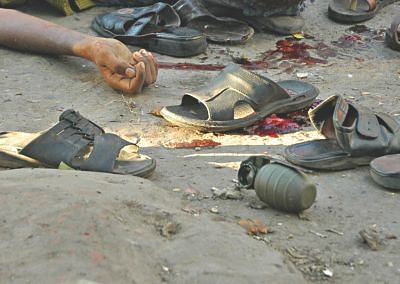 It was truly a test of character for the investigators probing the grisly August 21 grenade attack. A crime of this magnitude seldom occurs. For sleuths who can crack a case such as this, a place in history is assured.
However, that was not to happen to the ones originally tasked with unravelling the mystery behind the August 21 blasts at an Awami League rally at the capital's Bangabandhu Avenue in 2004.
Their assignment turned out to be the blush of their lives. Soon after they discovered, much to their shock and dismay, that their top bosses were "partners in the crime", the investigation stopped dead in its tracks, according to statements made by some high profile witnesses.
Shahedul Alam Bipul, an operative of the banned militant outfit Harkatul Jihad al Islami (Huji), first tipped off the investigators about Huji boss Mufti Abdul Hannan's active role in the August 21 attack. He was being quizzed at the Task Force Intelligence (TFI) cell after his arrest in August 2006.
Mufti Hannan had been detained since October 1, 2005. Up until then, he had admitted his involvement in some other grenade and bomb attacks but had given away no information about the August 21 blasts that killed 24 leaders and workers, including now President Zillur Rahman's wife Ivy Rahman, and maimed 300 others.
Hasina, then leader of the opposition -- the target of the bloody assault -- narrowly escaped death but sustained ear injuries caused by the force of the blasts.
Bipul's information prompted investigators to quiz Hannan again at TFI cell in 2006.
The cell -- formed by the home ministry after the countrywide synchronised blasts by another banned militant outfit Jama'atul Mujahideen Bangladesh (JMB) on August 17, 2005 -- was comprised of officials from Directorate General of Forces Intelligence (DGFI), National Security Intelligence (NSI), Criminal Investigation Department (CID), Special Branch (SB) and Rapid Action Battalion (Rab).
During grilling at the cell, Hannan spilled the beans. The information was obviously chilling for the investigators, as it was none other than their top boss's name (the then state minister for home Lutfozzaman Babar) that had come up. Hannan pointed the finger at Babar. Now if Babar, whose job was to get to the bottom of the stories, was himself involved in the case, matters were indeed grim.
Abdul Aziz Sarkar was director general of the elite force Rab when the August 21 grenade attack took place. He continued in that post till October 30, 2006.
Aziz along with his colleague Col Gulzar Uddin Ahmed (later killed in the BDR mutiny in 2009) went to the TFI cell and interrogated Mufti Hannan in the presence of CID investigators Munshi Atiqur Rahman and Ruhul Amin.
Hannan confessed to his direct involvement in the plotting and staging of the attack on Hasina's rally.
Aziz in his statement to Abdul Kahar Akand, the last investigation officer of the CID for the August 21 grenade attack case, said, "I informed the additional IGP (Inspector General of Police) of the CID, the IGP and the state minister for home Lutfozzaman Babar about these things and requested them to direct the investigation officer to take legal steps in this regard."
"But a positive response didn't come from the additional IGP of CID, the IGP and state minister for home in this regard," said Aziz in his statement given in March last year.
Hannan was, however, interrogated extensively later when he revealed that elements of Huji had been trying to kill Sheikh Hasina and other AL leaders since much earlier, Aziz said in his statement.
He added that Huji believed if Hasina remained alive and the AL came back to power it would not be possible to save Islam and hurdles would be placed in Huji's way.
Hannan devised plans to kill Hasina along with other leaders. He did all this with the support from others, among whom was Moulana Tajuddin.
Tajuddin, brother of the then BNP deputy minister Abdus Salam Pintu, was involved with a Pakistani militant organisation and used to supply grenades, ammunition and explosives from Pakistan to a militant group in Indian-administered Kashmir through Bangladesh.
Hannan also told interrogators that through Tajuddin they got an assurance of all-out help from the administration to execute the grenade attack plan.
Following this assurance, Hannan and others had a meeting with Pintu and state minister for home Babar at the former's Dhanmondi residence. At the meeting, plans for the attack were widely discussed, Aziz quoted Hannan as suggesting in his statement.
"One day Lutfozzaman Babar told me and Col Gulzar in his office, 'CID was told, (now) telling youdon't take any more steps regarding the August 21 attack,'" said Aziz in his statement and continued, "I had no scope to take steps any more as my contractual appointment was over within four to five days of this (directive from Babar) and I went into retirement," said Aziz.
On October 29, 2006, the BNP-Jamaat-led four-party alliance handed over power to then president Iajuddin Ahmed, who had foisted himself on the country as caretaker government chief. Aziz's contractual job as Rab DG was cancelled on October 30, 2006.
Aziz also said in his statement that Babar was not happy after the arrest of Mufti Hannan.
It may be noted that following tremendous pressure from home and abroad, the BNP-Jamaat government had to launch a crackdown on Islamist militants against the backdrop of the countrywide blasts on August 17, 2005. Rab captured Mufti Hannan on October 1, 2005.
"Just after the arrest of Mufti Hannan, I personally informed the then state minister for home Lutfozzaman Babar and the IGP about the arrest of Mufti Hannan," said Aziz, adding, "State minster for home Lutfozzaman Babar became irritated instead of being satisfied."
Major Atiqur Rahman served as deputy director (interrogation) of the Intelligence Wing at Rab headquarters from October 2004 to June 2009. He led the Rab team that arrested Mufti Hannan on October 1, 2005.
Atiqur said at one point Bipul and Hannan were interrogated together about the August 21 grenade attack. Colonel Gulzar, who was director of the Rab Intelligence wing, and CID officials Munshi Atique and Ruhul Amin were present during the interrogation of Hannan.
Major Atiqur went abroad for training halfway through the interrogation.
"On my return, Colonel Gulzar told me that Mufti Hannan had disclosed the significant information that the perpetrators had a meeting with state minister for home Lutfozzaman Babar and Tareque Zia at Hawa Bhaban in the planning stage of the August 21, 2004 attack. Babar and Tareque Zia had promised to provide security and administrative help to those who would carry out the blasts at the time of the attack," said Maj Atiqur in his statement.
Atiqur also said that the then Rab DG, Abdul Aziz Sarkar, was informed about this confession of Mufti Hannan. The DG himself interrogated Hannan and was confirmed about the confession.
He said Aziz, Col Gulzar and the CID's Munshi Atiq and Ruhul Amin went to state minister Babar's office and informed him about the information given by Hannan.
"After returning from the home ministry my director, late Col Gulzar, remarked that it did not seem that the state minister for home was satisfied at knowing of the confession of Mufti Hannan," Atiqur said in his statement.
However, according to Hannan's information, Maj Atiqur kept on trying to capture Moulana Tajuddin.
At one stage, Col Gulzar asked Atiqur to stop searching for Tajuddin since Babar had told them that Tajuddin himself would appear. But it did not happen, said Maj Atiqur.
Later Atiqur came to know that Tajuddin had been sent abroad as per directive of Brig Gen Amin and under the supervision of Lt Col Saiful, who was a DGFI official at that time.
Maj Gen ATM Amin and Saiful are not in service now. Lt Col Saiful Islam Joarder escaped from his workplace after the bomb attack on AL lawmaker and Hasina's nephew Fazle Noor Taposh in 2009. Five army officers were convicted in a military trial for this attack.
"At one point Col Gulzar also told me, state minister for home and Tareque Zia told him (Gulzar) and DG Abdul Aziz Sarkar that Joj Mia and his two other aides had already given confessional statements in the court regarding the August 21 grenade attack. So they were directed to produce Mufti Hannan before the court through CID to record his testimony under Section 164 (of CrPC) in cases linked with other bomb blasts and grenade attacks except the August 21 grenade attack," said Major Atiqur in his statement.
According to this directive, the CID's investigation officer produced Hannan in court in November 2006 in connection with the case of the Ramna Batamul blast in 2001; and Hannan made a confessional statement regarding his involvement with the other bomb and grenade attacks except the August 21 attack, said Atiqur.
The BNP was not in power at the time, but the party nominated president Iajuddin was, as he had made himself chief of the caretaker government.
Major Gen (retd) Sadik Hasan Rumi, who was director general of DGFI when the August 21 grenade attack was staged, tried to inform the then prime minister Khaleda Zia soon after knowing about the grenade attack on Hasina's rally.
Khaleda was at a public rally in Noakhali and so Gen Rumi could not reach her and her ADC in the afternoon of August 21, 2004.
He then informed the prime minister's political secretary Harris Chowdhury over his mobile phone and requested him to inform Khaleda about the attack as he was with the PM at that time.
"Without expressing any reaction regarding the attack, Harris Chowdhury told me that he would inform the prime minister," Gen Rumi said in his statement, adding that Harris hung up the phone before he could give him more details about the attack.
"Later, I informed the then state minister for home Lutfozzaman Babar over mobile phone and he replied he was in the office and had heard about the incident and he cut the phone line," said the former DGFI DG.
"It did not seem to me that he (Babar) had given enough importance to this matter (attack)," said Gen Rumi in his statement.
Next day, August 22, 2004, at around 2:00pm, the DGFI DG met prime minister Khaleda Zia at her office and sought her permission to conduct an investigation to find out the persons involved with this tragic incident.
"She (PM Khaleda) told me that a committee would be formed to inquire into the matter, and that I (DGFI) needn't investigate," said Gen Rumi.
Later, when there was a meeting at the home ministry about this incident, the then director (CIB) of DGFI, Brig Gen Rezzakul Haider Chowdhury, represented the DGFI.
The former DGFI DG said he could gather from Rezzakul that the government-appointed investigation committee could unearth nothing.
Gen Rumi said that a DGFI representative used to be present at the TFI cell during the interrogation of an accused.
When in August 2006, Mufti Hannan was interrogated at the TFI cell following Bipul's information, the DGFI representative came to know about Hannan's statement regarding the August 21 grenade attack where he had disclosed the names of Babar, Tareque, Pintu and others to the investigators, saying they were involved with the incident.
The DGFI representative at the TFI cell informed Brig Gen Amin and Lt Col Saiful Islam Joarder of DGFI about the statement made by Hannan on the August 21 attack.
Once he came to know of this development, Gen Rumi met Prime Minister Khaleda Zia.
Since Mufti Hannan had mentioned the names of two ministers in his statement on the August 21 attack, the DG, DGFI made it known, as a talking point, to the prime minister in writing as well as verbally, according to Gen Rumi.
"She (prime minister) kept the talking point with her without saying anything. She did not give me any other directive in this regard later," said Gen Rumi.
Meantime, the Rab DG made a phone call to Gen Rumi, seeking the help of DGFI to capture Moulana Tajuddin.
Gen Rumi told Lt Col Saiful Islam Joarder to help get Tajuddin as Rab was looking for him.
At that time Lt Col Saiful told DG, DGFI that there would be a problem if they handed over Tajuddin to Rab.
"When I asked about the problem he (Lt Col Saiful) said the government was likely to be put in an embarrassing situation."
A few days after this conversation, Gen Rumi came to know from his colleague Big Gen Amin that Tajuddin had been located through Moulana Salam (founder of Huji) and he was at the DGFI's safe house in Gulshan.
Rumi directed Amin and Saiful to obtain every bit of information from Tajuddin. Sometime in October 2006, both officers informed DG, DGFI that Tajuddin had admitted everything revealed by Hannan in his statement to the interrogators.
After that, Brig Gen Amin and Lt Col Saiful informed Babar and the PM's private secretary-2 (also her nephew) Saiful Islam Duke about Moulana Tajuddin's statement.
Later the two DGFI officers informed their DG that Babar and Duke had told them that the prime minister had directed sending Moulana Tajuddin abroad. Tajuddin expressed his wish to go to Pakistan.
To check the authenticity of the statement by Brig Gen Amin and Lt Col Saiful, DG DGFI went to the prime minister's office and apprised her of the statements of Moulana Tajuddin, Brig Gen Amin and Lt Col Saiful.
"Listening to me, the prime minister became angry and said with annoyance in her voice that CID already unearthed this case. She wanted to know from where I (Rumi) was coming forward with this fictitious new information," said the DG, DGFI in his statement.
"'Why are you thinking about where Tajuddin will go -- either to Pakistan or elsewhere?' She did not talk with me after saying this," said Rumi.
At that point of the conversation the DG, DGFI left the prime minister's office and three or four days after this meeting Moulana Tajuddin left Bangladesh for Pakistan. Some DGFI officials ensured safe passage for him.
The BNP-Jamaat government could not complete the investigation into the August 21 grenade attack case and Joj Mia's cooked up story did not help investigators in the end.
When Fakhruddin Ahmed's caretaker government assumed power and president Iajuddin had to step down from the post of chief adviser of the caretaker government, the CID first placed a charge sheet for the August 21 grenade attack case accusing the BNP's deputy minister Pintu and 21 other Huji men, including Hannan, of involvement in the attack.
Many significant links were missing in that charge sheet. When the Awami League took office in 2009, further investigations started under Abdul Kahar Akand, investigation officer of the CID. Akand placed a supplementary charge sheet last year accusing 30 more people, including Tareque, Babar, Rezzakul, Amin, Saiful and Duke of having been behind the grenade attacks of August 21.
The trial of the accused began this year.