FBCCI moves to create jobs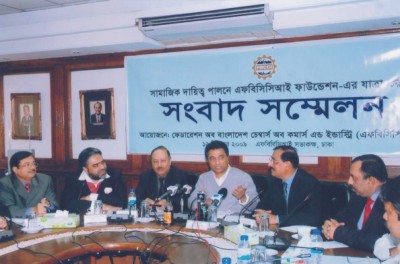 The FBCCI Foundation has taken up two projects to reduce poverty through employment generation.
The projects are Employment Project and One Family-One Businessman.
At least 10,000 males and females will be employed through the first project. They will be posted in bakeries and restaurants under Bangladesh Bread, Biscuit and Confectionery Manufacturers Association and Bangladesh Restaurant Owners Association.
Annisul Huq, president of the Federation of Bangladesh Chambers of Commerce and Industry, briefed about the programmes at a press conference at the federation office yesterday.
"The unemployed youths aged above 18 years will get jobs on the basis of 'on job training', no educational qualification is needed," Huq said.
According to the FBCCI chief, these youths will get Tk 1,500 a month along with breakfast, lunch, housing, medical facilities and others for free in a six-month training.
On completion of the training, a bakery worker will then get Tk 2,000 a month, while the amount is Tk 1,800 for the restaurant workers along with other facilities.
Under this project, primarily 250 females, both novice and regular, will be employed at Tk 4,000 per month with free breakfast and lunch only.
Moreover, around 500 educated youths will get the post of System Support Assistant in cyber cafes in cooperation with the Cyber Cafe Owners Association of Bangladesh.
The trainee assistants will get Tk 3,000 a month in the post-training period without other benefits.
"This persons who passed class VIII are qualified for the jobs and the job seekers will have to apply through the respective district's chamber," said a FBCCI statement yesterday.
The foundation will help make around 300 poor youths self-reliant under its One Family-One Businessman project by the last week of January 2010.
A help desk has been working in the trade body's office to disseminate information.