Guru Bipin Singh: Popularising Manipuri Dance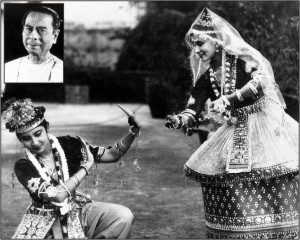 Manipuri dance, one of the classical dance styles of the sub-continent, has made its place in the world stage because of its individual characteristics and its subtlety in movements and rhythms.
The Manipuri people, living in the green valley surrounded by high mountains in the Manipur kingdom, have from ancient times been devoted to the practice of dance and music. They gradually became a community with great artistic sense. In course of time they were scattered throughout the northeastern part of the subcontinent including Bangladesh and settled down. The Manipuri people living in these regions have nurtured and upheld their culture for ages. The Manipuri gurus (dance masters), using their impressive creative talent in music, turned Manipuri dance into a unique performing art form. From the folk tradition, the culture of the Manipuri's gradually became a classical dance form.
A few decades ago Manipuri dance was not as popular as the other classical dance forms. But the subtlety of the tender dance form and the variety of the rhythm impressed Rabindranath Tagore so much that he is credited with introducing this enchanting style to the other parts of the world. Renowned gurus were invited to teach this dance form in Tagore's idyllic institute, Shantiniketan. Gradually the practice of this dance form extended outside the Manipuri community and was practiced with great enthusiasm, especially among the Bengalis. Following that initial period, the individual who can be credited for empowering and popularising the dance form, is Guru Bipin Singh.
Guru Bipin Singh was born on August 24, 1918 in a family deeply involved in Manipuri Culture. His grandfather P. Tona Singh was a Manipuri Maiba (priest), his father Laikhomsana Singh was a poet and his mother Indubala Devi was a vocalist. Thus dance and music are in his blood.
Right from his childhood Guru Bipin Singh received intensive and elaborate training in the art of Manipuri dancing from various experts residing in Manipur and its surrounding districts like Cachar, Sylhet and Tripura. Guru Bipin Singh is a rare combination of a dancer, choreographer, scholar and a teacher. For over the last 50 years he had dedicated himself to the task of exploring and revealing the classical elements of Manipuri dancing in order to preserve, promote and propagate the art form in its pristine purity.
His genius for creating and innovating dance compositions and choreography had given him a rightful place among the choreographers of Indian dance. He composed various dance items, emphasising each classical element in a stylised way, bringing out its beauty to the fullest and keeping true to its original form and spirit. He gave a new direction to dance dramas and choreographed them keeping within the traditional framework. From within these dance dramas he chose the solo pieces and re-choreographed them for the stage, thereby making them complete. He was a pioneer in introducing solo dance performances in the Manipuri style.
Through studies and researches, he had continually established a significant correlation between the available Vaishnavite and other Indian texts on dance, as well as the oral tradition of Manipuri dance and music. His scholastic abilities had enabled him to analyse, classify, systematise and codify various aspects of Manipuri dance and create fundamental and universal principles and disciplines to impart effective training.
Guru Bipin Singh in collaboration with his well-known disciples Jhaveri sisters and Kalavati Devi, founded Manipuri Nartanalaya in Bombay, Kolkata and Manipur. The creative contribution of Guru Bipin Singh and the Jhaveri sisters had been to bring the traditional and classical dances of Manipur from the temples to the theatre without altering its form and spirit.
The state of Manipur recognised his scientific attitude and scholarly approach and had accredited his 'school' of dancing as a significant 'gharana' of Manipuri dance.
In order to acknowledge and appreciate his contribution to the field of dance, Guru Bipin Singh was awarded with many prestigious awards among which were Nrityacharya by Maharaja of Manipur, National Sangeet Natok Academy awards given by Late Indira Gandhi, Uday Shankar Fellowship Calcutta, Kalidas Samman Madhya Pradesh, Anamika Kala Sangam Awards Calcutta and many others.
Guru Bipin Singh's teachings and the Manipuri dance style were popularised in Bangladesh by Shantibala Sinha and Kalavati Devi at Chhayanat. Two of her direct students Sharmila Bandyopadhyay and Tamanna Rahman are now carrying on the legacy of Guru Bipin Singh in Bangladesh and introducing the young generation of dancers to the Manipuri style.
The writer is a noted dancer