The Other Side of the Divide: A Journey into the Heart of Pakistan
Sameer Arshad Khatlani. ISBN: 9789353057701. Penguin India, 2020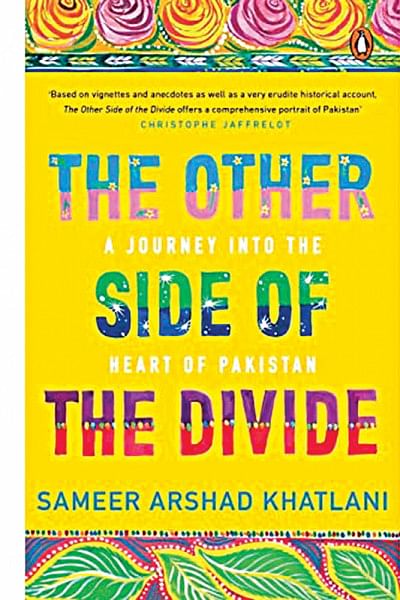 The Other Side of the Divide by Sameer Arshad Khatlani journeys through the precarious landscape of people who live on both sides of the divide — the divide caused by the line drawn by Radcliffe in 1947 to split the subcontinent into Pakistan and India. The angst, the wounds linger on through even pandemics like COVID 19.
Was this divide a need of the Muslims or was it a result of politics beyond the comprehension of a common citizen of the Indian subcontinent, irrespective of the religion?
Sameer Arshad Khatlani, a journalist who had been with The Times of India during his trip, and then in Indian Express and now in Hindustan Times, journeyed to Lahore for a Peace Conference in December 2013 and in the process uncovered a story beyond the one given out. Though his book is compacted within that time period, it took years of research to write the book and it was finally published in 2020, just post the riots in Delhi and a little before COVID 19 disrupted our way of life. The book was something he wanted to do. In an earlier interview, he tells us, "I have always been very curious about Pakistan and wanted to write the book because I thought I have a unique, layered perspective that will make it compelling given the straight jacketed approach towards that country in India. The focus in India on issues that reinforce the same old view of Pakistan has left many compelling stories untold. I wanted to narrate those. Pakistan is a complex country and I thought its complexities were worth exploring in the form of a book."
His book starts with the dilemma of Muslims who continued in India. They were not in favour of such a divide as it would upend their lives. And it did. They ended up in refugee camp. The reason given for the divide was politics per se: "Pakistan's idea as a separate Muslim homeland—which was dismissed as 'chimerical and impractical' in the 1930s—now suddenly gathered steam. a tacit British support was at play—the payback Muhammad ali Jinnah received for backing the British war effort."
Khatlani gives a first-person account. His family itself opposed his trip. He clarifies, their reactions or that of many Indian Muslims "can be traced to a latent legacy of wounds the subcontinent's division inflicted on them and millions of other ordinary people." They felt visiting Pakistan would be "rash." Khatlani elaborates, "Like any average Indian, they hear, see and watch nothing that might humanize Pakistan. Not surprisingly, the country comes across as a hopelessly dark land because to its portrayal in the news media, the cinema, as well as the terror attacks that emanate from that country." When he does journey across, he finds a world where "India's 'soft power', the reach and impact of Bollywood, helps offset anti-India sentiments in Pakistan. it humanizes India among the Pakistani masses; many shared problems besetting the two countries thus appear to be lopsided."
He takes us through Pakistan weaving in how Partition created ruptures where none had been. The Radcliffe line split communities and villages. His telling is reminiscent of the fallacy described in Larry Collins' Dominique La Pierre's book Freedom at Midnight (1975). "Sometimes the line ran down the heart of a village, leaving a dozen huts in India, a dozen more in Pakistan. Occasionally it even bisected a home, leaving a front door opening onto India and a rear window looking into Pakistan."
Khatlani factors in the human suffering sustained over the years by the community, the aftermath. He explains how "almost all Bhanu Chak residents have roots in Alwar and Bharatpur. However, none of them had been able to travel to meet their relatives in decades."
An interesting, fast paced, well written, nuanced to perfection, balanced, journalistic read, much like his articles, the book is an unputdownable one — a bit like a thriller. His exploration reminds me of Dan Brown's Prof Langdon, though Khatlani unravels lesser known facets of history and politics, unlike the thriller hero who cracks mysteries by cracking codes. Khatlani journeys through the famed Liberty and Anarkali bazaars of Lahore and by lanes and shuttles between taxi-drivers, liberals and artistes.
He talks to the driver who was taking him around, Aziz, one of the many people whose family was forced to cross over and had "neither resources nor connections to revisit their roots. so, they relish the rare idea of talking to somebody from 'that side'. Aziz told me that his grandfather would get emotional every time he saw a visitor from India…No bitter memories of the Partition seemed to have passed on to Aziz from the survivors of the Partition slaughter in his family. Vagaries of life have weighed down the family's three generations, leaving them with little time to harbour any ill will."
There are these anecdotes from the times of Mughals and earlier, gems of shared history with Pakistan that he embeds into his narrative, comments and observations of the mutiplicity of languages and cultures on the other side of the divide, the open attitude of their liberals and the affection he experienced from common folks. He talks of the terror that runs through Pakistan, terror created by a revival of Kharijites "who have emerged in different forms and targeted Muslims since first rebelling against and killing Prophet Muhammad's companion and third caliph, Usman, in the seventh century." He concludes the book telling us "radical Kharijites were eventually defeated but some survived. Many see a revival of radical Kharijite legacy in the late twentieth-century terrorist activities of groups like the Taliban and al- Qaeda."
Khatlani brings in plenty of syncretic lore like during Partition, "the rubabis lost their livelihood; they had spent years learning the Sikh holy book by heart for it." Rubabis are Muslim singers who evolved from Guru Nanak's times and performed in Sikh shrines, like that in Amritsar. He describes temples across Pakistan, especially the Hingjal Shrine in the remote mountains of Baluchistan which hosted pilgrims from across the divide in 2006. He meets Sikhs and Hindus, who have been developing Pakistan just as Muslims like A.P.J. Abul Kalam or Fakhruddin Ali Ahmed had been committed to developing India.
Interestingly, a little before Khatlani's book was launched, a fiction on the same syncretic theme, Sahitya Akademi award winner Aruna Chakravarti's Suralakshmi Villa (Feb 2020) and Avik Chanda's best-selling historical Dara Shukoh, the Man who would be King (Nov 2019) invaded book shelves, taking India by storm with their focused syncretic telling of the Ganga- Yamuna tehzeeb. One of the things to ponder is why would writers of different genres within a span of four months from varied backgrounds be so focused on the same syncretic thread in Indian lore? Is there really an issue we need to address?
Mitali Chakravarty is a poet and a writer. She is also the founding editor of Borderless journal.