Winter pitha
Agrahayon, the eighth month in the Bengali calendar, marks the beginning of a traditional harvest festival of Nabanna, meaning 'new crop' in Bengali. Rice is our principle crop, harvested during this time. Another attraction of 'new crop' is the beginning of 'pitha' season.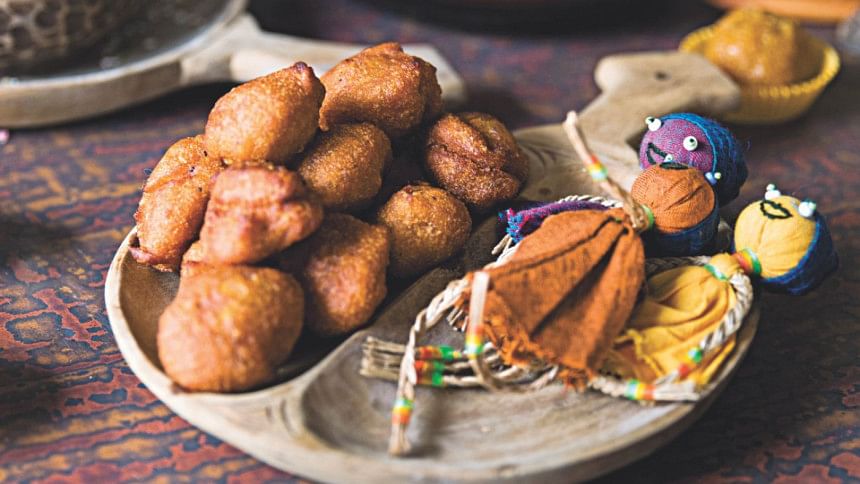 In Bangladesh, winter is the season for 'pitha-puli.' We have hundreds of different pithas. Some are associated with the harvest (Nabanna) in winter, while others are prepared on grand and festive occasions like weddings, Eid or puja. Some are crunchy, some steamed and others, delightfully soaked in sugar, molasses, milk or date palm syrup. Most of them are sweet, though there are some savoury pithas as well.
NARIKEL-TIL PITHA
Ingredients
1 cup rice flour
½ cup plain flour
½ cup sesame seeds, roasted
½ cup coconut, freshly grated
1 cup sugar
1 cup milk
2 tbsp butter
Method
Combine milk, plain flour, and rice flour in a bowl and whisk well so that no lumps remain. In another bowl, combine sugar, sesame seeds and coconut. Mix well and keep aside. Heat a non-stick pan and grease with butter. Pour approximately two tablespoons of the batter and spread to form a small, round and thin pitha. Cook lightly on both the sides. Spread a little of the coconut-sesame mixture on half side and cover with other half to form a semi-circle. Repeat the same to make more pithas using the remaining ingredients. Serve immediately.
SUJIR PITHA
Ingredients
2 cups suji or semolina
4 cups water
2 tbsp ghee
1 cup sugar
2-3 cardamom
2 cups coconut, freshly grated
¼ cup jaggery
½ tsp cardamom powder
1 tbsp ghee, for kneading the dough
2 tbsp cashew and raisins
Pinch of salt
Oil or ghee for deep frying
Method
For preparing the dough, put water, salt, sugar, and cardamom powder in a heavy bottom pan and boil till the sugar dissolves. Add one tablespoon ghee, lower the heat, and slowly add semolina, stirring constantly so that lumps are not formed. Keep stirring till the mixture becomes a thick and lumpy mass and is sticky. Take it off from the heat and keep it aside till the mixture is warm and easy to work on. Meanwhile, add one tablespoon of ghee to a heated pan and fry freshly grated coconut on low heat till light brown. Add jaggery, cardamom and cook until jaggery melts and coats the coconut flakes. Finally, add the cashew and raisins; mix well and switch off the flame. Take one teaspoon of ghee, add it to the warm semolina mixture. Knead it to form dough. Make equal sized balls from the dough, flatten it on your palms, make a depression and stuff some coconut filling in it. Then close it from all sides, making a ball; flatten a little. Deep fry them in hot ghee or oil until golden brown.
---
---
KOLAR-PITHA (BANANA RICE CAKE)
'Kolar pitha' is a traditional dessert that is usually made in winter, as it is considered the season of desserts. It is sweet, soft, and sumptuous, and very easy to make.
Ingredients
2 cups rice flour, husked
¼ cup plain wheat flour
2 cups water
2 cups date jaggery, grated
4 ripe bananas
Oil for deep frying
Pinch of salt
Method
In a bowl, add water, rice flour, plain flour, jaggery and mix well. Blend bananas with water until smooth. Add the blended banana to the rice and flour mixture. Stir continuously to make a mixture of dropping consistency. In a deep thick bottomed frying pan, heat the oil. Fill the mixture in a quarter cup and pour it into boiling oil. The medium sized round shape of the pitha will swell in the bubbling oil. Gradually, add more pithas. Around 4-5 pithas can be fried at a time. Fry until the pithas turn deep brown and serve.
KHEJUR PITHA
Ingredients
1 cup semolina
½ cup flour
1 egg
¼ cup sugar
1 tbsp ghee
¼ tsp baking powder
4 tbsp warm milk
Oil for deep fry
Pinch of salt
Method
Take semolina, flour, sugar, salt, baking powder, and ghee in a large bowl, and mix it well. Now add the egg and knead the dough. Dough must not be too dry nor too soft. Make small balls from the dough. Take one ball and shape it like an egg, then spread it on top of a colander thinly and start to fold from one end and finish it to another end and close it. Using the same process, make all the pithas. Now heat oil in a pan. Fry the pithas until golden brown and then take it out from oil to a paper tissue. Fry rest of the pithas and serve it. You can preserve these pithas in an airtight box for 2/3 weeks.
NOTUN GUR-ER KHEER
Ingredients
½ cup aromatic rice
2 litres milk
¾ cup date jaggery
¼ cup mixed nuts
Method
Soak rice in water for half an hour and drain and crush lightly with your hand. Boil milk on a pan. When the milk is reduced to half, add rice to it, and cook on low heat. As the milk thickens, keep on stirring the mixture, otherwise it will stick to the bottom of the pan. When the mixture becomes thick, add jaggery and nuts and cook for another 5 minutes. Remove from pan and let it cool down.
Photo: LS Archive/Sazzad Ibne Sayed