The perfect meal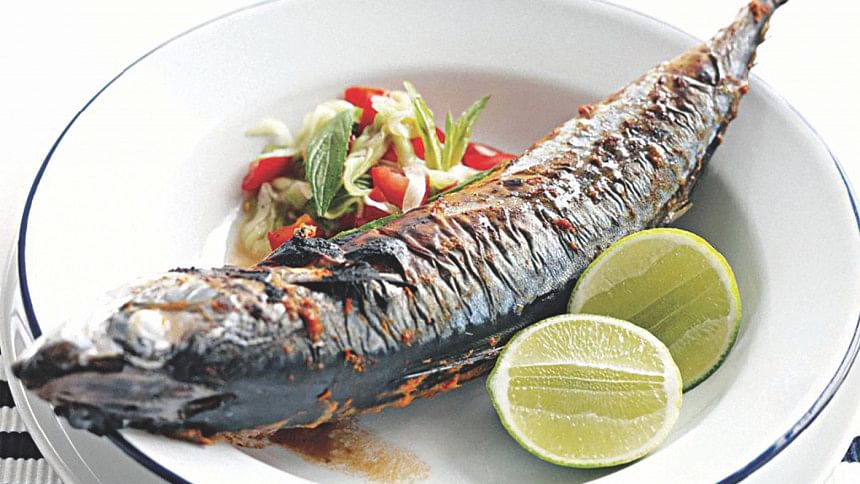 BUTTERED RICE
A simple and easy recipe of rice tossed with butter and salt, which tastes great with all kinds of meat, fish, daal, and vegetables. Although only a small amount is used, you can actually feel the rich, buttery taste of this preparation.
Ingredients
1 cup rice, washed and drained
1 tbsp butter
½ tsp ginger, sliced
¼ tsp cumin seeds
1 tsp oil
Salt to taste
Method
Boil enough water in a deep pan, add oil, a little salt, and rice. Mix gently and cook on a medium flame for 10-12 minutes, while stirring occasionally. Drain and keep aside. Heat butter in a broad non-stick pan. Add ginger and cumin seeds, and stir for one minute. Add the rice and little salt. Mix and cook on a medium flame for 2-3 minutes. Use as required.
THAI GRILLED WHOLE FISH
Ingredients
1 medium sized fish (red snapper, sea bass, sea perch or any other white fish)
Salt to taste
2 limes
For the sauce —
½ cup water
½ tbsp tamarind paste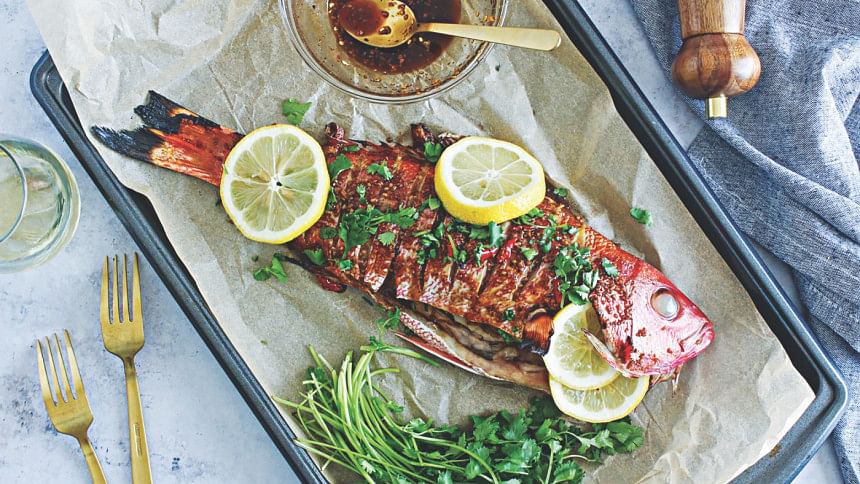 3 cloves of garlic
1 tsp brown sugar
1 thumb-sized piece of ginger, peeled and sliced
1 cup fresh coriander, 2 tbsp fish sauce
½ red bell pepper (deseeded and diced)
2 fresh red chillies, minced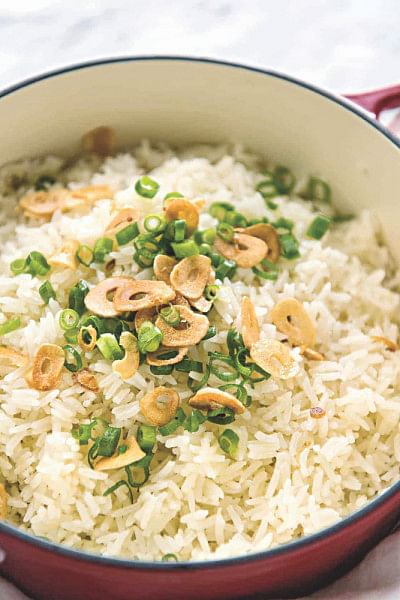 Method
Prepare fish by rinsing it, then patting it dry. Make 2 to 3 diagonal cuts on the side of the fish with a knife. The cuts should be several inches apart. Squeeze the juice of limes over and inside the fish. Sprinkle salt, mix, and set aside while you prepare the sauce.
Place water, tamarind paste, garlic, ginger, sugar, coriander, chilli, and fish sauce in a food processor. Process well. Pour sauce into the saucepan. Add pepper and simmer over medium low heat for 6-8 minutes. Cover and keep warm while you cook the fish.
Grill the fish on the barbecue. Do not flip the fish too early, allow it to cook at least three minutes before turning. Turn and cook the other side for three minutes more. To serve, place the fish and pour the prepared sauce over. Garnish with fresh coriander and wedges of lime.
Photo: Collected