Comfort food during Ramadan: Stew and Others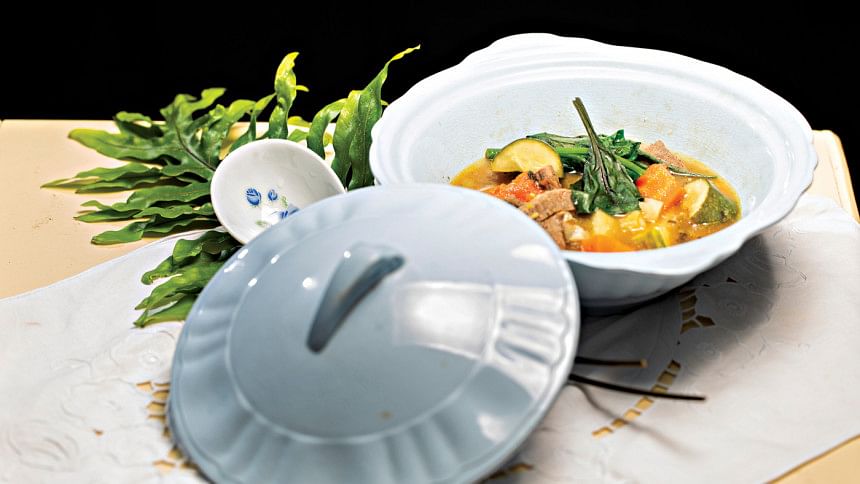 The holy month of Ramadan brings with it a fresh wave of festive cheer. It is a time of self-reflection, to focus on the soul rather than the body and an opportunity to reconnect with our faith.
 Sehri is the pre-dawn meal eaten before the Fajr prayer and is taken as a blessing. The pre-dawn meal, or sehri is the most important meal during Ramadan, as that is what one's body thrives on all day.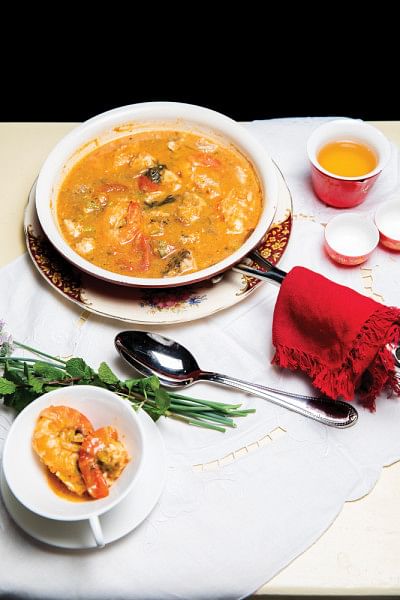 It is imperative that we keep ourselves hydrated, consume a well-balanced diet and make the right choice of food and drinks throughout the month for a healthier mind and body.
Different families follow different customs, but a lot has changed over the years. Here is a handy guide on what you should include in your meal that will keep you fuelled until dusk.
High-carb foods like rice, bread and potatoes have complex carbohydrates and take longer to digest. They help in keeping your energy levels up. Avoid too much spice as it may lead to heartburn and indigestion.
Fibre from fruits and whole grains should top your sehri menu. Fruits like apple, banana, and apricot are high in fibre and so are chickpeas, oats and wheat. Fibre installs a feeling of fullness and helps prevent constipation.
Protein from dairy products and lean meat is essential. Sneak protein in your diet in the form of milk, egg, chicken, yoghurt, and lentils. This will help strengthen your immunity.
Food with high satiety value and low glycaemic index should be given priority. Such foods keep you full for longer and act as crave busters. They release energy over a period of time and will help prevent fatigue and lethargy.
 Eat nuts and seeds, foods packed with fibre, or have broth-based stew or soups. In many homes, whole wheat chapatis is savoured with some vegetables and fruits. It's makes for a complete meal which is digested slowly and keeps you satisfied.
Hydrating foods and drinks are a must.Avoid having too many cups of tea or coffee as the caffeine leads to loss of water. More so, sugary foods or drink get digested very quickly and could leave you feeling hungry sooner than you would expect. Having said that, drinking too much water is also not advisable. It will dilute the stomach acids and lead to bloating and indigestion. Sip water gradually, at regular intervals.
Headaches can be a sign of dehydration. Fresh fruits, juices, and vegetables with high water content will keep you hydrated. Coconut water is a great source of electrolytes with simple sugar and minerals that replenish water loss. Add cool foods like cucumbers, pineapple, tomatoes, oranges, melons and onions, which help in reducing body heat. Keep away from salty foods as they increase fluid loss in your body. Most importantly, keep hydrated and chew on a date or two at sehri to keep your energy levels up throughout your fast.
MOROCCAN BEEF STEW
Ingredients
½ kg beef tenderloin, cut into 1-inch cube
1 large onion, chopped
1 large carrot, chopped
3 garlic cloves, chopped
1 tsp ground cinnamon
1 tsp paprika
1 tsp ground cumin
2 cups beef broth
½ cup golden raisins
¼ cup halved pitted olives
1 cup chickpeas
¼ cup fresh cilantro
1 tsp lemon peel
3 tbsp olive oil, divided
Salt to taste
Method
Heat 2 tablespoons of oil in a large heavy saucepan over medium-high heat. Sprinkle beef with salt and pepper. Fry until brown on all sides. Transfer to plate. Add remaining 1 tablespoon oil, onion, carrots, and garlic to pan. Cook until vegetables are soft, stirring frequently, about 2 minutes. Add spices and stir. Add broth, olives, raisins, chickpeas, and cilantro. Bring to boil, simmer until juices thicken. Add beef and lemon peel to pan. Stir and cook for 5-6 minutes. Remove from heat and serve.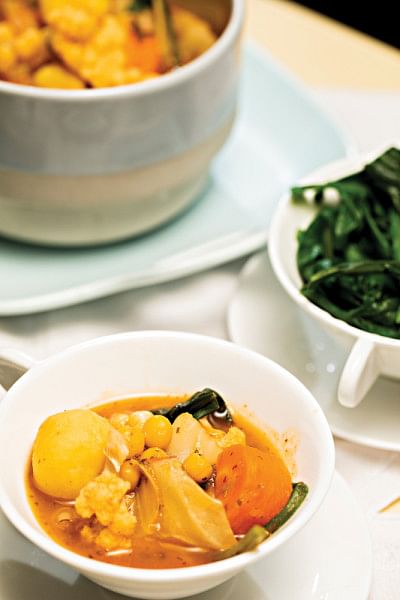 SPICY FISH STEW
Ingredients
250g fish fillet, white
250g shrimp
1 large onion, chopped
2 garlic cloves, chopped
1 tsp chilli powder
3 cups fish broth
1 tsp green chilli peppers, chopped
½ tsp ground cumin
1 cup peeled and diced tomatoes
8-10 basil leaves
1 tbsp oil
Salt to taste
Method
Heat oil in a large saucepan over medium heat. Add onion and garlic sauté for few minutes. Add chilli powder and mix well. Then add the fish broth, green chilli peppers and cumin, stirring well. Bring to a boil, reduce heat to low, cover and simmer for 10 minutes. Next, add the tomatoes, shrimp, and fish. Return to a boil, then reduce heat to low, cover and simmer for 5 minutes. Add salt if needed. Add basil leaves and remove from heat. Serve hot.
SWEET CORN STEW
Ingredients
2 cans sweet corn
½ cup boiled chickpeas
½ cup capsicum, cut into small cubes
4 cups chicken stock
1 onion, minced
2 cloves garlic, crushed
1 cup cooking cream
2 green chillies, sliced
2 tbsp butter
½ tsp black pepper powder
Salt to taste
Method
Heat butter in a pan on low heat. Add the chopped onions and stir until it turns golden. Add the garlic and chicken stock while stirring, with a sprinkle of salt and pepper. Now it's time to add the sweet corn (make sure to drain the can first) leave it to boil. Simmer for 10 minutes. Add capsicum and chickpeas to the pan. Add the cream and mix well properly. Cook for 2 minutes. Garnish with the green chilli slices and serve warm.
White Bean Stew
Ingredients
250g white bean, socked and drained
250g boneless, skinless chicken thigh, trimmed and cut into chunks
2 onion, finely chopped
2 clove garlic, chopped
1 tsp black pepper powder
1 carrot, finely chopped
1 lemongrass stick, finely chopped
1 bay leaf
3 cups vegetable stock
Chopped basil, to serve
2 tbsp oil
Method
Heat oil in a large pan, add chicken and fry until lightly brown. Add the vegetable and beans, fry for a minute more. Stir in the stock and herbs. Bring to a boil. Stir well and reduce the heat. Cover and cook for 30 minutes on low heat. Stir in the basil leaves and serve. 
CHICKEN STEW
Ingredients
500g chicken, cut into 1½ inch cubes
3 cups chicken stock
6-8 garlic cloves
2 medium potatoes
1 tbsp olive oil
5-6 French beans, cut into small pieces
2 medium carrots
1 medium onion
½ tsp black pepper powder
2 tbsp whole wheat flour
½ cup milk
Salt to taste
Method
Slice onion and garlic. Cube the potatoes. Heat oil in a pan, add onion and garlic and sauté for a couple of minutes. Meanwhile cut the carrots into cubes. Add potatoes and carrots to the pan and sauté for 2-3 minutes. Add chicken and continue to stir.
Add whole wheat flour to the chicken and mix well. Fry for 1 minute. Add chicken stock, salt, pepper and mix well. Cover and cook until the chicken is almost done. Add French beans and milk and cook for 5-7 minutes. Serve hot with garlic bread.
MIXED VEGETABLE STEW
Ingredients
2 medium carrots, into 1-inch cubes
1 medium green papaya, into 1-inch cubes
2 medium potatoes, into 1-inch cubes
¼ cauliflower, small
½ cup green peas
8-10 spinach leaves, chopped
1 onion, sliced
2 garlic cloves, chopped
1 tbsp refined flour
2 cups vegetable stock
7-9 black pepper corn
Salt to taste
2 tbsp oil
½ cup milk
Method
Heat oil in a deep pan. Add onions and garlic and sauté till translucent. Add potatoes, carrots, papaya, cauliflower and stir. Add refined flour and stir. Add vegetable stock and salt. Cook for 8-10 minutes or until the vegetables are done. Add crushed black pepper and milk. Let the mixture come to boil. Cook for 2-3 minutes. Remove from heat and serve.
Photo: Sazzad Ibne Sayed
Food and Styling: RBR