Post Partum Depression
www.maya.com.bd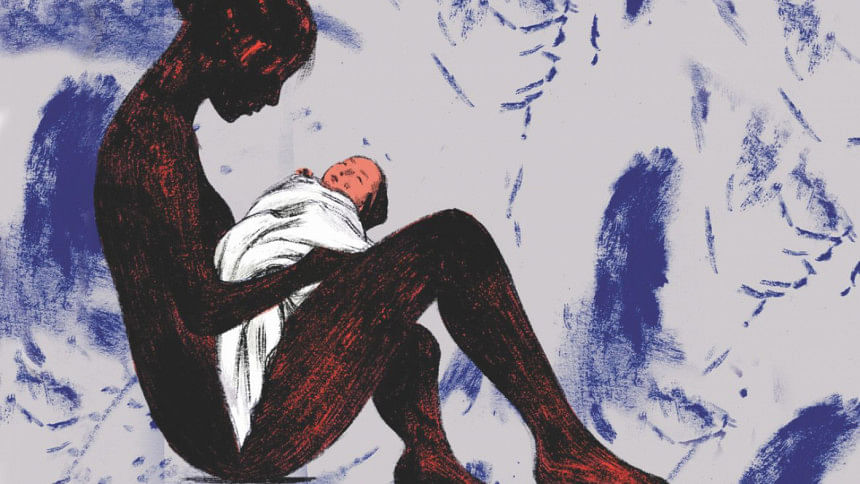 Maya Apa,

I am 30 years old and my wife is 25. Few days ago she gave birth to a baby boy. It was the best time of our life.But now for the last few days I have noticed she is getting irritated and worried very easily, sometimes I see her crying without any reason. She seems to have negative thoughts on everything. She does not sleep properly and always seems very exhausted. Nowadays, she does not talk to anyone at home, not even me. Maya Apa, please help me, what am I supposed to do now to get my wife back to normal again? Is she suffering from any disease? 
Dear Reader, 

Thank you for your question.

First of all we would like to congratulate both of you on the arrival of your baby. Lots of blessings and well wishes for him.
Reader, the birth of a baby can bring a flood of different types of emotions for you and your wife, and each and every member of your family. This is not unusual for your wife to feel sad after this sudden change because motherhood can bring excitement and joy but some fear and anxiety as well. It can result in something you and your wife might not have expected— depression. This is known as postpartum depression. Postpartum depression can begin any time during the first two months after a woman gives birth. In some cases, symptoms peak after slowly building for 3 or 4 months.
There is no definite cause for this depression but physical and emotional issues sometimes play a role. Physical causes are that there is a dramatic drop in hormones which leads to a mother feeling tired, sluggish and depressed. Physical exhaustion from a mother being sleep deprived can have emotional effects, like feeling overwhelmed in handling her newborn and she may feel that she has lost control over her life which can also lead to depression. 
The symptoms of postpartum depression mainly include-

*Depressed mood and severe mood swings.

*Avoiding family and friends. 

*Lack of confidence on being a good mother.

*Changes of sleep and eating patterns.

*Thoughts of harming the baby.

*Thoughts of suicide or suicide attempts. 

*Reduced desire for sex. 

*Difficulty in concentrating.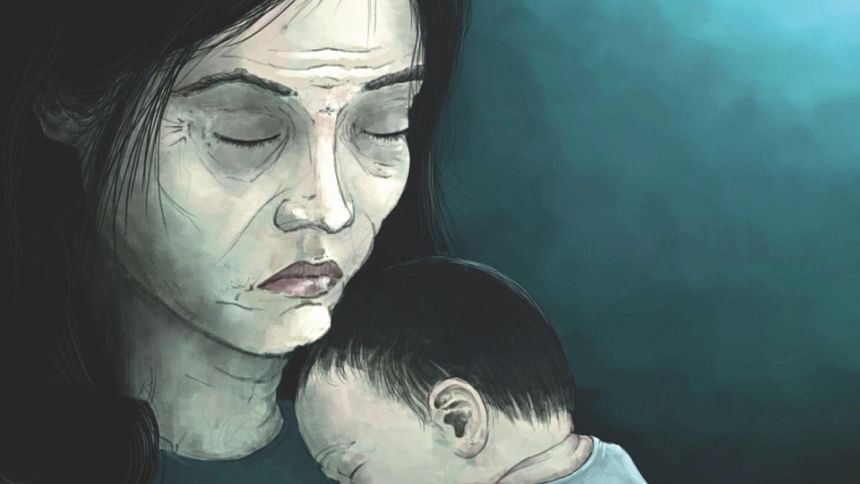 As postpartum depression makes it harder to function well so early treatment is important for you, your wife, your baby as well as the rest of your family. In addition to seeking doctor's help, there are also some other ways to take care of your wife, such as-
*The most important thing is to talk to your wife. How is she feeling? Encourage her to not feel guilty about her feelings and assure her this is very normal and once she recovers this will gradually diminish.
*Make sure that she is meeting her basic needs. Ask her to eat and sleep properly. 
*Try to offer help and encourage her to ask for help if she needs any. You can help bathe your baby or put him to sleep, while she relaxes
*Tell her not to hesitate to share her feelings with you, her friends and family. Remember that your support is always vital to your wife's recovery.
*Always give her some time to get some rest. 
Even after taking these measures, you may feel she is not getting better, in which case you need to take her to a doctor.
Reader, a more severe form of post partum mental illness is Post Partum Psychosis. This can be sudden in onset and seen within 2 weeks after childbirth. You have look for some danger signs such as-
*hallucinations – usually hearing or seeing things that aren't there
*delusions – thoughts or beliefs that are unlikely to be true
*Feeling very irritated.
*Paranoia and suspicions.
*Extreme excitement or low mood.
*Severe confusion.
Postpartum psychosis needs immediate treatment as it can become bad very rapidly, thus leading your wife harming your baby or herself.
Postpartum depression and psychosis is a medical condition. It has nothing to do with your wife's character or how good mother she is, or how much she loves her baby so never let her feel guilty about her feelings . Like any other medical condition, proper intervention, treatment and care can get her to feel better. 
Hope we have helped you.
If you have further queries please do ask us again.
Thank you.
Maya Apa.
Photo: Collected