Recipes for the perfect wedding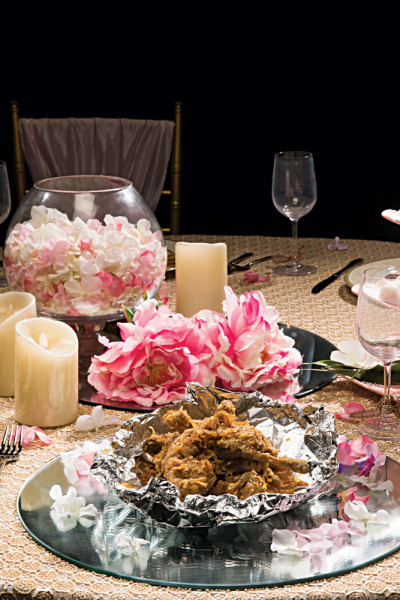 Kesar Badam Milk
Kesar badam milk or saffron milk is the best drink ever. This comforting and satisfying milk recipe is so simple to make and its smells as good as its tastes. Badam milk is a healthy and protein packed drink. Badam milk is popularly served during wedding and other special occasions.
Ingredients
3 cups full-fat or whole milk
¼ cup almonds
10-12 saffron strands
3 tbsp sugar
Method
In a small bowl, soak saffron strands in lukewarm milk. In another bowl, pour hot water and add the almonds for 1 hour. Drain the almonds and peel the skin off. In a blender jar, pour ¼ cup milk and add the almonds. Grind until it becomes smooth. Heat the remaining milk in a nonstick pan over medium flame. Bring it to a boil while stirring occasionally. Once it comes to a boil, lower the flame and add almond paste, saffron milk and sugar. Mix thoroughly. Allow it to simmer for 5-10 minutes. Turn off the heat. Pour the kesar badam milk into glasses. Garnish with saffron and serve.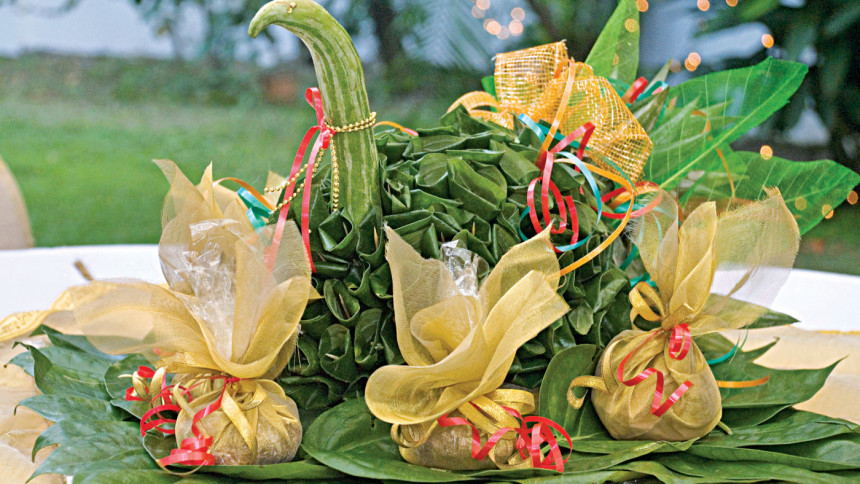 Chicken 65
Chicken 65 is a very popular spicy South Indian appetizer or side dish. It is a batter-fried crispy chicken tossed in a tempering of curry leaves and spices. It has a distinct flavour of curry leaves and garlic, a slightly tangy and subtle sweetness in the coating, and a classic fiery-red colour.
Ingredients
1 kg boneless chicken, washed well
Salt as per taste
2 tbsp red chilli powder
½ tsp turmeric powder
2 tsp ginger-garlic paste
2 tbsp all-purpose flour
2 tbsp corn flour
1 beaten egg
Oil for deep frying
To make gravy
2-3 tbsp oil
½ tsp very finely chopped ginger
6-7 green chillies vertically slit
10-12 curry leaves
1 cup yoghurt
Salt to taste
1 tsp red chilli powder
½ tsp red food colour
For garnishing
Coriander leaves
Lemon wedges
Onion rings
Method
For the chicken marination and deep frying
Firstly, in a mixing bowl, add boneless chicken, spices, salt, red chilli powder, turmeric powder, ginger-garlic paste, egg, flour and corn flour. Mix all the ingredients. Rest in the refrigerator for 15-20 minutes. Heat oil in a deep frying pan. Add the chicken and deep fry them on all sides until golden brown. Remove from oil and set aside.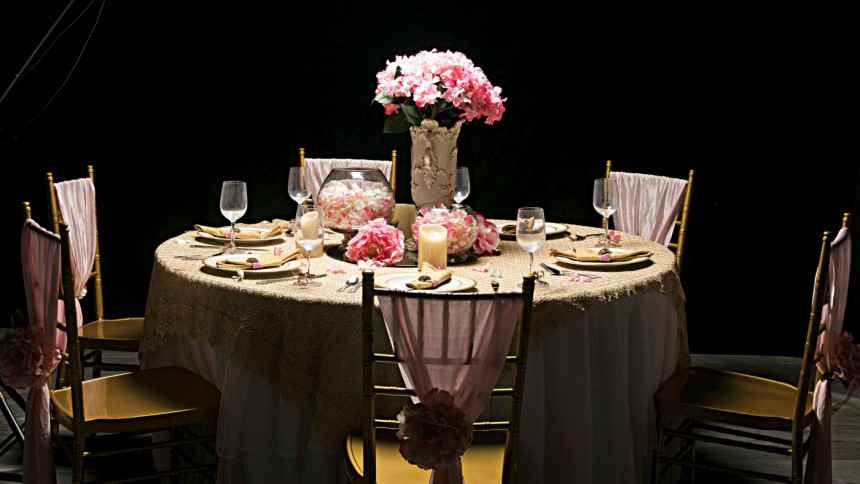 For the chicken gravy
Heat oil in a pan. Add curry leaves, finely chopped ginger-garlic and green chillies into it, saute well. Add beaten yoghurt into it. Add salt, red chilli powder and food colour. Mix all the ingredients and stir well. Add the deep fried chicken pieces into the gravy and cook for 5 – 6 minutes. Take the chicken 65 out on a serving plate. Garnish with fresh coriander leaves. Add lemon extract all over. Serve with onion rings and lemon wedges.
Chilli Lamb
Ingredients
10-12 Lamb chops
1 tsp Kashmiri red chilli powder
1 tsp red chilli flakes
1-2 green chillies finely chopped
1 tbsp garlic finely chopped
1 tbsp lemon juice
1 tsp coriander seeds
¼ tsp turmeric powder
2 tsp ginger-garlic paste
½ tsp garam masala powder
Salt to taste
1 tbsp oil (also for grilling)
¼ cup yoghurt
2-3 tbsp flour
Method
Combine lemon juice, salt and lamp chops in a bowl, mix well and set aside for 30 minutes. Dry roast coriander seeds for a minute. Transfer in a mortar and crush coarsely with a pestle. Add green chilli and crush. Add turmeric powder, ginger garlic paste. Garam masala powder and chilli powder and mix. Add the masala to the lamb chops and mix well. Set aside for 30 minutes. Add garlic, chilli flakes oil and yoghurt and mix well. Set aside for another 30 minutes. Add flour to the lamb chops and mix. Heat some oil in a non-stick grill pan. Place the lamb chops in it, apply the marinade on top and grill till evenly done from all sides and the chops are fully cooked. Garnish with coriander spring and serve hot.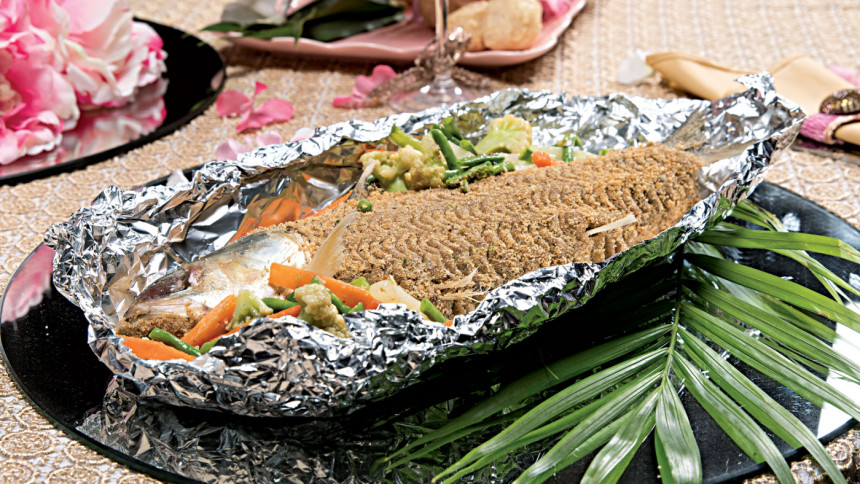 Murgh Makhmali
Ingredients
1 kg chicken, cut into 4 pieces
¼ cup ghee
1 tsp cumin seeds
½ tsp black peppercorns
1 cup grated onions
1 tsp ginger paste
1 tsp garlic paste
1 tbsp coriander powder
1 tbsp tomato puree
2 green chillies, finely chopped
4 cherry tomatoes
1 tsp vinegar
1 tsp sugar
4 tbsp coriander leaves, chopped
2 tbsp cornflour dissolved in ½ cup water
½ cup milk
Method
Place the chicken in a saucepan with 2 cups of water. Bring to a boil and then simmer till cooked through. Take out the chicken pieces from the stock. Mix the milk and stock together. Heat ghee in a heavy-based pan and add cumin seeds and black peppercorns. When they splutter, add onion, ginger garlic paste and sauté till the onions turn transparent. Add coriander powder, tomato puree, green chillies and salt to it. Mix well and stir. Add chicken, stock and milk mixture and bring to a boil. Cook for 5 minutes. Add tomatoes, vinegar and sugar. Mix and cook for another 2 minutes. Garnish with fried onion and serve.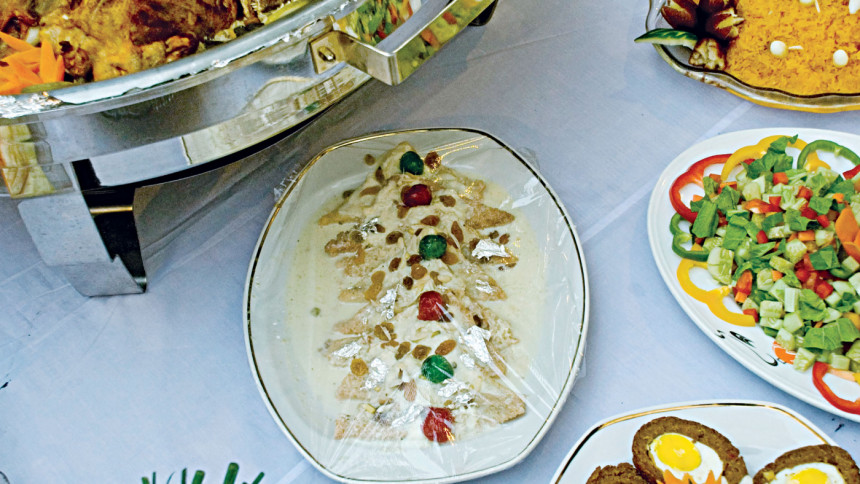 Menu for small weddings
The idea of a small and intimate wedding opens an entirely new realm of possibilities of experiments for a fairy-tale wedding. The privacy and exclusivity that accompany an intimate wedding are ideal for celebrating a meaningful wedding with the closest people. Currently, intimate weddings are trending among young couples for numerous reasons, such as personalised experiences, convenient planning, and innovative locations.
The food at one's wedding is undoubtedly among the most important elements of the whole event. No matter which style you pick, whether it's a formal plated dinner or a traditional style reception, the menu should reflect the two of you as a couple. However, while some prefer to keep the Bengali wedding menu simple and traditional, there are some who wish to take the fusion call. Weddings are all about fancy food, expensive jewellery, and shiny clothes. Today, we bring curated lists of items fit for a lovely intimate wedding.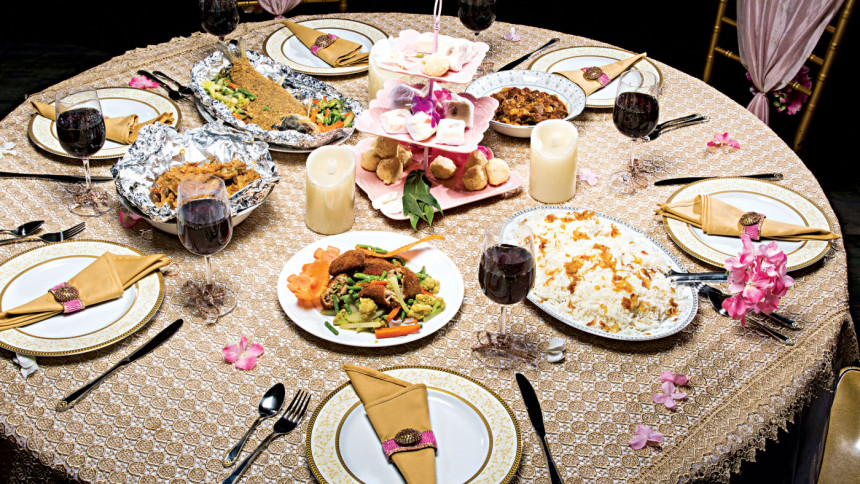 Traditional Bengali Wedding Menu
Bengali wedding is a foodie's dream come true, with a variety of sumptuous dishes being served, there is no option but to indulge in some mouth-watering feasts. In fact, it is not wrong to say your wedding food is one thing that will bond you with your esteemed guests. So remember, your guests might forget the lavish décor and extravagant arrangements, but will never forget the sumptuous feast they had at your wedding.
If you are wondering what delicacies you add to your Bengali wedding menu, here are some Bengali delicacies to drool over:
Rose sherbet (welcome drink)
Fish cutlet/ Grilled fish
Green pea polao/Basanti polao
Chicken 65
Mutton/beef kosha
Chilli phulkopi
Pineapple chutney
Jaggery roshogolla/Mishti doi/Kheer kodom
Paan
Mughlai Wedding Menu
The Mughal period India is known for its richprosperity, opulence, splendid architecture, cross culture interactions and delicious food. Mughlai wedding food must have been a treat for both all the senses— aromatic spices, heavy creams, fruits and nuts, and of course meat of various kinds. Mughlai cuisine was truly meant for royalty! It features richness in texture and exotic tastes from fresh ingredients and numerous subtle spices blended together in a melody. 
Kesari badam milk (welcome drink)
Reshmi kebab 
Zafrani polao
Murgh makhmali
Lamb Peshawari
Naan/Garlic naan
Dahi bara/raita
Firni/Shahi kheer
Mishti paan
A fusion menu for the different wedding
Interfaith weddings are not easy to plan, and food has the capacity to be the other bridge, along with the bride and groom. Fusion food is multifaceted, and it is fun and interesting to combine the best of worlds on the dinner table. 
Mocktails (welcome drinks)
Chicken soup/tomato soup
Vegetable spring roll/cheese ball/ wonton
Shrimp in Schezwan sauce
Chicken sesame with honey and chilli
Chilli lamb
Spicy Thai basil fried rice
Mini pizza
Russian salad
Cheese cake/Cream brûlée/ice cream
Soft drinks
Photo: LS Archive/Sazzad Ibne Sayed