How to layer your winter clothes
Layering, in simple terms, means to dress up using multiple garments that are worn on top of each other. Despite being tricky and daunting, layering does allow for a lot of creative freedom and room for experimentation. Moreover, it is quite practical, allowing the wearer to be prepared for a wide range of temperatures without having to change the entire outfit. Below, we put forth some basic rules which will help you navigate the world of layering your winter clothes, especially if you are new to this, to put on an Instagram-worthy fit.
Some basic rules
Check the weather before deciding what kind of clothing you want to layer so that you can be ready to beat varying temperatures and select the appropriate fabrics accordingly.
Stick to 2-3 layers of clothing. Anything more than three and you risk looking puffy and stuffed. You can layer with multiple types of garments like jackets, coats, vests, blazers, sweaters, and even summer dresses. Ideally, you should be able to modify your layered fit in public without embarrassment. So, while layering, make sure your outfit works both as a whole and minus a layer or two.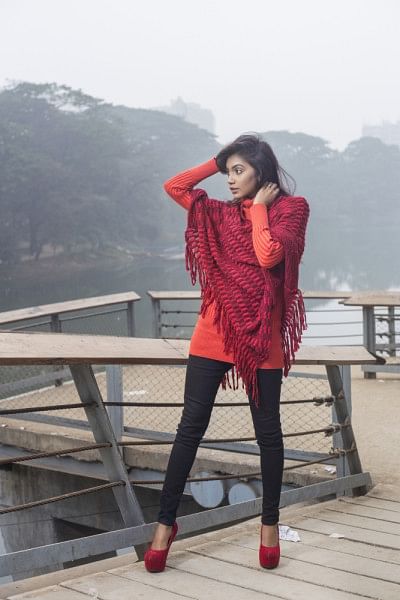 Texture and fabric thickness
One good rule of thumb while layering your winter clothing is to go from "thinnest to thickest", that is, the thickness gradient. This means that the lightweight garments should be closer to the skin while the bulkier options remain as the outer layer. Rules are meant to be broken, so you can break them by pairing a light coat or a slim vest as the outer layer of your chunky sweater.
Hems and lengths
Play with colours, textures, and lengths to get a chic look. The traditional style rule says that you should layer from the shortest hem inside to the longest outside. However, you can always jettison this rule and create contrast in your fit by playing with the lengths however you want, making sure you look good.
Colours
As for colours, there are a few ways to go about it. If you are new and want to stick to basics or classics, choose colours within the same family, colours adjacent to each other in the colour wheel, or colours opposite to each other on the colour.
A foolproof choice is to layer neutrals together. You can, of course, create contrast with different colours but make sure to stick to two to three colours at max, otherwise, it might be too much for the eyes. Try to keep colours within the same level of saturation.
Patterns and prints
Layering and mixing prints and patterns is risky, but you can always take inspiration from the street style stars seen during the fashion months. If you are wearing a few different prints which are large, try to spread them out throughout your look. You can create contrasts. Another good tip is to match the colour of your print in some other part or layer of your whole outfit.
Remember there are no hard and fast rules and to get the perfect look, it is important that you play around with pieces and find out what suits you the best.
Ideas for layering —
There are countless ways to layer your winter pieces this season and below, we look at some of them.
Sweater vests
Picking cues from global fashion runways, street styles, and of course, TikTok, pair the season's hottest "it" item, sweater vests, on top of blouses or button-downs. You can add in a nice long camel coat to top off the look.
Sweaters and scarves
Another great technique is to pair your chunky sweater over a button-down or your favourite oversized shirt dress. Wearing scarves can add a great dimension to your look. Take a cue from Serena's entry in the opening scene of "Gossip Girl" and put on a scarf on top of your striped tee and camel coat, with denim serving as the bottoms.
Merging seasons
You can incorporate pieces from your spring-summer wardrobe into the winter season courtesy of layering. Wear your favourite summer mini or midi dresses on top of full sleeve tees or sweaters, even turtlenecks and tights down below.
Turtlenecks and blazers
Speaking of turtlenecks, they go great with vests, puffer vests and leather jackets. You can sport a variety of blazers to ooze off some business and corporate energy. Wear your blazer over your favourite blouses or t-shirts, even loungewear.
Do not forget to accessorise with minimal jewellery and some winter hats like furry bucket hats, beanies and berets.
In the age of TikTok ruled fashion and a mass adoration for the avant-garde, there are honestly no rigid rules that one must stick to in order to be considered "fashionable". So feel free to experiment and break rules, who knows, you might break the box once in a while?