BLAST holds seminar on definition of rape and understanding of consent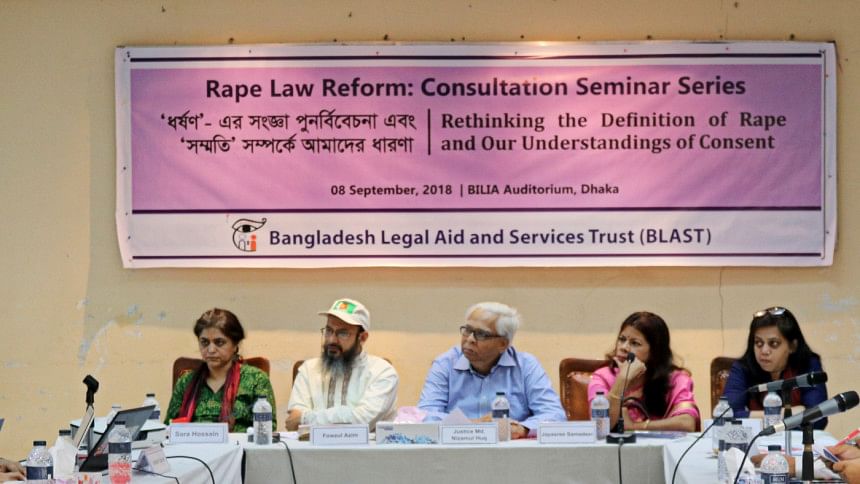 On 8 September 2018, Bangladesh Legal Aid and Services Trust (BLAST) hosted an expert consultation seminar titled 'Rethinking the Definition of Rape and Our Understanding of Consent' in the BILIA Auditorium. This seminar is the second in a series of four expert consultation seminars to be organised by BLAST on reviewing the proposed reform of the laws on rape between July and November, which will ultimately lead to a national law conference at the end of the year. The focus of this seminar was to identify and highlight loopholes and inconsistencies in the definition of rape and the sexist interpretations of consent in rape cases, which continue to obstruct justice for rape survivors, and to develop specific and workable reform recommendations.
Sara Hossain, Honorary Executive Director, BLAST, gave the welcome address and set out the need to reform the relevant provisions in the Penal Code of 1860, and the Prevention of Repression against Women and Children Act of 2000. She spoke of the need to consider the many identities of women, such as women across the age spectrum, women with disabilities, women of diverse gender identities, when thinking of securing justice for women victims of rape.    
Taslima Yasmin, Assistant Professor, Department of Law, University of Dhaka, presented the findings of a research report earlier conducted for BLAST, titled "Problems in the Definition of Rape: Limiting Justice for the Rape Victims". She focused on the definition of rape and how it restricts rape victims from seeking justice. Existing definitions of rape are far too narrow, hindering access to justice and excluding for example, men, boys and transgendered persons. Absent any legal definitions, the idea of consent remains vague. Peno-vaginal penetration is to be proven as part of the rape, and other forms of sexual violence are not included.  Justice sector actors lack understanding that there is no need for evidence of force, injury and/or physical resistance during sexual intercourse for such intercourse to be non-consensual, or that consensual sexual intercourse induced through fraudulent promises of marriage can constitute rape. She argued that this restrictive, conventional understanding excludes male children from the purview of rape, even though theoretically, there is scope for the offence of rape to also cover a male 'child' under section 9 of the Prevention of Repression against Women and Children Act of 2000.
Fowzul Azim, Chief Research Officer, Law Commission/District Judge, and panel discussant, remarked that the law reform could be guided by the terms contained in the Rome Statute (establishing the International Criminal Court), and Rule 70 of the Rules of Procedure. He also proposed that case records of the Tribunal established under the Prevention of Repression against Women and Children Act of 2000, have to be carefully examined, and factors such as gender, acts, objects, issues of force, and evidence should be taken into consideration, when setting out the relevant definitions.   
Jayasri Samaddar, District and Sessions Judge, Prevention of Repression against Women and Children Tribunal-3, Dhaka and panel discussant, said in her experience, no rape trial was hampered due to the lack of a legal definition for consent. In her view cases turned on the accurate recording of a rape complainant's statement, and that if magistrates secure testimonies successfully then, even in the absence of documentary or circumstantial evidence, a judge can determine whether or not there was consent in a particular case.
Humaira Aziz, Director, Women & Girls Empowerment Program, CARE Bangladesh, and panel discussant, stated that consent is related to a person's capacity to give consent, which is particularly challenging for adolescents and young women who are forced into early and child marriages. She explained that the lack of comprehensive sexuality education leaves girls and women with no knowledge of choice, consent and decision-making, so that they enter child or early marriages and subsequent relationships without any capacity to give informed consent or assert their rights.
The panel discussion was followed by an open discussion. All participants agreed that rape law must criminalise marital rape and recognise sexual violence against boys, men and transgendered persons.
The seminar concluded with remarks from Justice Md. Nizamul Huq, Chief Legal Adviser, BLAST and former Justice of the Appellate Division of the Supreme Court of Bangladesh, who urged that it was high time we reformed these archaic and colonial era laws to uphold the ends of justice.
The event was covered by Barrister Abdullah Anbar Anan Titir, Research Specialist, BLAST and Mahpara Sanjana Khan, Intern, BLAST.