BLAST holds expert consultation seminar on ensuring witness protection in rape trials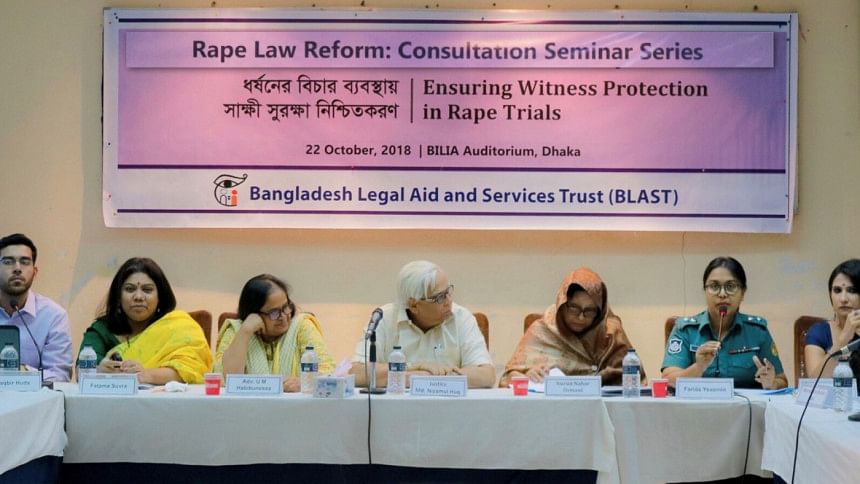 On 22 October 2018, Bangladesh Legal Aid and Services Trust (BLAST) hosted a seminar titled 'Ensuring Witness Protection in Rape Trials' at the BILIA Auditorium, Dhaka. This seminar is the third in a series of four expert consultation seminars to be organised by BLAST on review and proposed reform of the laws on rape between July and November, which will ultimately lead to a national law conference in December. The focus of this seminar was to identify the obstacles rape victims and their supporting witnesses face (both inside and outside the court) when pursuing their cases with a view to ascertain how best their protection can be ensured.
The welcome address was given by Taslima Yasmin, Assistant Professor, Department of Law, University of Dhaka, who also moderated the program. She explained how rape victims often withdraw their cases out of fear for their safety, which thereby frustrates the justice system and reinforces the culture of impunity rapists enjoy.
Fatema Suvra, Assistant Professor, Department of Anthropology, Jagannath University gave the first presentation titled 'Lack of Witness Protection in Rape Cases: A Sociological Analysis' which was based on cast studies conducted between 2005 and 2016. She stated that rape is the one offence where social attitudes stigmatise and marginalise the victim more than the perpetrator of the wrong. Due to the social stigma attached to being known as a rape victim, families are usually not supportive of rape victims taking their case to court and that is precisely why rape victims need institutional support and protection from the state. She also highlighted that most people are unwilling to act as prosecution witnesses inr ape cases due to fear of reprisals from the accused's family and therefore these witnesses must also be protected by the state.
Taqbir Huda, Research Specialist, BLAST conducted the second presentation titled 'Admissibility of Character Evidence in Rape Trials: A Comparative Analysis' which illustrated how admissibility of character evidence in rape trials has been dealt with in India, Pakistan and the United Kingdom in the context of section 155(4) of Bangladesh's Evidence Act 1872, which is used by defense lawyers to inflict humiliation and harassment on rape victims in court. He suggested two approaches are open to Bangladesh, either a prima facie ban subject to judicial discretion as in the United Kingdom or an absolute ban as in India. He argued that Indian approach (i.e. absolute ban) was more suitable for Bangladesh since allowing exceptions may lead to their being too expansively applied in court and thereby frustrating the very objective of the legal reform.
Advocate Sofia Haseen, Advocacy Officer, BLAST, conducted the third presentation 'Proposed Witness Protection Law: Safeguards for Rape Victims' which analysed the Law Commission's draft Victim and Witness Protection Bill which was initially drafted in 2006 and updated in 2011, which identifies rape as one of the offences for which a victim or witness may seek protection under the Bill as of right. She highlighted some specific protection granted to rape victims under the draft Bill such as camera trial, video-conferencing to record evidence, concealing their identities from the accused, putting forth questions to the victim/ witness through the judge and if necessary, written statements to be recorded instead of oral examination.
The presentations were followed by a panel discussion comprising of give expert discussants.



The first discussant, Farida Yeasmin, Deputy Police Commissioner, Women Support & Investigation Division, Dhaka Metropolitan Police, shared her experiences from the Victim Support Centre. She stated that the major challenge comes from reluctant family members who do not want to proceed with rape cases due to the social stigma involved. She emphasised the need for the prosecuting lawyer and victim's family to collaborate with one another.
The second discussant, Nurun Nahar Osmani, Member, National Human Rights Commission & Retired District and Sessions Judge, pointed out that the judges have a significant role to play in ensuring witnesses, including rape victims are not harassed in the court rooms by being subject to derogatory and humiliating questions during the cross examination. She mentioned one of the biggest challenges is when investigating officers are transferred to different districts while investigation is still ongoing and then a completely new police officer has to start afresh, which frustrates the investigation process.
The third discussant, Advocate Marufa Ferdouse Mitu, Research Fellow, Law Commission strongly emphasised that section 155(4) of the Evidence Act, 1872, which opens the floor for defense lawyers to humiliate and distress a rape victim should be repealed.
The fourth discussant, Advocate U M Habibunnessa, Member, Naripokkho, stated that the marginalisation of rape victims and their supporting witnesses start from the very ground level and that service providers themselves suffer from a victim blaming mentality. She referred to the Code of Criminal Procedure which requires investigating officers to submit progress reports before the court as way to ensure investigations are not unduly delayed, but noted with regret that this provision is seldom, if ever followed in practice.
The fifth discussant, Advocate Jannatul Ferdouse, Member, Bangladesh National Women Lawyers' Association (BNWLA), gave a brief overview of BNWLA's role in drafting the Witness Protection Bill and stated that it is high time our country enacted this law so as to grant institutional protection to witnesses in rape cases.
The seminar was attended by participants from various organisations such as Ain O Salish Kendra, Nagorik Udyag, Naripokkho, UN Women, Nijera Kori, Bandhu Social Welfare Society, Dalit Nari Forum, Kapaeeng Foundation.
Justice Nizamul Huq, Chief Legal Advisor, BLAST & Former Justice of the Appellate Division of the Supreme Court of Bangladesh gave the closing address and endorsed the recommendations made by the presenters and discussants.



The report is jointly written by Barrister Abdullah Anbar Anan Titir, Research Specialist, BLAST and Sadia Afrin, Intern, BLAST