#MeToo gathers steam in India, at last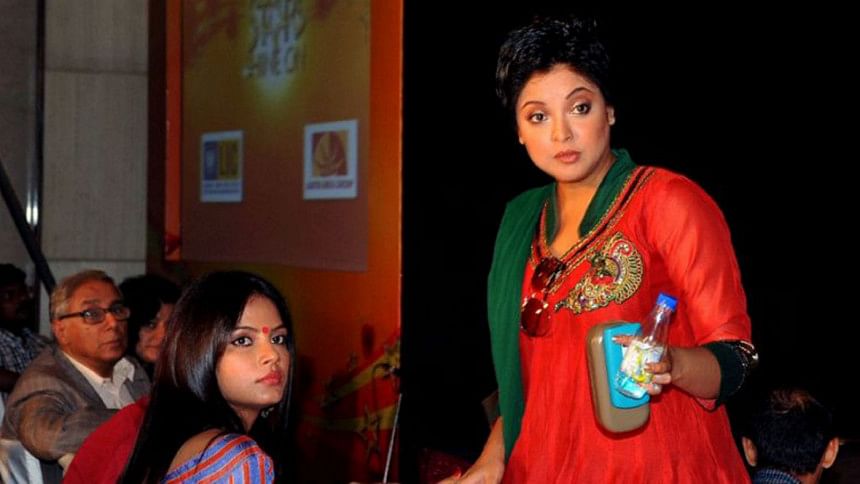 The year-old #MeToo movement has long failed to take root in India, but a Bollywood actress's accusations of sexual harassment appear to be emboldening women to speak out at last.
In recent days other Bollywood figures, a comedian, a best-selling author and top journalists have all found themselves accused of abusing their positions to behave improperly towards women.
The spark is actress Tanushree Dutta, who in a recent interview accused well-known Bollywood actor Nana Patekar of inappropriate behaviour on a film set 10 years ago.
She spoke out at the time, to no avail. But the global #MeToo phenomenon encouraged her to go public again and on Saturday to file a police complaint against Patekar, who issued a denial.
Dutta also alleged that filmmaker Vivek Agnihotri behaved inappropriately towards her while shooting a 2005 movie. Agnihotri's lawyer denied the "frivolous" claims.
Dutta said she has received threats but she has also won support from several high-profile stars, while other actresses have now started to speak out about Bollywood's darker side.
Over the weekend a HuffPost India report published accusations against director Vikas Bahl, one of the four founders of Phantom Films, the edgy production house behind Netflix's first original Indian series, "Sacred Games".
A crew member, who is not named, said Bahl insisted on escorting her to her hotel in 2015 and pretended to pass out drunk on her bed, only to awaken and masturbate on her later, HuffPost reported.
Kangana Ranaut, an actress who worked with Bahl on "Queen", his 2014 hit film touching on female empowerment, came out and said that the director would "bury his face in my neck and hold me really tight".
"It took me a great amount of strength and effort to pull myself out of his embrace," she told the India Today news channel.
On Friday Anurag Kashyap and Vikramaditya Motwane, two fellow Phantom Films founders, announced on Twitter that they were dissolving the production company.
Kashyap released a further statement over the weekend saying they had not acted earlier because the alleged victim had not wanted to speak out until now.
"Now in hindsight and after taking stock of things myself, I can quite see how I was ill-advised," Kashyap said.
He added that the company had disciplined Bahl internally by suspending him and barring him from their premises.
Bahl has yet to comment publicly on the allegations.
'Dark underbelly'
Stories of bad behaviour are also now emerging about men in other sectors.
A Mumbai comedian, Utsav Chakraborty, last week found himself at the centre of a Twitter storm accusing him of sending lewd messages to women and young girls such as requesting topless photos.
After an initial dismissal, Chakraborty, who now faces a possible police investigation, tweeted that he has "been the exact monster I've been trying to fight all my life".
Another woman shared screen shots of WhatsApp conversations between her and Chetan Bhagat, one of India's top-selling authors, in which he propositions her and ignores her objections that he is married.
Bhagat confirmed the veracity of the screen shots and said in a long Facebook post that he was "really sorry to the person concerned" -- while also apologising to his wife.
Meanwhile The Wire, an online news site, ran an article it said reveals the "dark underbelly" of the Indian media, quoting accusations against at least three newspaper editors.
Privileged few
But Rituparna Chatterjee, an independent journalist and a member of the Network of Women in Media group, cautioned that the women coming forward so far were members of India's minority urban elite.
India's abysmal record on sexual violence has been the focus of international attention since the 2012 gang-rape and murder of a student on a Delhi bus sparked nationwide protests.
The incident led to tougher sentences and reforms in the country's rape laws but sexual crime remains rampant.
For vast numbers of women, life remains grim -- and with no access to Twitter to seek justice.
"They have faced bodily and verbal violence all their lives from men they know, relatives, strangers and friends they trust," Chatterjee told AFP.
"Where are these voices? While it is tremendously important that India's MeToo moment happens and it is happening, it is equally important to find voices which are not in urban spaces."