Muktijuddho: Polyphony of the Ocean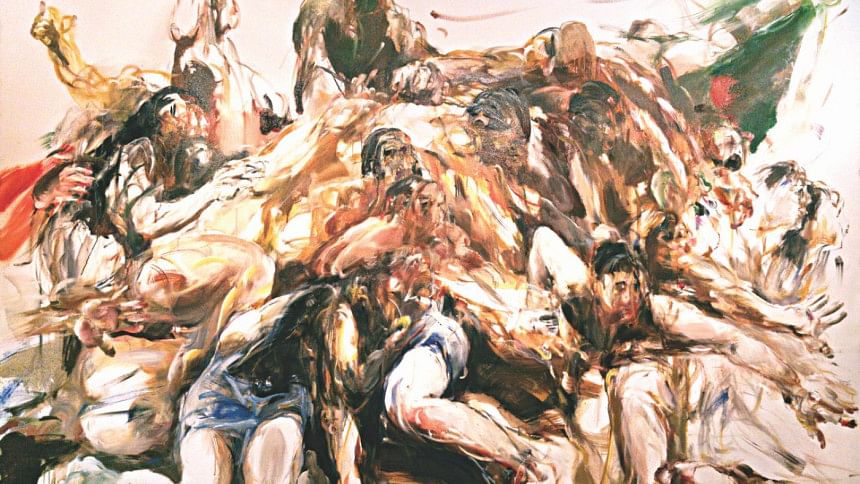 As a Ph.D. candidate at Columbia University with a research focus on Bangladesh history, I paid close attention when media reports came out about a draft bill that would punish any distortion of the history of Muktijuddho.  The Law Commission posted the draft of the "Bangladesh Liberation War (Denial, Distortion, Opposition) Crime Law" in March, 2016 on their website: http://lc.gov.bd/Circular/Holocaust%20Law_Draft%20(Final).pdf
According to the press release (http://lc.gov.bd/Press%20repot/Press%20Release_PDF.pdf), the bill drafting committee was advised by an esteemed group of advisors. But I wonder if the long-term implications of such a bill have been fully understood? 
One inspiration for this bill was probably the intense debates that sprang up after Shahbag, where those opposed to trials began to argue against the evidence of war crimes. Another was probably Sarmila Bose's book 'Dead Reckoning' (which I debunked in detail), which argued the Pakistan army did not commit war crimes. Finally, another reason may have been the recent debate about the wartime death toll. It is likely that the advisory committee saw and framed the bill within that specific scope. But once passed, would such a bill really remain within that proscribed and imagined track? Instead, this bill would open a pandora's box to any aspect of the war, and the years leading up to the war, being considered "controversial." Controversy is always in the eye of the beholder, and that can never be speculatively imagined to stay within its original space. We have a history of laws that often boomerang in unexpected ways.
While reading this draft law, I have been looking at the pile of history in my office, purchased during the Boi Mela. Bangladeshi history being the focus of my past research, and current Ph.D. work, these are books written by academics,  journalists, politicians, and international researchers. These books look at 1971 from all corners of the spectrum. Based on this draft bill, an enthusiastic litigant may pick up any of these books and decide to prosecute the author as being in violation of the law. 
As an illustration, let me turn to Muyeedul Hasan's Upodhara 71, the long awaited sequel to Muldhara 71. It was Muldhara 71 (1985) along with Jahanara Imam's Ekatturer Dinguli (1986) that inaugurated the resurgence of Muktijuddho Itihash, after a decade during which such histories were discouraged. In Muldhara 71, Hasan analyzed Tajuddin Ahmed's role in leading the Mujibnagar war command. Could a plaintiff one day decide that to emphasize Tajuddin's role in Mujibnagar is a distortion? One of the aspects Upodhara 71 looks at is the role of Manik Miah in pushing for a "go slow" approach toward the Six Points. Manik Miah's sudden death of a heart attack in Karachi created a vacuum, which was filled by younger radicals who pushed for full implementation of Six Points without compromise. The rest is ekattur history and today Bangladesh is probably an independent nation partially because of the "no compromise" stance that the young radicals took. This is a complex history and deserves a deeper investigation. Would we allow such analysis to happen?
One aspect of recent research is the leadership vacuum created by Bangabandhu's arrest by the Pakistani army. Even though he had said on March 7th "even if I cannot give the call," the population was confused between building resistance inside Bangladesh (Bangabandhu had said "build a fortress in every home"), or joining the war command in India. Since Major Ziaur Rahman was then unknown, and not a member of the Awami League, his radio broadcast did not fully clarify the situation. According to Upodhara 71, confusion was finally broken with the first radio broadcast by Tajuddin Ahmed, 17 days after the crackdown began. 
Some of the best descriptions of Sheikh Mujibur Rahman's negotiations with Yahya Khan are in Sisson & Rose's War and Secession (1991). One aspect of those marathon negotiations was to demonstrate to the Pakistan Army that if the National Assembly were not called, East Pakistan would go its own way. Yahya Khan's brutal crackdown did not factor in how open the Indian border would be to the fleeing leadership, and how quickly a provisional Mujibnagar government would be set up. Srinath Raghavan's recent 1971: A Global History of the Creation of Bangladesh (2013) and Gary Bass' The Blood Telegram (2013) shed even more light on the complex equations at play during the nine month war.
We can also consider left histories of 1971, such as Haider Anwar Khan Juno's 71er Ronangan Shibpur. The Indira government feared leftists inside the Mukti Bahini because they thought they may ally with Naxalites (who were in their peak moment of strength in West Bengal). Thus the leftists often found themselves having to fight the Pakistan army, and maneuver around a suspicious Indian army as well. For some of the NAP groups, Maulana Bhashani's sidelined position, and the confusion of Peking's pro-Pakistan position, put them into a quandary regarding the war. Most in the left overcame this situation and joined the war, a few did not or were pushed to the sideline. Understanding 1971 requires a frank discussion of this tumultuous left experience of the war.
What about the 1969 uprisings? Eminent Marxist historians such as Tariq Ali have documented, in Pakistan: Military Rule or People's Power (1970)  that the final round of anti-Ayub uprisings began in Rawalpindi. Yet Ali failed to look eastward, missing, in Shamsur Rahman's words, Asad's bloody shirt. But instead of nullifying Ali's book, it would be more productive to read his recollection alongside our own narratives, and ponder the cross-wing blind spots. 
1971 was a brutal, genocidal, and complex war, where many factors, institutions, and events came into play. We can simply look at the Biafra war that happened the year before us, or the Sri Lanka war that ended in defeat after two decades, to know that even people fighting a brave and righteous war do not always win. Our nation sacrificed immensely and won victory at a pyrrhic price. The worst thing we can do now is to pass a law saying that discussing the complexities of that war, at home or abroad, can be punished by law.
I am thinking today of Shahidullah Kaiser, a key figure in Upodhara 71. On the first days after the massacre, Hasan encountered Kaiser in Dhanmondi, and from then on the two stayed in clandestine contact. Kaiser had learned, through his contacts in the Communist Party, that the Nixon White House was trying to build a coalition of Bengali leaders who were willing to negotiate with the Pakistan government. This group would isolate Tajuddin Ahmed, and negotiate with the Pakistan Army against the wishes of Sheikh Mujib. We know from Lawrence Lifschultz that this secret group included Khondokar Mushtaque, and five years later these plans came to fruition in the catastrophic brutality of August 15th 1975. 
Muyeedul Hasan crossed into India to warn Tajuddin, Shahidullah Kaiser stayed back inside Bangladesh. On December 14th he paid the ultimate price when rajakar death squads picked him up. A month later, his brother Zahir Raihan disappeared while searching for his missing brother. I have been inspired by, and missed the presence of, these two brothers my entire life. In all sorts of ways, a culture of public intellectualism could never properly germinate in Bangladesh­ because so many of our best and brightest were killed in 1971. Yet, knowing the principles of both brothers, the last thing they would have wished is that independent Bangladesh would enact a law to punish discussions of the liberation war.
Let me turn finally to a book I intellectually dislike- Sarmila Bose's Dead Reckoning (2011). The book's revisionist argument, that the Pakistan army did not commit any mass killings, was known in advance through two essays in Economic & Political Weekly. I was on a mailing list of Bangladeshi academics who discussed the book, yet none seemed interested to actually read it and respond. Meanwhile, the book had been picked up by two academic presses (including my alma mater Columbia) and was circulating widely in my world- New York academic circles that follow South Asia. 
Finally, I went back to research material I had gathered in the 1990s while pursuing an oral history of 1971, and wrote a lengthy response to the book that was widely circulated. Yet, a few months after that, when I tabulated authors who had responded to the book in English, the list remained surprisingly small: Srinath Raghavan, Urvashi Butalia, Arnold Zeitlin, Gita Sahgal, Afiya Zia, Nayanika Mukherjee, Zafar Sobhan, Afsan Chowdhury, Dina Siddiqi, Akhteruzzaman Mandal, and myself. The fact that there are only five Bangladeshis on that list should tell us something about the paucity of English language research on 1971. Around the same time, a professor told me anecdotally that there had been no Ph.D.'s done on 1971 at Dhaka University in the first four decades.
While I disagree with the assertions in Sarmila Bose's book, I want to underscore that rigorous research is the only way to establish the histories of 1971. When we resort to punitive laws to stop books, instead of encouraging more books, we have suffered from a failure of imagination. 
If 1971 was about establishing a free state, a vibrant and liberated intellectual culture is the foundation of such a condition. Let people write or say what they want, and then respond through your own research and publications. Ahmed Sofa famously called 1971 "the polyphony of the ocean" (Bhorer Kagoj). Let 1971 be honored by a library of books that are as polyphonous, multilayered, and vast as the war itself.
Naeem Mohaiemen's "Flying Blind: waiting for a real reckoning on 1971", a response to Sarmila Bose's' book, appeared in Forum (Daily Star), Economic & Political Weekly (India), and the anthology 'Lines of Control' (Cornell University: Johnson Museum). His other essays on 1971 include "Accelerated Media and 1971 Genocide" (Daily Star), "The Ginger Merchant of History" (International Journal of Asian Studies), "Time of the Writing, Hour of the Reading" (EPW), and "Simulation at War's End: Muktir Gaan in the field of evidence quest" (forthcoming cover of BioScope: South Asian Screen Studies Journal). He is a Ph.D. candidate in Historical Anthropology at Columbia University, New York. 

E-mail: [email protected]