Cheers to the newlyweds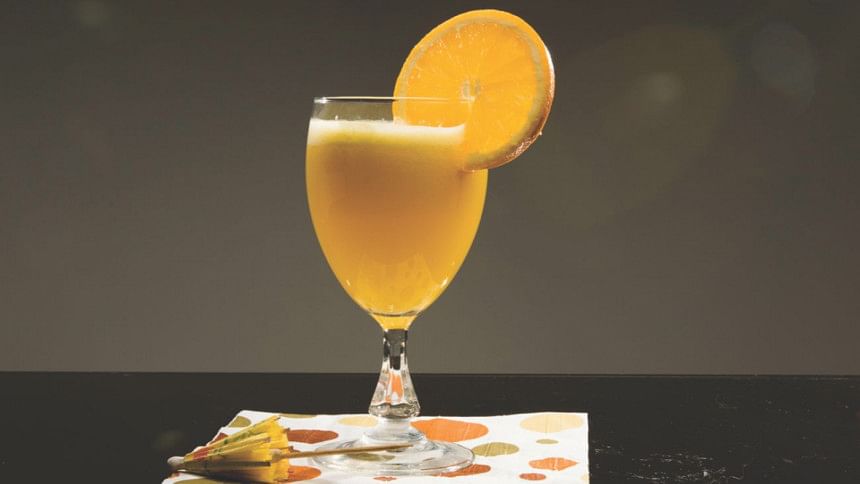 Give me a sun, I care not how hot, and sherbet, I care not how cool, and my Heaven is as easily made as your Persian's.
— Lord Byron during his visit to Istanbul in 1813
As the wedding season begins, speciality drinks are in focus this week as we bring to you concoctions from around the world. Replete with ingredients that are meant to lighten the mood, energise the guests and the bride and groom. So raise your glasses and wish the two a holy matrimony, starting with a healthy drink!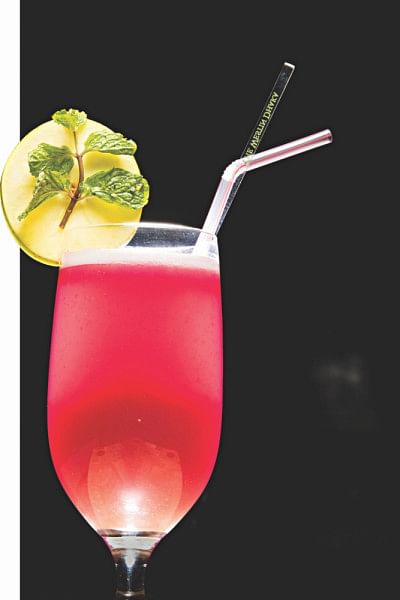 SAHLEP WITH RICE FLOUR
Sahlep is a Turkish drink, which was also a favourite of the Ottoman Turks and travelled as far as England, where it was called saloop. It continues to find a comfortable place on the table during a feast, wedding or simply as a welcome drink.
Ingredients
2 tbsp rice flour
2 cups whole milk (you may vary this with almond milk or 1 cup coconut milk and 1 cup of whole milk)
4 tsp brown sugar
1/4 tsp rosewater
Ground cinnamon, to garnish
2 tsp finely chopped pistachios, to garnish
Method
Heat milk with rice flour while constantly whisking the mixture. Make sure it retains a watery look and just before it comes to a boil, add the sugar and rosewater. Ensure that the sugar has dissolved. Garnish and serve hot. You may decorate the drink with a few rose petals. Just make sure they are organic roses from someone's garden and not the flower shop!
---
---
SOUMADA
From the 13th century King Peter II of Cyprus to the cocktail drink mai tai, orgeate syrup was originally made with barley flour and almond meal. Giving the drink an almond-flavour, it is popularly consumed in the Cretan city of Lasithi as a wedding drink, called soumada. The original recipe involves the use of orange blossom water and almonds.
Ingredients
Milk of ½ cup of almonds
½ glass orange juice
1 tbsp brown sugar
¼ cup water, 1 tsp orange zest
Method
Boil the milk with the sugar to dissolve it. Cool it for about 5 minutes and then add the orange juice and mix in the zest.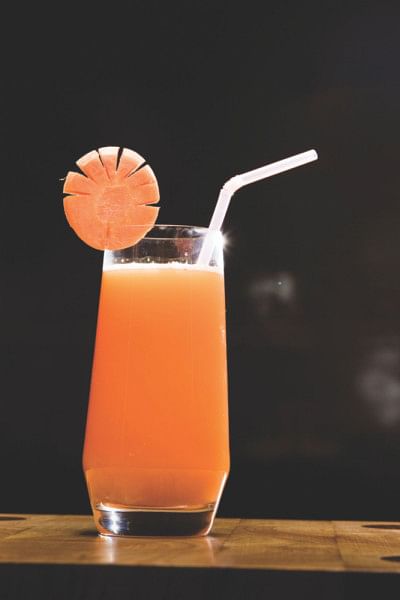 HOT APPLE WITH CINNAMON AND LEMON
Ingredients
1 kg red apples, quartered
¼ cup apple cider vinegar
1 tbsp broken cinnamon stick
½ piece star anise
1 tbsp of lemon juice
Pinch of brown sugar
Method
Boil the apples with the vinegar, cinnamon, sugar and star anise, till they are soft. Add the lemon for about 1 minute before you will take it off the heat. Remove the peel and blend them. Serve hot.
Health Focus
The sherbet is warm and apple cider vinegar helps combat the winter chills, and is also full of antioxidants and iron and potassium from the apples.
ALMOND MILK WITH GUR AND GROUND SAUNF
A Fearless Olive special that is perfect for the vegan bride and groom, with a known aphrodisiac, this drink uses almond milk instead of milk and the richness of molasses with fennel seed, naturally balancing the heaviness of a meal.
Ingredients
500 ml almond milk
¼ cup of molasses or gur
1 tbsp of saunf or fennel seed
Method
Gently heat the almond milk, make sure it does not boil. Add the molasses and ground saunf to this and heat for about 3-4 minutes while stirring.
Health Focus
Fennel seed is mostly known for its properties that clears gastrointestinal problems and helps digest food. Also known for its aphrodisiac characteristics, especially for increasing female libido, the fennel seed is a much loved ingredient in the Southeast Asian culture.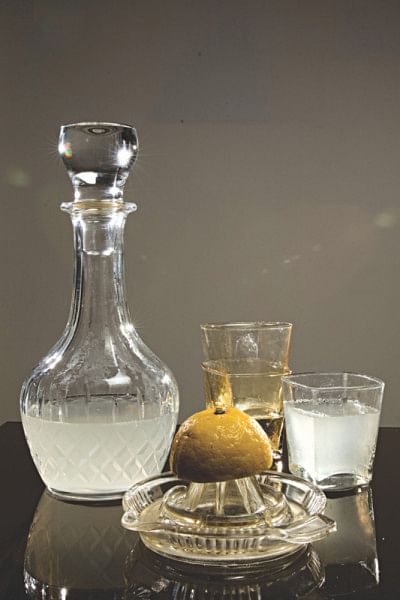 WEDANG SERBAT
The Javanese also treasure a wedding in the cooler winter months and this recipe might be hotter than you can expect, but it certainly adds sparks to the palate. Inspired by the original drink called Wedang Serbat, or hot drink in Indonesian:
Ingredients
1litre water
200 grams brown sugar
1 tbsp ginger, you can use dried ginger or dry roast some until brown
3-4 whole peppercorns
1/4 cinnamon
1 large lemon
1/2 tsp black salt
2-3 boiled hog plums or aamra
Method
Boil the water, brown sugar, ginger, cinnamon, and salt and simmer for about 2 minutes. At this point, add the juice of 1 whole lemon and the mashed pulp of the boiled aamra. Boil with the juice and aamra for another 2 minutes. Take the mixture off the fire and strain the drink. Serve warm with a sprinkling of mint on top.
BAJIGUR
The Sundanese people from West Java drink the Bajigur that is ideally sold at vendor carts with boiled sweet potato and steamed banana. However, this traditional drink can also be served at weddings given its image, is also bursting with flavours, perfect to be served to the bride and groom.
Ingredients
1 litre coconut milk
4 tsp ground coffee
About 150g palm sugar
¼ tsp salt
2 pandan leaves, knotted or you can use 3-4 drops of pandan essence, aka kewra
200g palm fruit, thinly sliced, or you may substitute this with the soft fruit of the green coconut
Method
Boil the coconut milk, coffee, palm sugar, and pandan leaves, on medium heat and stir frequently to prevent the coconut milk from curdling. Once it boils and the palm sugar has totally dissolved, turn off the heat. Discard the pandan leaves, and strain into 4 serving glasses. Add some slices of palm or coconut fruit to each glass. Serve these hot or you may add ice cubes if you prefer cold bajigur.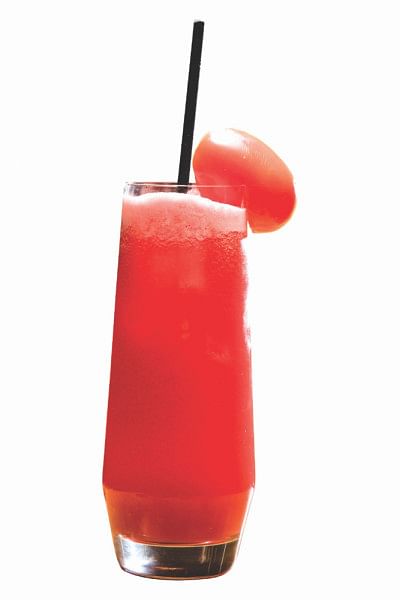 DRIED APRICOT SPICES WITH NUTMEG
A season when dried fruits and nuts can be consumed in large amounts, weddings are often all about the expansive use of dried fruits.
Ingredients
250g dried apricots, boiled and de-seed
½ tsp ground nutmeg
2 tsp brown sugar or ½ tbs molasses
2 tbs lemon juice
A pinch of salt
Method
Blend the apricot pulp and then strain it. Heat it with some added water, nutmeg, sugar, salt and add the lemon towards the end. You do not need to boil, just heat it enough to dissolve the sugar.  Serve at room temperature, garnished with mint leaves.
Health Focus
Full of phosphorous potassium, and Vitamin C, dried apricots are a great snack to have in winters.
Photo: LS Archive/Sazzad Ibne Sayed