Dental braces not only about aesthetics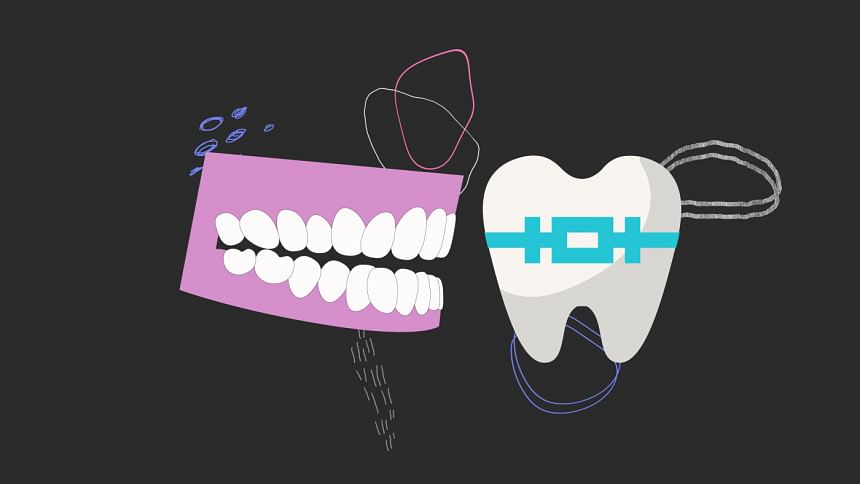 Proper alignment of teeth is not only important for appearance; it also contributes to oral health.
If a person has malocclusion (having crooked teeth or a poor bite), braces are generally very effective in realigning teeth and correcting improperly positioned jaws.
Dr Md Tanvir Hossain, dental surgeon at Dhaka Dental College Hospital, said some factors behind malocclusion are hereditary and some develop from malnutrition and infective diseases of the mother during pregnancy and irregularities of jaw development like clefts of face and palate.
"There are some environmental factors too like forceps delivery," Dr Tanvir said.
If malocclusion is not treated timely and properly, it can affect facial appearance, risk of tooth decay, gum infection, and risk of trauma to surrounding soft tissues, the surgeon said.
Malocclusion can be solved using either a removable appliance or fixed appliance known as brace system, Dr Tanvir said.
"Braces are preferred as they have advantages like multiple tooth movement at a time. Hence, duration of treatment is reduced and more precise tooth movements and detailing of occlusion are also possible," he added.
Assistant Professor of Dhaka Dental College Dr Kamrun Naher Shomi said braces align and strengthen teeth and help to position them with regard to a person's bite, fix gaps and correct underbite, overbite, open bite, deep bite, cross bite and various other flaws of the teeth and jaw.
"Braces are therefore very versatile," she said.
The main objectives of the braces are functional efficiency, structural balance and aesthetic harmony, Dr Kamrun Naher said.
The fixed appliance traditionally has four basic elements: brackets, bonding material, arch wire and ligature elastic. The teeth move when the arch wire puts pressure on the brackets and teeth. Braces exert constant pressure which over time move teeth into the desired position, she said.
Braces are more common for teenagers because that is the age when people first notice their crooked teeth. But, there is no age limit on braces.
Unfortunately, wearing braces and being used to it is not a pain-free process. It creates new sensations and pressure against teeth, which cause soreness and aching.
The typical treatment duration for braces, a costly procedure, is around two years but it depends on how much work needs to be done and how early the process starts.
So, after identifying misaligned teeth, one should immediately start the treatment to protect oral health.