Cornea transplant: Crisis created by social taboo worsened by pandemic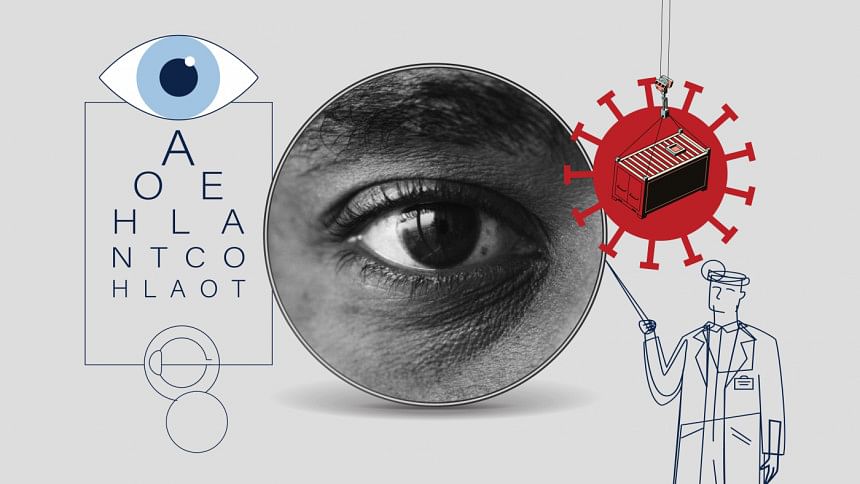 Fifty-five-year-old Zamila Begum lost vision in her right eye three years ago. She has been experiencing pain, redness, watering in the other eye over the last six months. Her doctor has advised her to replace the cornea in the functioning eye as soon as possible. She has been waiting for the cornea transplantation for last six months.
She frequently calls her physician with the hope that she might get a date for the surgery -- easing the pain and enabling her to see the world clearly. Each time, she is asked to wait longer as cornea is not available.
There has always been a crisis in available cornea for transplantation in Bangladesh but the pandemic has slowed down the entire process of cornea collection, said Dr Md Shafi, a consultant of Bangladesh Eye Hospital.
Dr Shafi said there's very narrow scope to collect cornea from the local sources as social and cultural taboos are prevalent.   
On the other hand, importing them is almost suspended. In the current situation, most donor countries have stopped collecting cornea as well, he further said.
Transportation crisis due to the restriction on flights is another reason behind short supply of cornea, he added. 
During pandemic, cornea surgery has been reduced by 60-70 percent in Bangladesh, the specialist said.
When transparent cornea become opaque due to various reasons like infection, trauma, developmental diseases, complications of other surgeries, it needs to be replaced by a healthy cornea as there is no alternative.
The only source are cadavers as artificial corneas have not been developed yet.
Corneas need to be collected within six hours of the donor's death and can be stored up to maximum 14 days. Cornea gradually becomes hazy. So, delay in transporting them from abroad is an issue.
Imported cornea is costly and due to problems in air transport it has become costlier at present, ophthalmologists said.
Also, there is no study on whether it is safe to use cornea collected from those who died of coronavirus.
Bangladesh is completely dependent on cornea imported from different countries -- mainly from USA, Nepal and Sri Lanka -- to meet the demands of patients.
Very few people donate corneas in our society. Often, corneas cannot be collected as donors' bereaved family members do not want to allow removal of his/her cornea. Very few are collected from unclaimed bodies. So, there is a huge shortage of donated cornea in our country. 
In Bangladesh, most cornea transplantations are done by Ispahani Islamia Eye Institute and Hospital, Bangladesh Eye Hospital and Sandhani Eye Hospital.
All together, they usually conduct 40 to 50 transplants per month. But it has reduced to 10 to 15 per month due to difficulty in import amid the pandemic period.
Before the pandemic, Ispahani Islamia Eye Institute and Hospital conducted 20-30 cornea transplants per month, which has come down to 10-12 at present, said Dr Rashed Alom, a cornea specialist and head of the institute's eye bank.
Dr Amiruzzaman, cornea specialist of Bangladesh Eye Hospital, said he conducted 10 -12 transplants per month before the pandemic. Now, that number has reduced to 2-3 due to the cornea crisis.
At the beginning of the pandemic, cornea import was almost nil for the first six to eight months, he said.
Last month, due to transportation problem, a consignment of cornea for Bangladesh Eye Hospital and Ispahani Islamia Eye Institute and Hospital became unusable for transplant, said Dr Amiruzzaman.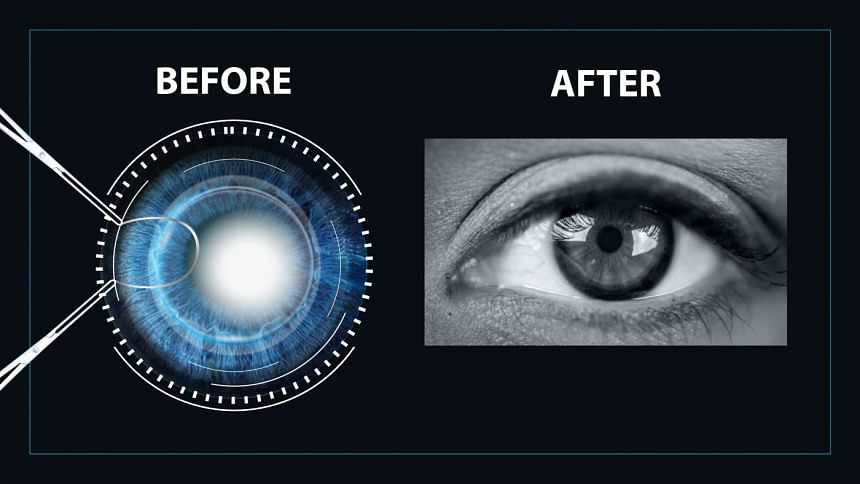 Another problem they are facing at present: patients are not coming to the hospital for post-operative follow up -- resulting to infections and other complications.
Anyone can donate cornea. If anyone wants to donate cornea, s/he needs to fill up a form of any eye bank. They are provided with a card with contact details.
After his/her death, it is the duty of the donor's relatives to inform the authorities as soon as possible, so that they can collect the cornea within six hours of death. And the entire process takes only 30 to 40 minutes.
There is no official survey on corneal blind and cornea supply in Bangladesh. So, there is no authentic data in this regard. But Sandhani Eye Hospital estimates that there are 450,000 to 500,000 corneal blind in the country.
Dr Tariq Reza Ali, secretary general of Ophthalmological Society of Bangladesh and Vice President of Sandhani National Eye Donation Society, said, "Cornea crisis is a regular issue in Bangladesh. But the sector has been hit hard by the pandemic."
Social taboo is not the only reason behind the shortage of cornea. Public sentiment is also a factor here, said Dr Ali, also chairman of the Eye Bank Sub-Committee of Sandhani National Eye Donation Society (SNEDS).
After coronavirus hit the country in March last year, Shandhani stopped all operations of its eye bank. It resumed taking in patients on a small scale on April 6 and resumed operation and cornea collection in August, maintaining health rules.
Shandhani has so far collected 4,090 corneas from local sources since it started cornea collection in 1984. "It collected 32 corneas in 2018, which came down to 19 in 2020 due to the pandemic," Dr Ali said.
Corneas are collected from unclaimed bodies but due to better identification system empowered by technology, the number of unclaimed bodies has decreased and so has cornea collected from such cadavers, he said.
Ophthalmologists think Bangladesh might not have suffered this shortage during the pandemic if it had sufficient donors and a strong eye bank. It will not be possible to meet the local demands through importing cornea only, especially during the pandemic, which is likely to go on for an extended period.
People here should be encouraged to donate cornea and the government can organise campaigns for cornea donation in which scholars from all religions can be engaged.
Media and social platforms can also play a significant role in this act of charity.