The poor suffer, as usual
Rajnagar health complex in Moulvibazar shut down for 23 days as cracks spotted in building
Hundreds of people from lower-income backgrounds in the haor and tea garden areas in Moulvibazar depend on the Rajnagar Upazila Health Complex for affordable medical treatment.
However, most of the activities inside this facility have remained suspended for 23 days, depriving them of affordable health care.
The authorities have not taken in any new patients during this time as the building is in a dilapidated state, with at least 100 cracks on different parts of the establishment.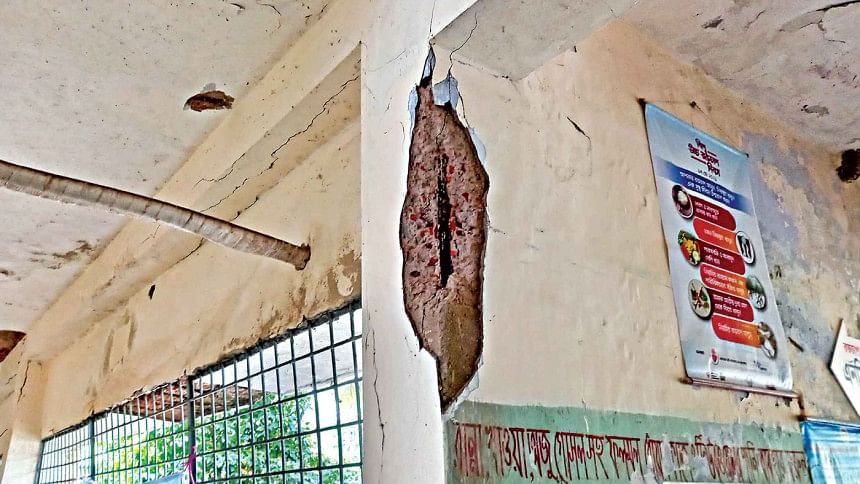 The patients who were already admitted have been transferred to the Moulvibazar Sadar Hospital of the district.
The development came immediately after parts of the facility's ceiling fell off recently, with the patients and doctors narrowly escaping a grave accident.
However, activities of the emergency and outpatient unit are continuing amid great risks, with doctors and patients coming to work fearing for their safety.
According to the authorities, Rajnagar Upazila Health Complex with 31 beds was established in 1982. Since then, this hospital of the Sadar Upazila has been providing medical services to the upazila residents. Currently, about three lakh people live in the upazila.
At present, the construction of a 50-bed health complex building is in progress.
However, before shifting the activities of the health complex to the new building, cracks appeared in the old building. The cracks started appearing on September 17, according to eyewitnesses. Around 1:30 am, there was a huge noise at the establishment, when parts of the ceiling collapsed.
The matter was quickly reported to Upazila Health and Family Planning Officer Mohammad Afzalur Rahman.
Contacted, Afazlaur Rahman told this correspondent that he observed multiple cracks on the building and immediately reported the matter to his seniors.
Following the recommendation of the concerned authorities, Additional Director General of Health Directorate Ahmedul Kabir ordered the suspension of medical activities at the establishment.
Upon visiting the site recently, this correspondent saw at least 100 cracks on different parts of the complex building. Doctors and patients at the emergency unit were in fear of the establishment collapsing at any given time.
Salah Uddin, a resident of the Pachgaon area of the upazila, said, "I was in the hospital for a few days as my mother fell sick. It was very scary with the huge cracks on all sides of the building."
Other patients and attendees who were at the hospital in recent times echoed the same.
Upazila Health Officer Dr Afzalur Rahman said, "Once the new building is completed, the problems will no longer exist."
Shafiqul Islam, executive engineer of the Moulvibazar Health Engineering Department, said that the building is in a vulnerable state and needs to be abandoned immediately.
Civil Surgeon Chowdhury Jalal Uddin Murshed said he asked the authorities to deal with the matter on a priority basis.