Refiners slash soybean oil prices by Tk 14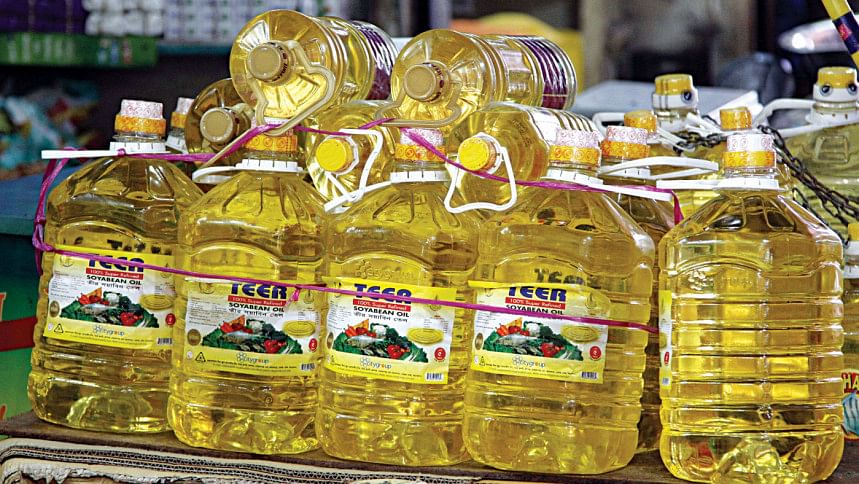 Refiners yesterday slashed retail prices of soybean oil by Tk 14 a litre as its prices in the international market dropped and the government kept the reduced Value Added Tax (VAT) on it.
The new prices will be effective from today, said Bangladesh Vegetable Oil Refiners' and Vanaspati Manufacturers' Association in a press release.
As per the announcement, refiners will sell each litre of bottled soybean oil at Tk 178, down from Tk 192. Retail prices of a five-litre container will be Tk 880, down from the previous rate of Tk 945.
This development came after top brass of three large commodity importers and processors -- City Group, Meghna Group of Industries and TK Group -- met PM's Adviser on Private Sector Affairs Salman F Rahman and Senior Secretary at the PMO Tofazzel Hossain Miah to share their concerns for high cost of dollars and complexities in opening letters of credits for imports.
City Group Chairman Fazlur Rahman, MGI Chairman Mostafa Kamal and TK Group Managing Director Mohammad Mustafa Haider attended the meeting.
"We have cut prices as the government promises to extend 5 percent VAT on edible oil. A decline in soybean oil prices in the international market is another  reason," said Biswajit Saha, director for corporate and regulatory affairs of City Group.
Globally, prices of soybean oil, which was $1,752 a tonne in June this year, fell to $1,599 a tonne in August.
Soybean prices also dropped to $671 a tonne in August from $737 a tonne in June, according to World Bank Commodities Price Data.
In Bangladesh, prices, however, did not fall to that extent as refiners blamed spiralling cost of dollar.
Yesterday, retailers sold a litre of bottled soybean oil at Tk 185-Tk 195 in the capital. A five-litre container was selling at Tk 910-Tk 945, according to market prices data compiled by the Trading Corporation of Bangladesh.
Last month, the commerce ministry reduced prices of loose super palm oil by Tk 12 a litre to Tk 133, and packaged and loose sugar by Tk 6 a kg so that the consumers can benefit from the declining prices of these products in the international market.
The commodities were selling at higher prices than the government declared rates yesterday.
For example, retail prices of loose super palm oil were Tk 135-Tk 140. Loose sugar prices were fixed at Tk 89 a kg, but was trading for Tk 90-Tk 92 yesterday, according to the TCB.