Govt to fix prices of 9 commodities in next seven days
Says commerce minister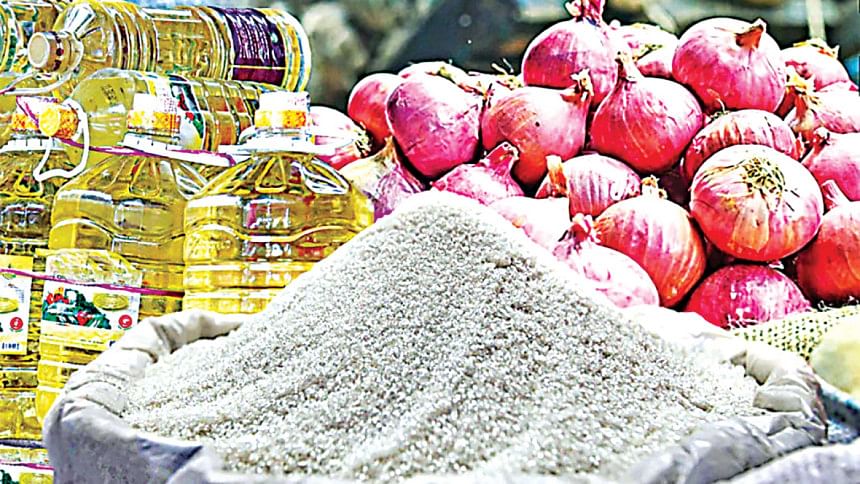 Commerce Minister Tipu Munshi yesterday said the government will fix the prices of nine basic commodities within the next seven days to check the irrational price hike of essentials in the local markets.
Bangladesh Trade and Tariff Commission (BTTC) was assigned to fix the prices of nine products within 15 days but the deadline ended Thursday.
It may take seven more days to fix the prices of nine widely-consumed commodities for the local markets, Munshi told journalists after a discussion at the 16th biennial conference of the National Garment Workers Federation (NGWF) held at Jatiya Press Club in Dhaka.
The commerce ministry assigned the BTTC last month to fix the prices of nine commodities including rice, lentil, flour, atta and onion as well as mild steel products and cement within 15 days.
Meanwhile, leaders and activists of garment workers organisations demanded formation of a new wage board, introduction of rationing system and maternity leave at the conference.
At present, the prices of essential commodities have increased, but the wages of garment workers have not, they said. Although one crore people across the country have come under the government family card, garment workers have been deprived, they added.
Addressing the event, the minister said at present, it has become really difficult to run a family with the salaries of the garment workers. Arrangements will be made soon in consultation with the government to introduce a rationing system for garment workers, he added.
"A research is needed on how much the owners are buying goods, how much import is being made and how much the workers are getting paid,'' he said, while addressing the programme as chief guest.
Lawmaker Rashed Khan Menon, president of Workers Party, who inaugurated the event, said the garment workers are living an uncertain life in the post-Covid world, especially when prices of daily commodities have skyrocketed.
"The last wage board was fixed in 2018. A five percent increase in salaries was promised after three years following a re-evaluation. But it didn't happen. It's time to re-evaluate wages. The national minimum wage, which is stuck in the High Court, also needs to be implemented,'' he added.
Aminul Haque Amin, president of NGWF, presided over the event. He advocated for maternity leave and TCB family cards for garment workers.
Shamsun Nahar, member of the Parliamentary Standing Committee on the Ministry of Labour and Employment, and Zobaida Parvin, general secretary of Bangladesh National Women Lawyers' Association, also spoke at the event.