1st, 2nd Covid shots: 12 and older won't get them after Oct 3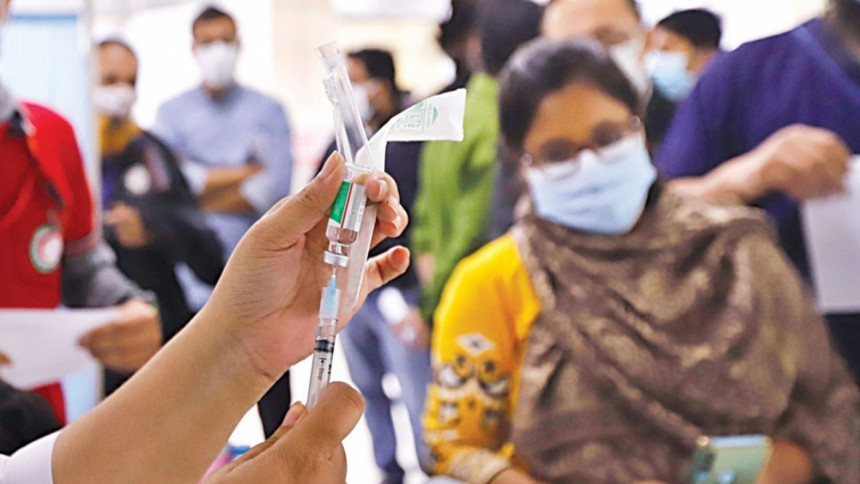 The authorities will not provide the first and second doses of Covid-19 vaccines to people aged 12 years and above from October 3, said Health Minister Zahid Maleque yesterday.
The government decided to stop administering the doses as the vaccines in stock will expire after that period, he added.
Anwar Hossain Howladar, secretary of Health Services Division, said children aged 5-11 would start getting the vaccines on October 11 across the country.
Meanwhile, the minister urged everyone to take the vaccine immediately if they have not done it yet.
He made the statements while taking at a workshop on Covid-19 vaccination for children, aged 5-11 years, at a Dhaka hotel.
Around 33 lakh people, aged 18 years and above, are yet to receive their first doses and 94 lakh their second doses.
As of Thursday, 76.91 percent of the total population have received their first jabs while 71.33 percent second jabs, according to the Directorate General of Health Services (DGHS).
Of those who received their second jabs, only 36 percent have received a booster dose.
Talking about administering the Covid-19 vaccine among children aged 5-11 years, Maleque said 10 lakh children have received Covid-19 jabs and some 2.15 lakh children are yet to be jabbed.
A total of 22,638,737 children across the country will be brought under the vaccination campaign, said Secretary Anwar at the event.
Earlier last month, the health directorate jabbed children under this age group in all city corporation areas.
"Many countries have not started vaccinating children yet but we have. We sought approval from the World Health Organization earlier and immediately after getting approval we've started a vaccination campaign," said the secretary.
The government inoculated all schoolchildren, aged 12-17 years, through a separate campaign earlier this year.
141 Covid-19 cases
The DGHS yesterday reported 141 fresh cases of Covid-19 across the country. The positivity rate was 9.66 percent against 1,460 tests.
No Covid-19 patient died in the meantime. With the latest count, the total number of confirmed cases of Covid-19 rose to 2,017,087.