Of tensions, grievances
Host community visibly annoyed as Rohingyas outnumber them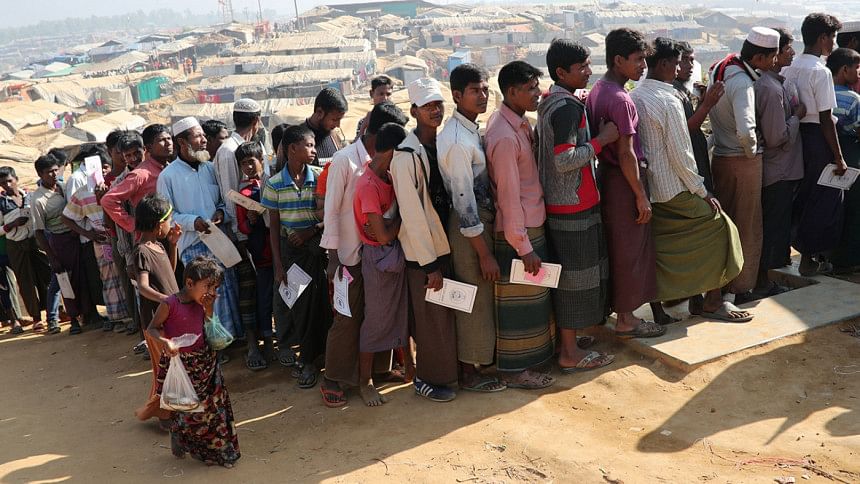 The locals in Cox's Bazar, who welcomed Rohingya refugees with open arms during the massive influx last year, are now visibly annoyed as prolonged stay of the Myanmar citizens is putting pressure on their      livelihoods and causing environmental degradation.
Tensions run high between the locals and the Rohingyas numbering over one million, as more and more hills are razed, trees felled and water levels depleted to provide for the refugees. Besides, daily labour wages are falling while prices of essentials continue to soar, according to a UN report and a government one.
The number of locals in Cox's Bazar is around six lakh, according to the district administration.
"Locals feel under threat as they are outnumbered. Prices are up, wages for day labourers are down and there has been much environmental and other damage. Sympathy is fading fast," says the UNDP report released on December 6.
The report titled "Rohingya Refugee Crisis in Bangladesh: Rapid Early Recovery Assessment of Host Community Impacts" was jointly prepared by the United Nations Development Programme and the UN Women.
Similar observations were made in a report by the Cox's Bazar Deputy Commissioner's Office, which was sent to the Cabinet Division on January 10.
It said the locals' grievances are increasing day by day.
"The number of Rohingyas is almost double that of the locals. A huge negative impact was seen on the locals, especially the marginalised ones," the report noted.
Both the reports said daily labour wages have fallen in Cox's Bazar as Rohingya men are being employed in local farming and various businesses.
"Impact on the poor and very poor are severe enough... negative coping mechanisms have already been observed:  selling of small assets and livestock, taking loans, temporary migration to Cox's Bazar township," said the UN report.
More than 6,55,000 Rohingyas have fled to Bangladesh since Myanmar military began a violent crackdown in the Rakhine State on August 25 last year. Besides, over three lakh Rohingyas, who sought refuge in Bangladesh in past years, are staying in makeshift camps in Cox's Bazar.
Nurul Haque Khan, a social worker in Kutupalong area, said the locals' grievances are increasing day by day, and there might be an outburst anytime as a section of Rohingyas are getting involved in criminal activities.
"Law and order has deteriorated. Hills are being cut and forests are under threat... Prices of essentials are going up. Local day labourers are in deep crisis," he said.
The UN report says tourism to the Saint Martin's Island, cross-border trade between Bangladesh and Myanmar, and fishing on the Naf river have declined due to restrictions.
"With  an  increase  in  the  number  of available  day  labourers,  labour  for  the fisheries  sector  has  increased. Increase  in  the  illegal  practice  of  catching  shrimp  fries  from  the  Bay  has been reported."
The vast majority of the poor host community and Rohingya households have very little technical or vocational skills, and they rely on non-skilled daily labour.
Both communities are competing on the same unskilled daily labour market, with a serious deterioration of employment opportunities for poor host  community  members, which led to the decline in wage rates, the UN report pointed out.
"Deforestation linked to the influx have deprived or reduced host communities' access to firewood, timber for housing as well as forest fruits and other non-timer forest products."
The locals are extremely worried about the depleting water table and the potential effects of this situation on their livelihoods, it says.
The construction of new settlements for the Rohingyas has caused damages to the environment and infrastructure in those sites that include croplands, schools and hills vulnerable to landslide.
Talking to this correspondent, Jahangir Kabir Chowdhury, chairman of Rajapalong union parishad, said all UP chairmen in Ukhia upazila sent a letter to the prime minister with a 14-point demand.
"A clear discrimination between the Bangalees and the Rohingyas is visible. The Rohingyas are getting better facilities... They are receiving food, essential commodities and even cash in aid," he said.
Moreover, prolonged stay of the Rohingyas is having a negative impact on the life and livelihood of locals who find it difficult to get work because of tough competition in the labour market, he added.
Mohammed Abul Kalam Azad, commissioner of the Rohingya Relief and Repatriation Commission, said both the environment and the local economy have come under pressure due to the huge influx of Rohingyas.
"If Rohingyas stay here for long, the problems will worsen further. The humanitarian organisations working in Cox's Bazar should focus on the host community so that the sense of deprivation among them does not grow further."