Terminal to match aspirations
Much-needed expansion work at Shahjalal airport begins today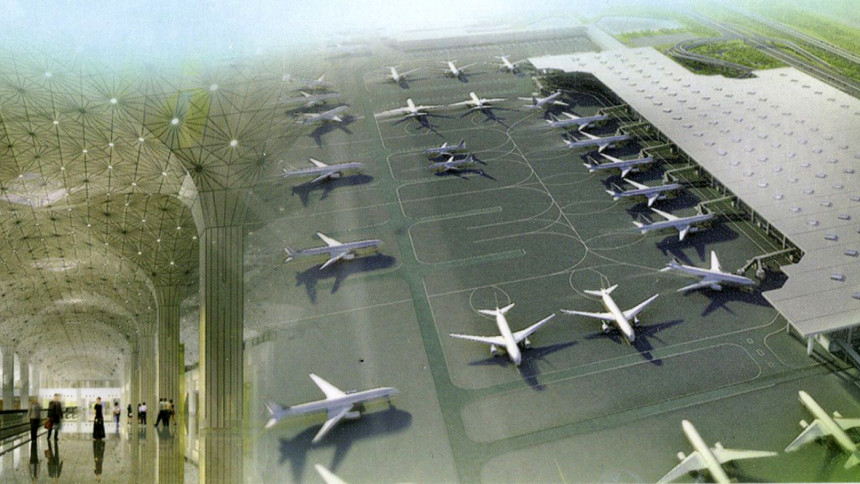 First impressions are the most lasting, it is often said. And in case of cities and countries, it is often airports that provides that. 
And Dhaka's dimly, antiquated Hazrat Shahjalal International Airport (HSIA), built about four decades ago and has not gone through any major facelift since, definitely do not do justice to what Dhaka and Bangladesh stand in this day and age.
Which is why, the ground breaking ceremony of HSIA's Terminal 3 today, after a delay of three years, warrants a toast.
Prime Minister Sheikh Hasina will inaugurate the construction works of Terminal 3, which is expected to be modern, world-class and more befitting of the aspiring higher middle-income country that Bangladesh is today.
The terminal will cost Tk 21,399 crore and is expected to be complete in four years' time if the Civil Aviation Authority of Bangladesh (CAAB) can keep a tight grip on the proceedings.
Celebrated architect Rohani Baharin designed the terminal. Her other works include Changi International Airport's Terminal 3, Wuhan Tianhe Terminal 2, Guanghzhou Baiyun New International Airport, Ahmedabad International Airport, New Islamabad International Airport, Can Tho and Phu Quoc International Airports.
The three-storeyed terminal building, which will be 2.30 lakh square metres, will be built by Mitsubishi and Fujita of Japan and Samsung of Korea.
It will have 115 check-in counters, 64 departure and 64 arrival immigration desks, 27 baggage scanning machines, 40 scanning machines, 12 boarding bridges, 16 carousels and 11 body scanners.
There will also be new car parking facility for 1,230 vehicles, a new 63,000 square metre import and export cargo complex, a 5.42 lakh square metre apron for 37 aircrafts, among others.
A water supply system, sewerage treatment plant, intake power plant distribution system, equipment of cargo complex, airfield ground lighting system and hydrant fuel system are also included in the project, according to civil aviation ministry officials.
Around two crore passengers will be able to use the HSIA following construction of the third terminal, 70 percent of the funding for which is coming from the Japan International Cooperation Agency (Jica).
In its current form, HSIA can handle eight million passengers a year. But the number of passengers is expected to reach 14 million by 2025 and 24.8 million by 2035, so the timing of Terminal 3 could not be more crucial.
Around 130 domestic and international flights -- including 26 foreign airlines' -- carrying 25,000-30,000 passengers use the HSIA every day.
The airport handles about 1.6 crore luggage every year of about 70 lakh passengers with the eight carousels in the two international terminals. In other words, it is already operating at full capacity.
In short, it all sounds good on paper. But, the real challenge starts from today, as it is the execution that matters in the end and never the idea.
Attention must be paid that the project is completed on time and there are no further cost increases.
When the project was first conceived, its outlay was projected at Tk 13,610 crore. But earlier this month, the Executive Committee of approved an additional Tk 7,788.59 crore for the project.