State-run jute mills to be shut, 25,000 laid off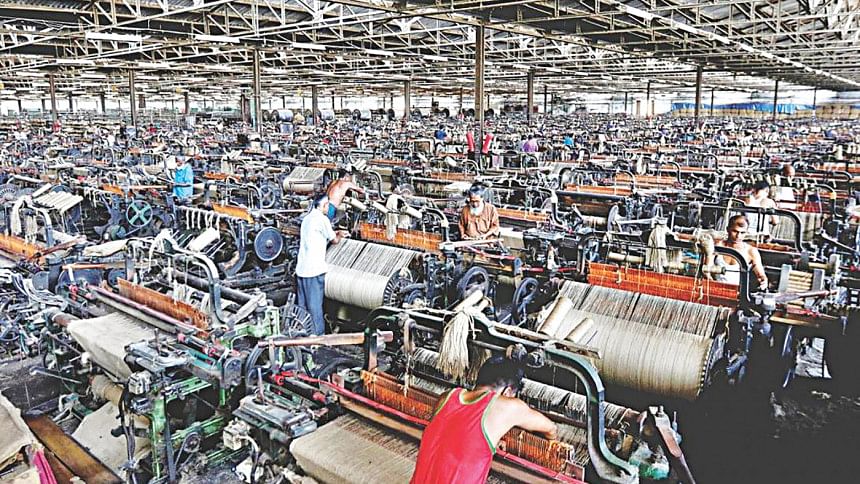 The government has put the last nail on the coffin of the country's state-run jute industry by closing all the 22 jute mills and laying off 24,886 workers.
The step has been taken as Bangladesh Jute Mills Corporation (BJMC) continues to incur heavy losses, Textiles and Jute Minister Golam Dastagir Gazi said at a virtual press briefing yesterday.
"Financial benefits of all the retired workers, and wages and benefits of all the current workers will be paid in due course. A Tk 5,000-crore fund will be allocated for this purpose.
"The mills will be modernised and re-opened under PPP [Public-Private Partnership], joint venture or lease process. And, these laid-off workers will be given priority while manning these modernised mills," mentioned the minister.
Following the briefing, the textiles and jute ministry in a statement said, "These mills are run with machinery that dates back 50 to 60 years. The BJMC's management system is very old-fashioned and not suitable for managing modern factories."
But in reality, it's the poor workers who are the worst victim of the corporation's failure to modernise the production system. Tens of thousands of workers have been protesting against BJMC's mismanagement for years.
Talking to this newspaper, Md Mizanur Rahman, labour leader and worker of the state-run Platinum Jubilee Jute Mills, said, "We have been staging protests for our due wages for more than a year. Hundreds of our retired workers did not get their due benefits.
"According to the Productivity and Wage Commission, 2015, we are supposed to get a minimum wage of Tk 8,300 per month. However, this has not been materialised in the last five years. This is why we cannot rely on the government's assurance that we will get all the due wages and benefits in due course," adds Rahman.
Md Imran Khan, another labour leader and a worker of Crescent Jute Mills Company Limited, says, "We have been demanding for long that the authorities modernise the factories...
"We recently submitted an 11-point demand to revive the industry. But instead of implementing those, the government has decided to sack us amid pandemic. It's really heartbreaking. We don't know where to go now." 
While many private jute mills are making considerable profits, all the 22 state-run jute mills have been incurring heavy losses and are unable to pay workers wages and financial benefits.
In the wake of workers' protests and strike, the government on November 26 last year allocated Tk 100 crore to the BJMC for paying due wages and financial benefits of the workers.
Several conditions were attached to it. One of those was that the BJMC would not use the fund for any other purpose than disbursement of outstanding wages and financial benefits of the workers.
However, according to BJMC officials, the fund was too small to pay all the dues and it asked for more funds.
In fact, in the last 10 years, the BJMC could do little to improve the industry whereas it sucked thousands of crores of taka from public funds.
In 2009, the government allocated Tk 5,241 crore for the BJMC to revive the shrinking industry on condition that the factories would become self-sufficient.
However, within six years, the BJMC asked for Tk 700 crore to purchase raw materials, and in 2018, it asked for Tk 1,000 crore to pay due wages and give other financial benefits to the workers.
The workers blamed BJMC's irregularities in jute purchase, poor management and lack of an organised marketing strategy for financial losses.
Abu Sufiyan, a jute mill worker, said, "During jute harvesting season in June-July, jute mills can purchase one maund of jute [around 40kg] at around Tk 1,400 directly from the farmers. However, jute mills usually purchase raw jute during the dry seasons in October-November from the middlemen when the price increases up to Tk 2,200 per maund."
Labour leaders also claimed that BJMC never took any initiative to popularise their products in the consumer market despite the enforcement of Mandatory Jute Packaging Act, 2010, which require several agricultural products to be stored and marketed in jute bags.
"We used to produce high quality carpets, bags, sacks, ropes and polymers, which are in high demand in the global and national markets. All the private mills are profiting from this demand. Unfortunately, most of the Bangladeshis don't even know about our products. And, in our factories, thousands of tons of jute products are lying unsold," said labour leader Rahman.
Md Boniz Uddin Miah, general manager and regional coordinator of BJMC Khulna zone, said, "The production cost of these factories is so high that it was becoming impossible to maintain such a huge workforce.
"Every year, we have had to beg for funds to the finance ministry for purchasing raw jute as all the funds were spent on paying the salaries. It took so much time to release the fund that we had to purchase raw jute at a high cost. On the other hand, the Mandatory Packaging Act could not be enforced strongly, which is why promulgation of this Act could not increase the demand [of jute products] adequately."
However, with the declaration of factory closure and lay-offs, thousands of workers all over the country have been protesting against the decision and demanding full financial benefits and reinstatement.