Myanmar frustrating repatriation efforts
Says foreign secy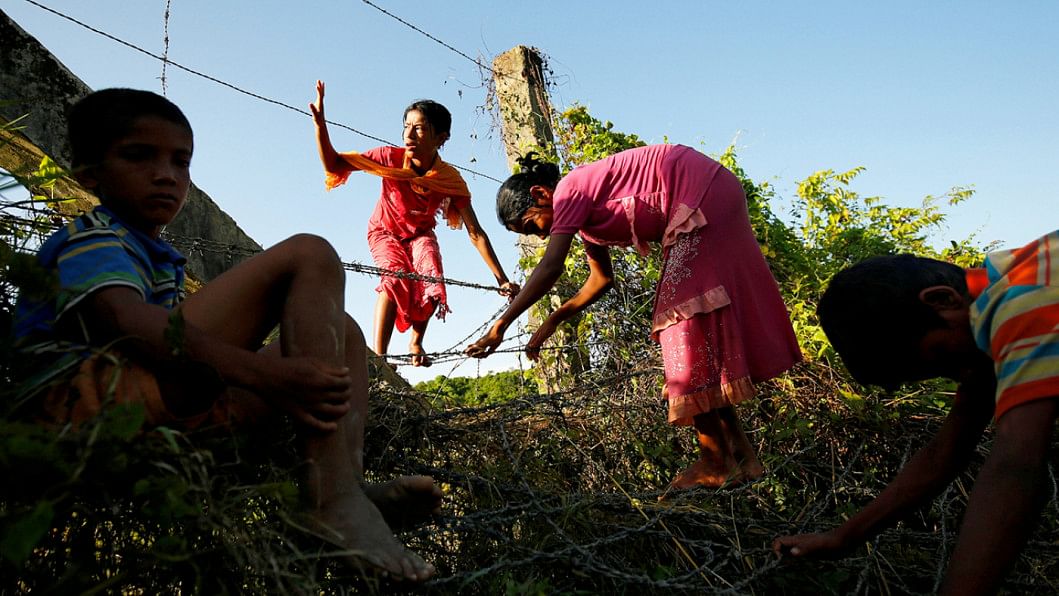 In the face of Myanmar's strategy of doing nothing about restoring normalcy in Rakhine, Bangladesh is demanding the international community to create basic services, safety, security and livelihood options for the Rohingyas who would return to Myanmar.
Myanmar is doing what's needed to frustrate repatriation efforts, Foreign Secretary Masud Bin Momen told a webinar on the Rohingya Crisis: Western, Asian, and Bilateral Perspectives.
Center for Peace Studies (CPS) of South Asian Institute of Policy and Governance (SIPG) at North South University organised it in partnership with the High Commission of Canada to Bangladesh ahead of the third anniversary of Rohingya influx today.
"With the recent clearance operations by Tatmadaw against the Arakan Army in Rakhine and the election in November, we have actually hit an impasse in terms of the repatriation process," Momen said.
Some 750,000 Rohingyas fled a brutal military crackdown since August 25, 2017 and took shelter in Bangladesh, joining some 300,000 other Rohingyas who had fled earlier waves of violence since the 1980s. Over the last three years, two attempts of repatriation failed as Rohingyas refused to return.
Meanwhile, some are thinking of integrating the Rohingya people into Bangladesh society, but foreign secretary Momen rejected any such notion. Considering the forced return in the past, he said, "Bangladesh this time has been fully convinced of the need for creating necessary conditions for sustainable return, so as to avoid similar episodes in future."
Momen said the international community should make sincere and greater efforts to secure conditions for Rohingyas to return to Myanmar.
"…These should be our pledge to the community [Rohingyas]," he said, but added that many international interlocutors are found trying to appease Myanmar while heaping all their demands on the doorstep of Bangladesh.
The role of ASEAN and India, China, Japan and Korea would remain crucial in finding a durable solution to the problem. Search for a solution at the UN and relevant levels should also remain a priority, he said.
Former Foreign Secretary Shahidul Haaue said Bangladesh had always sought to maintain friendship with Myanmar but the "elephant in the house is repeated exodus from Myanmar".
Myanmar tried to provoke Bangladesh time and again. For example, in 2017, Myanmar air force violated Bangladesh airspace 17 times between August 26 and September 14. In 2018, Myanmar claimed rights on St Martins' Island.
"If Bangladesh reacted to the provocations, the history of South Asia could have been different," said Former Foreign Secretary Shahidul Haaue.
US Ambassador to Bangladesh, Ear R Miller said the Rohingya crisis is a global political and diplomatic issue and the international community should work for a solution at the earliest.
"We must continue to press Burma for voluntary repatriation…Bangladesh should not be left alone to face the crisis," he said.
Canadian High Commissioner to Bangladesh Benoit Préfontaine, said Canada supports repatriation as well as accountability issues of the Rohingya and will continue to do so. He stressed on Rohingya education and improving living conditions.
In response, Foreign Secretary Momen said involvement of Rohingyas in various crimes are higher than the host communities and radicalisation of youth cannot be ruled out altogether in a situation of despair and hopelessness.
"As such, Bangladesh had no option but to consider barbed-wire security fences around the camps to curb criminal activities in the area. These are not for their isolation, but for their good and security of locals."
Responding to requests for greater internet connectivity, the government has decided to lift restrictions on 3G/4G mobile network soon, he said, but added that the internet helped destabilise the situation in the past.