Groundwater abuse takes toll on Barind
Region suffers from acute water crisis; country's first water governance project begins from 3 dists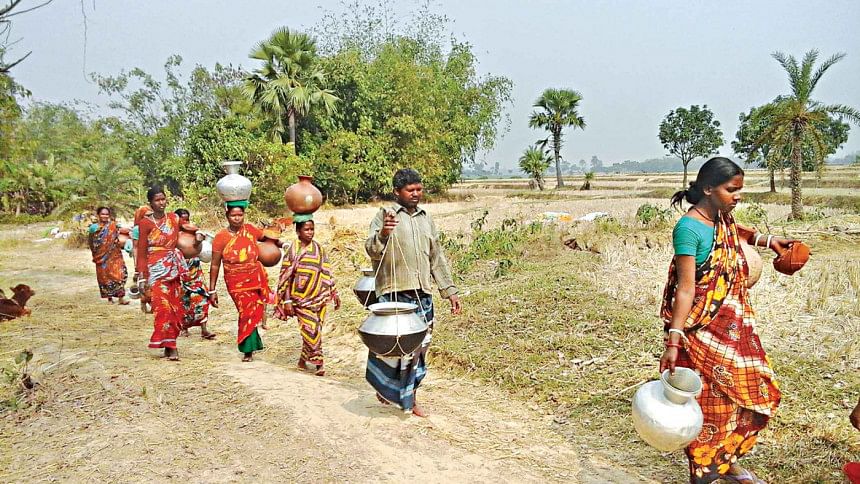 When Matiur Rahman first ventured into fruit farming in Chapainawabganj's Jhilim union in 2011, the major obstacle he had to meet head on was the ongoing water crisis in the northwest.
"The nearest water source was two and a half kilometres away," he said.
He started lifting water from the distant source -- a deep tubewell installed by Barind Multipurpose Development Authority (BMDA) but it dried up in six years.
"I felt helpless," Matiur,  a Roads and Highways Department driver, said.
Experts have observed people in the region are struggling to get drinking water while many paddy farmers are either diversifying to less water-intensive crops or converting their croplands to ponds and brick kilns.
The region is characterised by decreasing rainfall and depleting groundwater levels, mostly extracted for paddy farming, rice mill operations, and other industrial purposes.  
"The situation is worsening as some people are withdrawing everyone's share of the groundwater," said a prominent hydrologist, Prof Chowdhury Sarwar Jahan of Rajshahi University.
Apart from paddy fields, at least 35 auto rice mills in Jhilim union, which covers 23.45 square kilometres of area, use groundwater round the clock, heavily affecting the aquifer, he said.
On a recent visit to union, this correspondent observed rice mills on both sides of the Amnura-Chapainawabganj road.
Mansur Rahman, general secretary of Chapainawabganj Rice Mill Owners Association, said each of the 35 rice mills of the union has at least three deep tubewells.
Mansur's Sagar Auto Rice Mills has six. "We have no other water options for running our businesses," he said.
Md Mostafa, a farmer of Collegepara village in Jhilim, shifted from paddy to lentil cultivation.
"Many cultivable fields, where we cropped three times a year before, are now uncultivable because of a dearth of water," he said.
Matiur's venture, for instance, would have been nipped in the bud, without water.
In 2016, the NGO Development Association for Self-reliance, Communication and Health (DASCOH) gave him a water-pump and introduced him to drip irrigation, a water-saving method that allows water to drip slowly to the roots of plants, either above the soil surface or buried below it.
He has now grown into one of the country's most successful fruit farmers receiving multiple government awards in five years.
However, not all farmers in the Barind region have been as lucky as Matiur and abuse of water resources is rampant.
Unchecked industrial and agricultural use of water has depleted groundwater in a region which also saw lower than average rainfall in recent years.
On a visit to Rajshahi's Godagari upazila on March 22, this correspondent observed the Sormongola canal, which is supposed to supply water from the Padma river to nearby agricultural fields, running dry while private deep tubewells have been installed on both sides of the canal.
Farmers The Daily Star spoke to said they were angry about having to pay high prices for water for their crops from these tubewells, while the canal ran dry.
GROUNDWATER LEVEL LOWER THAN EVER
According to Prof Chowdhury, the region's annual rainfall has never exceeded 1,400mm in seven years till 2018, which is 45 percent less than the national average of 2,550mm.
Last year, however, the region witnessed 1,800mm of annual rainfall.
The areas of Nachol and Gomostapur in Chapainawabganj; Tanore and Godagari in Rajshahi; and Porsha, Sapahar, and Niamatpur upazilas in Naogaon are over 47m higher than sea level.
Whereas, there are areas in the same districts which are only around 10m higher than sea level, he noted.
"Paddy farming using only groundwater can have a toll on the availability of drinking water in these high and arid areas," he said.
Groundwater provides 75 percent of water needed for rice irrigation in Bangladesh, the world's fourth largest rice-producing country.
Bangladesh Rice Research Institute estimates around 3,000 litres of water are required to produce one kilogramme of Boro rice.
"This estimate does not even count the water use in rice mills," Prof Chowdhury said.
Wheat and maize require around 400-600 litres of water per kilogramme production, he said.
So, grain production in the region should use surface water for irrigation, he recommended, adding a focus on less water-consuming fruit and vegetable farming can help preserve groundwater in the region.
The region's groundwater level was only 30 feet below in the '70s when farmers used surface and rain water for irrigation and hand tubewells for drinking water, said BMDA's Superintending Engineer Abdur Rashid.
With BMDA installing deep tubewells in the '90s, farmers began cultivating three crops a year turning the northwest into one of the country's major grain-producing regions, he said.
Following BMDA's lead, solvent farmers and businesspeople installed their own deep tubewells.
In 2012, when BMDA stopped installing fresh deep tubewells and moved to focusing on surface water, private tubewells continued to flourish for agricultural and industrial use.
Around 70 percent of the Barind region's annual groundwater extraction of 13,710 million cubic metres is done by unregulated private deep tubewells, according to a rough estimate by BMDA recently. This amount of water would fill up around 18 lakh ponds -- each 2m deep and covering one bigha.
In February 2018, the lowest groundwater level was recorded in Nachol upazila at 107 feet below the surface, a fall of over 28 feet since 2005 when the level was at 78.8 feet.
"The fall is still on," Rashid said, adding that the levels go as low as 130 feet below the surface at the end of irrigation season.
COUNTRY'S FIRST WATER GOVERNANCE PROJECT
"Everyone has equal rights to water and an optimum use of water can ensure it," said Md Delwar Hossain, director general of the Water Resources Planning Organisation (WARPO), an apex planning body in the water sector.
Bangladesh Water Act 2013 and Bangladesh Water Rules 2018 ensure these rights, and the government has now decided to enforce laws to identify and secure water resources, and regulate their use, the DG added.
WARPO began the process on March 19 by setting up an office in Rajshahi and inaugurating a water modelling project in Sardaha union of Rajshahi's Charghat upazila.
Under the project, WARPO will map surface and underground water resources, measure availability and adequacy of the resources following scientific methods, and secure these, officials said.
It will also determine water demands for personal, agricultural and industrial purposes, and identify the safe withdrawal limit of groundwater and thus, regulate water use.
WARPO officials said they would declare an area as water stressed, if found any, during the hydrological investigation under the project.
According to the WARPO chief, this water governance is the first of its kind in the country.
It is initially starting in three Barind districts -- Chapainawabganj, Naogaon, and Rajshahi -- presumed to be most affected by water scarcity.
Following the results, the process will start in other parts of the country soon, he said.
In March 2020, the Planning Commission had sanctioned the Tk 15.34 crore project titled "Operationalising Integrated Water Resources Management".
It remained stalled due to the coronavirus situation, until earlier this month. The project is slated to be completed in June 2023.
The project will conduct hydrological investigation and water modelling in every mouza of the three districts.
The government will provide Tk 10.24 crore while the Swiss Agency for Development and Cooperation (SDC) is providing the remaining Tk 5.10 crore of the project funds.
The Institute of Water Modelling (IWM) is providing consultation while SDC's partner DASCOH is assisting implementation in the Barind region.
Another Tk 300 crore project for countrywide water mapping and modelling is awaiting approval, WARPO officials said.
This project was a long-cherished demand of the region, said Prof Chowdhury of Rajshahi University.
"Its successful implementation is necessary. When we will know the exact water situation, we can make the right decisions for our agricultural and industrial development," he said.