Change Maker: Making life a little easier for farmers
iFarmer, country's first digital agro-platform, links funders and farmers to support livestock farming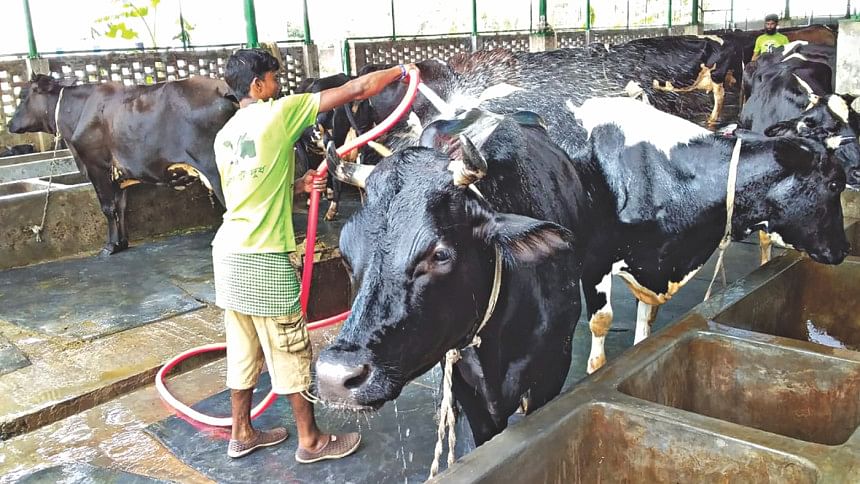 As a farmer's wife in a remote village of Lalmonirhat, Aklima Begum's life was never easy. She and her husband used to grow rice in her 90-decimal land in Ramdash village in the district. With the crop, they could hardly meet the expenditures of her seven-member family.
But six months ago, Aklima's life took a turn for the better, when she got an offer for rearing cattle from an organisation named iFarmer. She was given five cows at a cost of Tk 2.50 lakh. She was supposed to rear the cattle for four months and sell those in the market.
"I reared the cattle for two and a half months and sold those for Tk 2.90 lakh. I got Tk 20,000 as profit within just two and a half months," Aklima told The Daily Star over phone.
It inspired her to rear a few more cows. She has now seven cows and will get three more soon.
"The best part is that it is not a loan. It is a financial support to my family," Aklima said.
Many smallholder farmers like Aklima see a new hope thanks to iFarmer as the organisation helps increase their earning.
iFarmer is the first digital agriculture platform of the country focused on linking interested sponsors/funders with farmers to support livestock farming while promoting inclusive growth in livestock and agriculture.
Founded in August 2018, its business model is based on profit sharing between the farmers, farm sponsors and iFarmer. The farmer and the sponsor share profit after completing each cycle. This model could enable the farmers to be more motivated to invest in better inputs and farming practices to ensure better return.
The country's farm sector is dominated by smallholders but the small and marginal farmers have the least access to the credit and agricultural extension services provided by the state.
iFarmer connects individuals and institutions with farmers through a sponsorship package to fund farming and agriculture for a share of the returns.
It provides easy access to capital for underprivileged farmers by connecting them with potential farm sponsors. Farm Sponsors select the kind of farms they want to sponsor via iFarmer website, and then release the funds to iFarmer to set it up.
Now, the platform is focusing on to create an alternate, sustainable financing option for the livestock farmers.
"The initiative is very good as no other NGO gives us loan for rearing cattle in a small scale. And this is also interest free," said Nazmul Haque, a farmer in Kurigram, who has been rearing 18 cattles for the last two months.
iFarmer is now working in two northern districts -- Kurigram and Lalmonirhat. The organisation has 1,000 farmers with 800 cattle.
"We have a database of 10,000 farmers. From this database, we chose the farmer and then give cattle to them after scrutinising the need assessment," said Fahad Ifaz, co-founder and CEO of iFarmer, told The Daily Star.
He said the organisation partnered with Green Delta Insurance to provide insurance for all existing farm projects so that in the event of untoward circumstances the sponsor's capital can be refunded.
Currently, iFarmer has four options for investors. For example, if anyone invests Tk 30,000, they will get 18 percent return of sponsorship in one year, if anyone invests Tk 40,000, they will get 22 percent return, said Fahad.
The third option is investing Tk 40,000 with 8 percent return on sponsorship in four months and the fourth option is investing Tk 80,000 with a 15 percent return on sponsorship in six months.
iFarmer has also piloted a goat farm which give 36 percent return after 18 months with initial investment of Tk 10,500.
The initiative was taken to solve the challenges of the farmers in remote parts of the country who often face a crisis of capital and are mostly unbanked.
"iFarmer intends to play a crucial role to help farmers of our country through an innovative investment model while giving the middle-income population a unique chance to be part of farming," he said.
Now, iFarmer is aiming to become a platform for agriculture value chain financing, where on one side farmers will be able to create a profile, get credit and performance ratings and on the other side individual sponsors and financial organisations can invest and earn a healthy return. In the future, iFarmer intends to go beyond livestock and work with high value crops and agricultural products.
"We are on a mission to impact the lives of farmers in a positive way by giving them access to finance, knowledge and the market," said Jamil M Akbar, co-founder and COO of iFarmer.
Since its official launching, the company has been working with 1,000 farmers, training them and facilitating finances to those who are selected and verified and have attracted sponsorships from more than 150 people for 800 cattle.
What makes iFarmer different is that it turns a complex problem into a digital marketplace. They are taking care of access to capital for farmers, training them on smart agricultural practices and providing the market for farmers. In doing so, they intend to create an alternative source of capital for farmers and create an efficient and inclusive supply chain of selected agricultural commodities.
They won the "Startup with the Most Social Impact" award from the Swiss Embassy in Bangladesh in 2018. iFarmer was also one of the top five businesses at the UNDP Youth COLab, a finalist of Echoing Green Social Impact Business 2019, and a winner of UNCDFs Fintech Innovation Fund for Women MSMEs 2019.
iFarmer has been incubated by Toru and has partnerships with Start-up Bangladesh and CARE International.