Natural fish resources see drastic decline
Back in 1967 when the country attained self-sufficiency in fish production, the haors of Sunamganj produced one lakh tonnes of fish a year.
Forty-eight years later, the country saw a drastic fall in the production of this natural resource, as only 22,692 tonnes of fish was collected from these haors in 2014-15 fiscal, said Chief Scientific Officer of Bangladesh Fish Research Institute Khalilur Rahman, quoting Fisheries Resource Survey System of 2016.
The drop in production is mainly due to climate change and man-made hazards, he said.
For the same reasons, 32 species of fish have already disappeared from the country's largest water body -- Hakaluki haor, said the chief scientific officer in his essay titled "Impacts of Climate Change on Fish and Aquatic Resources of Bangladesh" published in the National Fish Week 2016 Compendium.
However, the good news is the government has taken various initiatives, including facilitating and promoting fish culture, to cope with the annual deficit.
Bangladesh's annual demand for fish is 37.65 lakh metric tonnes and it produced 36.84 lakh metric tonnes in 2014-15, according to the Department of Fisheries (DoF).
Amid this scenario, the country is observing the National Fish Week 2016 that began yesterday.
"If there was no fish culture, many of us may not get fish to eat," said Khalilur Rahman.
A person needs 60 grammes of fish per day and the annual demand is 19.71 kg, according to the fisheries department.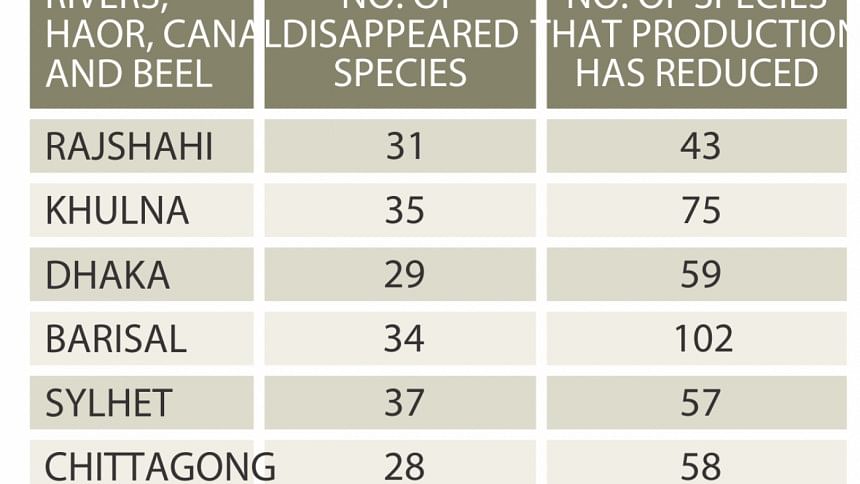 Addressing a press briefing at the fisheries department yesterday, Fisheries and Livestock Minister Muhammed Sayedul Hoque said, "We hope that we'll be able to produce 38.55 lakh tonnes of fish in 2015-16."
There are around 190 dead rivers and 99 percent of the existing rivers have lost their depth due to siltation. On top of that, the natural flow of 761 rivers has diminished to an alarming level due to excessive heat in summer.
Due to a reduction in river currents, a good number of fish species in 97 percent of rivers has reduced and fish production in 88 percent rivers has been hampered, reads the essay co-authored by Jubaida Nasreen Akhter, principal officer of the BFRI.
Khalilur is his essay said, "A total of 31, 35, 29, 34, 37 and 28 species of fish have disappeared and the production of 43, 75, 59, 102, 57 and 58 species have dropped alarmingly in the rivers, haors, canals and beels of Rajshahi, Khulna, Dhaka, Barisal, Sylhet and Chittagong respectively."
Due to deforestation in the upstream, river erosion has increased, causing massive siltation and flooding.
Khalilur said local fish like Baghair and Ghoinna are disappearing from Tanguar haor while Angrot, Tilashol and Gutum fish have already disappeared from Kanglar haor.
Being a fish sanctuary, the number of fish species is increasing in Moulvibazar's Hail haor, but 28 fish species are about to disappear from Kauadighi haor due to flood control dam in the area, he said, adding the production and stock of 19 fish species in the haor in Kishoreganj's Oshtogram upazila have reduced.
"Nandil, Tilashol and Angrot fish have disappeared from the haors of Netrakona. On the other hand, production of Ruhi, Katla, Mrigel, Kalbaus, Guji, Chital and Boal have dropped alarmingly," he said.
Khalilur in his article mentioned that four major carp fishes -- Ruhi, Katla, Mrigel and Kalbaus -- used to lay eggs in the Halda, upper Meghna, Brahmaputra and Padma rivers. However, instead of upper Meghna, the Brahmaputra and Padma rivers, the fish now spawn in the Borak river in Manipur's Tipaimukh area, in the Brahmaputra river in Assam's Kamrup area and in Bodhua and Mahananda in Bihar respectively.
Due to the effects of climate change, the habitats of Ghania and Ruhi in Noakhali's Kalikapur river and Bogra's Bangalee river have been destroyed completely.
Hilsa could be found in about 100 rivers in different parts, including the northern region, of the country in the past. But siltation at the mouth of the Meghna now prevents the silver fish from swimming upstream, said the chief scientific officer.
At yesterday's press briefing, the fisheries minister said that of the total production of fish, one-tenth comes from hilsa.
He also said that 16 species of fish are being protected through artificial breeding.
To prevent catching of jatka (young hilsa) and mother hilsa during the breeding period, the government distributed 37,788 tonnes of rice to 2,36,176 families of fishermen in 15 districts in 2015-16 fiscal, said the minister.
A total of 1.96 lakh tonnes of rice had been distributed among fishermen in the last eight years, he added.
"As a result of these initiatives, the production of hilsa has increased to 3.87 lakh tonnes," he said.
Sayedul said the government had already bought a survey and research ship -- RV Meen Sandhani -- to ascertain fish stocks in the 1,18,813 sq km extended maritime boundary.
The government has also given licence to four organisations to collect Tuna in the Bay of Bengal.